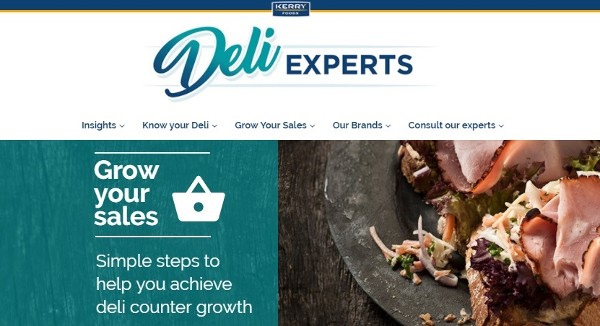 Kerry Foods is launching a new website to help retailers fully capitalise on the opportunity for the deli counter
Visit deliexperts.ie for in depth advice on running your deli counter
Kerry Foods is delving into all things deli with the launch of its new website, deliexperts.ie. Launched specifically for the Island of Ireland, the platform showcases Kerry Foods' expertise in deli counters and allows retailers to capitalise on the deli opportunity and grow sales with leading brands. The website aims to offer retailers support to become deli experts and in turn, enjoy more shoppers as a result.
As of 2017, Ireland has one of the fastest growing economies in Europe, seeing year on year growth as unemployment rates fall and population rises hitting 4.8 million people. This roughly equates to around 1.7 million hungry households and prospective deli counter visitors. Research shows that one in four people don't buy deli meat because they don't know the price and 88% of those who visit the deli counter only decide to buy from there once they arrive at the store. You will find these compelling insights and more housed on the Deli Experts site alongside an offering of knowledge which retailers can use to succeed in the deli opportunity long term.
Deliexperts.ie has a 'rate your counter' feature which involves a two minute test that ultimately rates retailers' 'deli expert level', it also provides tips to grow and progress to the next level. Those who want to explore the deli opportunity further can also 'consult an expert' by leaving their details on an online form on the website for a representative to contact them. Detailed descriptions and images of Kerry Foods' deli products are also listed to provide inspiration on the best deli products to stock.
Marian O'Higgins, Category Executive at Kerry Foods, comments: "With the grocery retail market becoming increasingly competitive, retailers must find a way to stand out from the crowd and we think the deli counter can be the perfect way for retailers to differentiate themselves. We want to help retailers succeed in running a successful deli counter and as experts; we would like to share the tools to do so. We believe deliexperts.ie will be seen as an easily accessed and informative hub of information which retailers can use to really drive their business forward. Our goal is to help retailers unlock their deli counter sales with more support, more shoppers, creating more deli experts.
"Our portfolio of brands, Denny & Sons, Fire & Smoke, Ballyfree and Shaws will also provide retailers with the best-selling deli counter brands of high quality delicious meats, keeping their deli customers coming back for more and tempting the taste buds of those new to the deli counter."
Launched in March 2018, Deli Experts is offering a bespoke deli retailer competition to celebrate, with the chance to win a deli counter makeover and €500 worth of Kerry Foods stock at http://www.deliexperts.ie/.