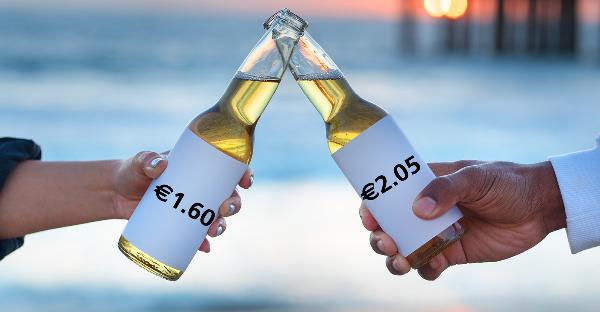 Alcohol producers are thinking creatively following the introduction of Minimum Unit Pricing (MUP) in January 2022. Suppliers have delisted products and made over 20 changes in product sizes, according to industry sources. Some brands have reduced the alcohol content in their brands in order to abide by MUP restrictions. Linden Village Cider, for example, reduced its content from 6% to 5%, thereby keeping the product in its original price category.
The impact of MUP on grocers, particularly those in border areas, has been a concern for retail representative groups. "Consumers are increasingly looking across the border to shop given there are significant price differentials," said Arnold Dillon, director of Retail Ireland. Vincent Jennings, CEO of the CSNA, noted that members have reported "additional sales being made north of the border". Tara Buckley, RGDATA Director General, said "traffic going north to buy cheaper alcohol has increased."
Retail News visited Michael Finnegan, who owns Camelot Off Sales in Dundalk, near the border. He was optimistic about MUP.
"People have a misconception that independent off-licences were hit by this," said Finnegan. "This was actually a massive favour for independent offlicences. It will increase our margins because supermarkets were selling below cost. Independent off-licences cannot compete against someone selling their product at a loss. I met with a senator months before this came in and discussed a formula for working out a price. I told him the same thing: we can't wait for MUP. I'm sorry it didn't come in five years ago."
Retail News also spoke to Charlie McClafferty who runs McClafferty's Carry Out in Letterkenny, half an hour's drive from the border.
"Our wine sales have gone up and we're as busy this January as we were last January," said McClafferty. "I would say 80% of the stock in our shop hasn't been affected."
Off-licence owners agree there has been a change in pricing and consumer habits, however. MUP was one of the last measures of the Public Health (Alcohol) Act to come into force. Under the new rules, alcohol pricing will be based on the grams of alcohol it contains. Alcohol will not be able to be sold, at a minimum, beneath 10c per gram. A 500ml 4.3% can of beer must cost at least €1.70. Cheap beers, therefore, are most affected.
Finnegan noted that five of his beer products have increased in price - including Dutch Gold, Tennent's Lager, and Strongbow Cider. Under MUP rules, an average bottle of wine cannot be sold for under €7.40, which may impact multiples more than independent stores. "We don't sell very cheap bottles of wine," said Finnegan.
Cider was one of the hardest categories hit in Scotland when MUP was introduced in 2018. The biggest impact in Ireland may be felt on slabs of beer at promotional prices. "Tennent's has been a big hit for us," noted McClafferty. "Tennent's is a massive seller in Donegal. We usually get a pallet of Tennent's every week while other off-licences might get two or three cases. We were selling a slab of 24 cans for €24: a euro a can. Now it's €6 for 4 [€36 for a slab of 24]."
Other manufacturers have downsized. "You can buy slabs for more or less the same price, although you are getting less volume," said Vincent Jennings. "Shrinkflation is now visiting alcohol. It's been there for a number of other fast moving consumer goods, including biscuits and confectionery, for some time."
Top branded beers are unlikely to be affected in the short term. As of late January, 2022, Tesco and Dunnes were selling four cans of Guinness for the usual €8. Brands such as Carlsberg, Heineken and Beamish have also maintained pre-MUP prices. In Finnegan's outlet, one bottle of whiskey and one brand of vodka have gone up in price.
"If the cheaper beers are more expensive now, it might push people to premium products," reasoned Finnegan.
McClafferty agrees, noting that he has "definitely seen people" trading up in the beer category in particular.
There are industry concerns that MUP might create a concertina effect and push up pricing across the board. "There would be a desire from the distributors of premium products to maintain a level of differentiation [from so-called 'cheaper' products]," said Jennings.
Retail News also visited Newry across the border. An independent off-sales proprietor on Dublin Road claimed not to have seen a change in sales, but stressed that the Quays Shopping Centre might be a different matter. Around 50% of registrations from as far away as Dublin - and this was on a Monday. But this wasn't so surprising in Newry where its own residents go south to purchase cheaper fuel.
In these early days of MUP, evidence is anecdotal. Nevertheless, the lack of alignment between the two jurisdictions has unnerved retailers. The Irish government initially pledged not to introduce MUP until similar rules were introduced in Northern Ireland. In April 2021, Retail Ireland Director Arnold Dillon wrote to the Taoiseach, outlining an economic impact assessment report which stated that MUP would increase the existing price differential on alcohol between RoI and NI from 27% to 38%, further enhancing a €510m annual loss in cross-border alcohol sales. Yet the Irish government pressed ahead without alignment.
"It is a double concern for our members in border areas because they feel that customers go to Northern Ireland for alcohol and buy the rest of their shopping while there," said Buckley.
NOffLA, the representative group for off-licences in Ireland, welcomed MUP but encouraged Northern Ireland to introduce a similar regime "to create an all-island model".
Independent off-licence owners in border areas, who we spoke to, are remaining optimistic. "80% of our customers buy enough to do them for that night. They aren't going to drive to Strabane for eight cans of Budweiser," said McClafferty. "People planning a party in a month's time will go across the border, but as a small off-licence, we weren't getting their business anyway. It's probably a bit unknown yet what way it's all going to go."
Until the dust settles, it's business as usual for off sales in Ireland.