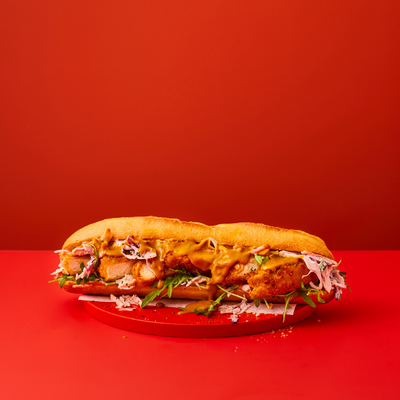 It's official, people in Ireland are huge fans of fusing Asian food staples with firm deli favourites. Since Circle K added its Katsu Chicken Roll to its food menu at deli stores, excluding Circle K Express, the retailer has sold a staggering 166,000 of its own unique take on the classic chicken fillet roll, enough to fill a tennis court more than fifteen times!
The succulent breaded chicken baguette is topped with an Asian style Katsu sauce, and since debuting on Circle K's deli menu in 2020, over 2,500 litres of the delicious sauce has been used to make the scrumptious meal on-the-go.
The news comes as Circle K, in response to the cult following the Katsu Chicken Roll has amassed since it was introduced to the deli menu, and in an effort to please Katsu flavour lovers even more, has now launched Katsu Loaded Fries to deli stores across Ireland, excluding Circle K Express.
Foodies will be thrilled to hear that they can now get a Katsu fix in more ways than one at Circle K, and the Loaded Fries also come with other choices for toppings too, including Taco Chilli Beef and Garlic. Also joining the deli menu is a brand-new range of chicken wings which come in five different flavours: Frank's Hot Sauce, Korean BBQ, Sriracha, Sweet Chilli and Traditional BBQ, meaning that whatever your topping preference, Circle K caters to all, and will leave you 'savour-wing' every bite.
As well as the new menu items, Circle K delis stores are still offering a range of yummy breakfast, lunch, and dinner meals on-the-go, including gourmet hot dog and award-winning burger options. Whether you live locally or are visiting a Circle K store while on the road, the Circle K deli menu will satisfy any craving. For those on-the-go and in need of a delicious deli meal without making a mess, Circle K has the solution. At select stores nationwide, excluding Circle K Express, customers can now purchase meal trays that easily attached to the steering wheel of any vehicle.
Mary McDonald, Senior Category Manager, Circle K Ireland commented on the new deli menu items: 'People in Ireland only want the best quality and choice when it comes to food, and they expect retailers to meet their changing needs and broaden their food offerings. Ensuring we are making it easier than ever for our customers to access the biggest choice of high quality, tasty food at Circle K stores is a key priority for us as a business.
We are delighted that our unique spin on deli staples, such as the Katsu Chicken Roll, has proven to be a huge hit with our customers nationwide and we are excited to bring even more unique food options to our deli menu. Building strong relationships with our suppliers is crucial in developing new products and staying ahead of trends, I'd like to thank our suppliers for their continued support and dedication to our company.
With the addition of car trays to select stores nationwide, people who may drive a lot for work or who plan to travel to a different part of the country for the Christmas holidays, can enjoy a delicious, tasty meal on-the-go without any need to clean up afterwards!'
For more information on Circle K's new deli menu additions and where to purchase a car tray, visit circlek.ie, Circle K Ireland on Facebook or @circlekireland on Twitter and Instagram.