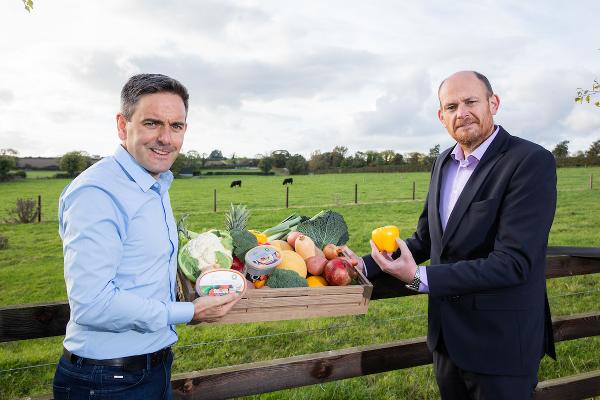 Tesco Ireland has announced a new three-year contract, worth €9m a year, with Rathmooney, Lusk based Ballymaguire Foods to supply an additional sixteen new fresh, Irish-made prepared meals and side dishes to enhance its already extensive existing selection of Tesco own-brand range of soups and meals.
Ballymaguire Foods is a sister company to Country Crest, founded by brothers Michael and Gabriel Hoey in 1993. Country Crest has partnered with Tesco for over twenty years supplying potatoes and onions. Ballymaguire's fully integrated approach to food production, ensures the highest food standards are met at every step before making it to your plate.
Ballymaguire's dedicated team of over 250 people, including experienced chefs and producers, have been supplying Tesco Ireland with healthy food of the highest quality for over a decade. Since its establishment in 2008 by the Hoey family, Ballymaguire has gone on to win a multitude of awards for their food – including Blas na hEireann, Irish Quality Food Awards, Great Taste Awards, and Fingal Chamber Business Excellence Awards. Managing Director and co-owner, Edward Spelman, an accomplished chef, has been instrumental to their success, having worked with some of the best chefs in Ireland and the UK.
The deal will see convenient side dishes like creamy Potato Gratin made with Irish potatoes, wholesome soups such as Root Veg & Butternut Squash Soup and no-fuss, finest* range of meals including Chicken and Chorizo Paella, and Beef Ragu with Pappardelle – all produced in Ireland and made with locally-supplied Irish dairy, beef and chicken as well as home grown vegetables and potatoes.
Joe Manning, commercial director, Tesco Ireland said: "At Tesco, we strive to provide the very best quality Irish grown and sourced foods to our customers. With healthy diets and support for local businesses both as important as ever, Tesco is proud of this announcement which will further support the dedicated 250-strong team at Ballymaguire and local suppliers too. We are committed to our 490 Irish suppliers, of which many are local businesses like Country Crest and Ballymaguire Foods, and which in turn benefits almost 14,000 farming families nationwide."
Edward Spelman, managing director of Ballymaguire Foods said, "Ballymaguire Foods has a long-standing reputation for producing the best of own label fresh prepared foods for its retailers and food service customers, always creating meals for family occasions using only the best produce, the highest quality standards and exciting recipes. We've worked with Tesco Ireland for over a decade and are delighted that strengthening our relationship will further cement our association and provide certainty to our local suppliers and our workforce."
Ballymaguire and Country Crest are just two of the 490 suppliers which Tesco works with in Ireland, of which almost three-quarters are small and medium enterprises employing fewer than 250 people. This in turn supports almost 14,000 farming families nationwide.
Latest figures show that that the overall economic impact of Tesco's expenditure in Ireland is €2.92 billion, and that the company supports almost 45,000 jobs, directly and indirectly around Ireland. Tesco buys €1.6 billion of Irish food and drink annually, more than the value of Irish food and drink exported to any country in the European Union. This includes over €900 million in exports.