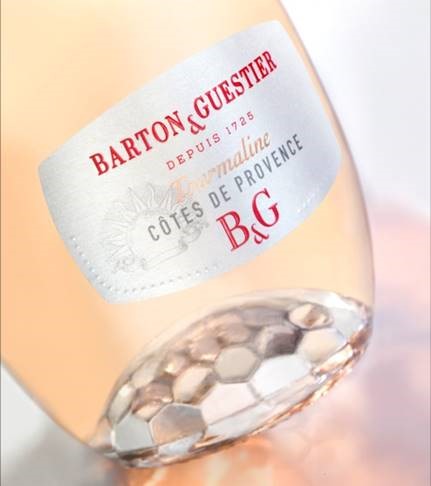 On the occasion of Prowein Barton & Guestier unveils its 2018 Côtes de Provence Rosé in a unique tailor-made bottle with an original glass closure.

After the introduction – last year - of its new signature with the red B&G letters, highlighting the knowledge and authenticity that have built Barton & Guestier's reputation during almost 300 years, the company goes further with its 2018 Côtes de Provence now coming in a prestigious tailor-made bottle, with the B&G letters engraved on the neck.
Like the famous pink gemstone "Tourmaline", this unique flask carries our jewel from Côtes de Provence. The new bottle comes with a pink Vinolok® glass closure, to keep the elegance and highlight the pale pink colour of our wine.
Barton & Guestier Côtes de Provence is made from Grenache, Cinsault and Syrah in our vinification cellars in Vidauban, close to Saint Tropez. Laurent Prada, B&G's winemaker, is extremely proud of this new cuvée: "With its seductive and delicate nose with ripe red berry and white flower hints, our Côtes de Provence is an explosion of fruits on the palate with a nice refreshing finish. It is a true jewel, a diamond that will be everybody's best friend in the spring and summer season!"
New advertising "LOVE LETTERS FROM PROVENCE" , promotional tools and activation on social media will accompany the launch of the cuvée that comes in personalized outer cases of 6x75 cl and 12x75 cl.
The 2018 Barton & Guestier Côtes de Provence is available from now.
RCSP: 15€ / 19$.
Barton & Guestier will be at PROWEIN – booth N° 11 H 21 and at SUMMIT OF THE AMERICAS – booth N° 302