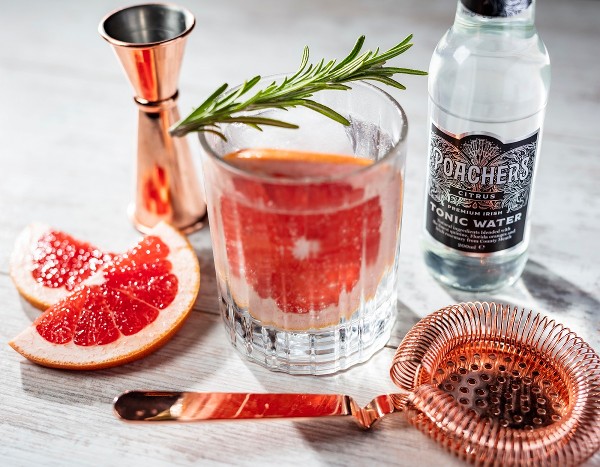 Poacher's Premium Irish mixers have a menu of festive drinks encouraging you to mix it up this Christmas.
Irish owned and produced in Wexford, Poacher's mixers are made with Irish spring water and natural ingredients.
Available in four varieties; Classic Tonic with hand-picked Irish thyme, Wild Tonic with hand foraged Elderflower from County Wicklow, Citrus Tonic with orange and Irish rosemary, and the new Poachers Light tonic with only 14 calories per bottle.
The Irish company also produces a dry style Ginger Ale, made with natural ginger and organic apples from Highbank orchard in County Kilkenny, and a revitalising Irish Soda Water.
Whether you're in your favourite bar or hosting a Christmas party at home, Poacher's Premium Irish mixers have your festive thirsts quenched.
Here are some Irish inspired Poacher's drinks to get your Christmas spirits tingling:
Poacher's Jingle Bell Rock
Poacher's Wild Elderflower Tonic with Dingle Irish Gin
Poacher's Fairytale of West Cork
Poacher's Irish Ginger Ale with West Cork Irish Whiskey
Poacher's Powder
Poacher's Classic Tonic with Gunpowder Irish Gin
Poacher's and a "Pair" Tree
Poacher's Soda Water with Kalak Irish Vodka
Poacher's Mary Christmas
Poacher's Citrus Tonic with Ruby Grapefruit Juice
Poacher's Premium Irish mixers are available in a wide variety of bars and restaurants across the country and a selection of high-end retailers including, O'Brien's Wines nationwide, Fallon & Byrne, and McCambridge's of Galway.
#PoachersDrinks
Insta @poachersirishmixers