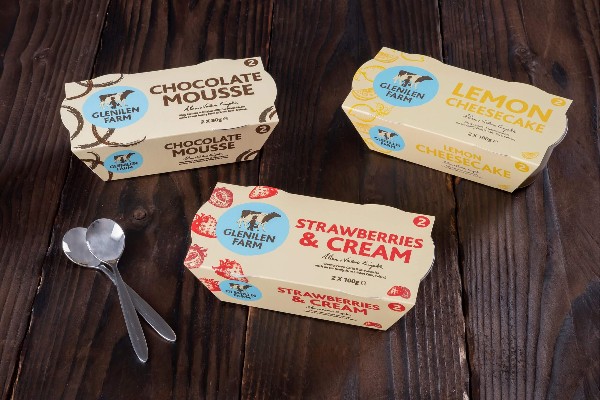 West Cork brand Glenilen Farm has launched a new range of desserts just in time for Valentine's Day. Glenilen Farm, famous for their authentic farmhouse yoghurts and desserts has created the perfect dessert for two with their new range!
Lemon Cheesecake, Strawberries & Cream and Chocolate Mousse make up the 3 new desserts in the Glenilen Farm range. The desserts come in a neat twin pack format making the range an ideal choice to complete a special dinner or just as a little treat.
The Lemon Cheesecake is Glenilen Farm's most popular dessert made with real lemon juice and the Kingston's quark soft cheese. The Strawberries & Cream is a creamy panna cotta made with cream and yoghurt on a layer of strawberries. Chocolate is a must have option when creating desserts and so the Chocolate Mousse is mixed with real Belgian Chocolate pieces to complete this indulgent and decadent dessert.
Commenting on the launch, Valerie Kingston owner at Glenilen Farm says "I love experimenting in our farmhouse kitchen and these desserts were originally created for our family. We are delighted to have commercialised them for everyone to enjoy, just as we do.
The dessert range is made with simple and few ingredients and so can be made in your own kitchen using store cupboard ingredients. Simplicity is key and so to accompany the launch, Valerie shows us on the Glenilen Farm Youtube channel how to make these very desserts at home. https://www.youtube.com/watch?v=5OjaMuWPaUo&t=36s

Find out more about Glenilen Farm's traditional, family-run dairy farm in West Cork, Ireland by joining them on Facebook www.facebook.com/glenilenfarmdairy.