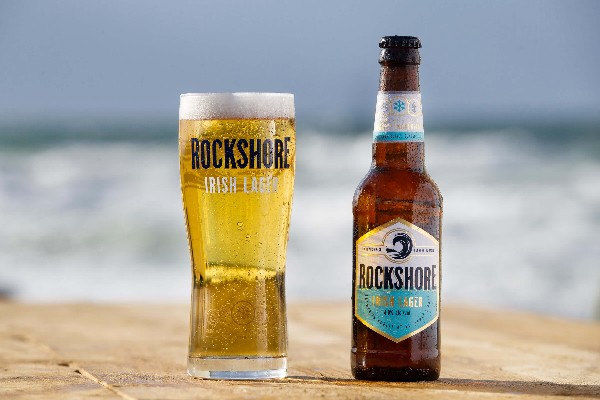 Today, Brewers at St. James's Gate Brewery are proud to unveil an exciting new Irish lager 'Rockshore' which has been inspired by the rugged refreshing experience of the West Coast of Ireland.

Speaking at the unveiling of Rockshore, Head of Beer Innovation, Diageo Europe, Niki Maccorquodale commented; "We are absolutely delighted to introduce Rockshore - a light, refreshing tasting lager inspired by the West Coast of Ireland from our Brewers here at St James's Gate. Undoubtedly, one of the most captivating parts of Ireland, the West Coast is home from home for many of us. From weekend trips with mates, to the salty spray of the Atlantic sea, when the people, playlists and pit stops matter more than anything else in the world, at that moment in time."

Maccorquodale continued "People are increasingly looking for choice, particularly among beers and lagers offering a refreshing and light taste. Brewed using only four quality ingredients, Rockshore is the best light tasting lager our brewers have ever created and we can't wait for people to try it".

Over the summer months, Rockshore is planning a series of collaborations, experiences and partnerships so watch this space on instagram.com/rockshorelager.
The launch will also be supported by a heavyweight TTL marketing campaign encompassing TV, Outdoor, Digital, PR and experiential, which will kick off from 1st April.

With an ABV of 4% and 106 calories per bottle, Rockshore Irish lager is being rolled out nationally from today and will available in pubs, bars, restaurants, off-licences, supermarkets and convenience stores throughout the country over the coming weeks.

For more information go to Rockshore's social channels:
Instagram.com/rockshorelager
Facebook.com/RockshoreLager
Twitter.com/rockshorelager
Visit Diageo's global responsible drinking resource, www.DRINKiQ.com, for information, initiatives, and ways to share best practice.