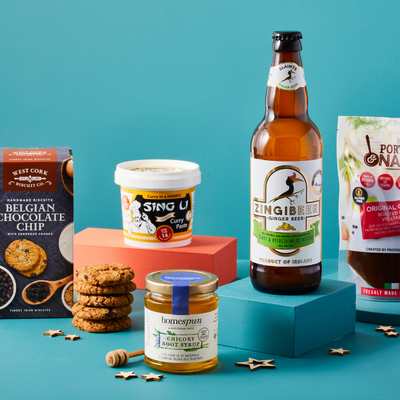 SuperValu have selected five Irish producers from Food Academy to feature as Guest Stars in stores nationwide for three weeks, from March 2nd.
Applications are now open for other small Irish food and drinks producers to follow in the footsteps of the Taste of Local Guest Stars and apply for a coveted place on the Food Academy Programme.
Small producers often face difficulties getting their product seen, and SuperValu are keen to shine a light on Irish-made produce. The Food Academy is a business support programme that helps small businesses through the journey from early stage to getting their products on shelf.
The Taste of Local initiative is a key part of SuperValu's commitment to supporting and developing small Irish food and drink producers. The five products chosen to be stocked from March 2nd have successfully participated in SuperValu's Food Academy.
The 5 products selected for nationwide distribution this March are:
· Chicory Root Syrup from Homespun, Co. Dublin
· Belgian Chocolate Chip Cookies from West Cork Biscuits, Co. Cork
· Curry Paste from Sing Li Foods, Co. Louth
· Ginger Beer from Zingibeer, Co. Dublin
· Original Gravy from Porter & Nash, Co. Dublin
Speaking about the national launch of the five Guest Stars' products, Carmel Biggane, Food Academy Manager said: "SuperValu are incredibly proud to support growing Irish food and drink producers, it is an important part of our company ethos, and we are delighted that the five producers' products will now be available to purchase for a limited time period.
Starting your own business can be an overwhelming experience and the Food Academy programme provides the producers with the tools they need to thrive and grow their businesses to their fullest potential. Each of the producers have such inspiring stories and Supervalu is thrilled to be on this journey with them."
The Food Academy programme is a unique food business development programme between SuperValu, Bord Bia and the Local Enterprise Offices. The programme supports Irish producers in navigating the food business industry, teaching vital skills and knowledge including branding, digital marketing, driving sales, sustainability, food safety and labelling and one-to-one mentoring.
A 2022 SuperValu survey found that 77% of Irish shoppers feel it is important to buy local and sustainable products.
Established in 2013, Food Academy supports over 1,500 jobs across Ireland, with participants' products available in stores all year round and the Food Academy team always on hand to provide advice to producers. 270 producers are on the programme, and 98% feel that Food Academy has been "very beneficial" to developing their business.
This year's Guest Star line-up features a versatile range of products including tasty handmade biscuits, a chicory root syrup sweetener alternative, a ginger beer with a hint of lemon zest, a ready-to-eat but nutritious gravy and a Chinese-inspired curry paste.
This season's Guest Star Products are available at over 150 SuperValu stores nationwide from March 2nd until March 22nd.
Food and drinks producers, who are in the early stages of developing their business and would like to see their products on shelves in SuperValu are strongly encouraged to apply for the programme. The deadline for application for this year's cycle is Friday, April 7th 2023, with the programme commencing in September 2023. Those interested in applying can find further details on www.localenterprise.ie.