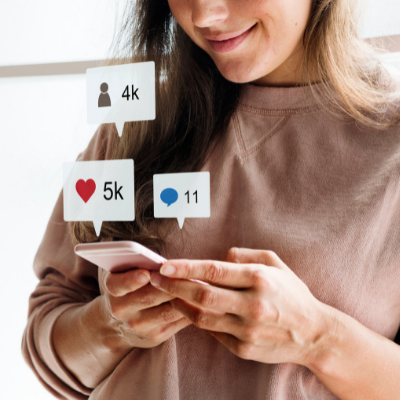 Covid-19 propelled Irish business onto social media platforms, but some SMEs struggle to get the most out of their online presence. Dr Brendan Keegan, lecturer in Digital and Social Media Marketing at NUI Maynooth, tells Morgan Stokes how your business can shine on social media.
The vast majority of Irish businesses have at least some sort of social media presence – according to a 2021 survey by SproutSocial, the pandemic propelled firms online, with 82% on Facebook, 59% on Twitter, and 75% on Instagram. But with such a crowded field, it can be difficult for smaller firms to beat competitors. We sat down with Dr Brendan Keegan, lecturer in Digital and Social Media Marketing at NUI Maynooth, for advice on what SMEs can do to stand out.
Going in with a game plan
According to Keegan, the number one mistake that small businesses make with their social presence is neglecting strategy. "Too many firms enter into the [social media] arena without any distinctive plans for what they want to achieve from it," he says.
Small businesses should think about what they want to achieve from social media, whether that's courting customers for online sales, flagging new developments to corporate buyers, or driving foot traffic to a brick-and-mortar premises.
It's also essential to consider your current customer base, who you want to attract, and where they might hang out. Facebook is out of favour with the under-40s, but still heavily used by older consumers, while the younger generations are more easily influenced by Instagram or TikTok.
"Small firms should try and do a quick 'MOT' for the social channel [Twitter, Facebook, Instagram etc.] and see if it fits them and their business, and more importantly, if their customers are on there. Then start to form an objective for what you would want to get out of it, by entering this space," Keegan explains. If you're completely at sea, a good place to start is by looking at your competitors' pages and checking who follows them.
Lean towards local
While some suppliers new to online sales might have starry-eyed dreams of developing a global following, Keegan is adamant that "local is the way to go". Covid-19 has accelerated a trend of consumers favouring local brands, and a follower in your area may be far more likely to make a purchase than one further afield.
Keegan suggests linking in with other businesses in your area and getting them to share your stuff. While contacting your competitors may not be a good idea, businesses that sell products complementary to yours might be a good fit; a wine shop and a cheese producer pair well. For example. Waterford whiskey brand Muldoon's has garnered attention by partnering with Walsh's Bakehouse.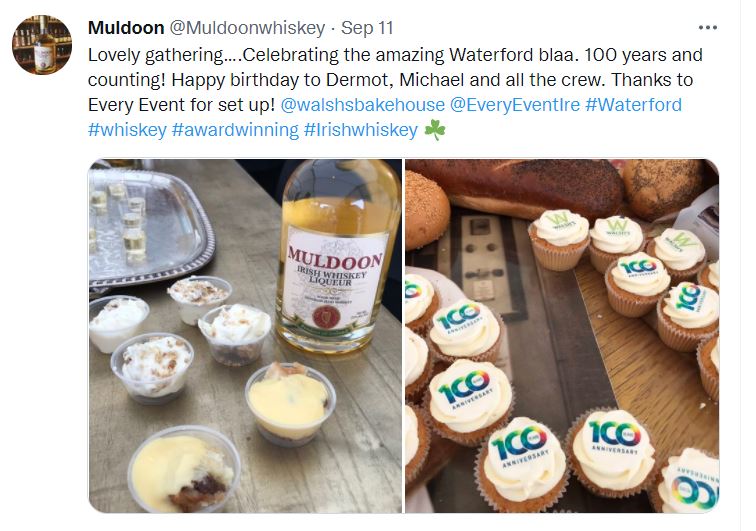 If you already supply your product to a local business, asking them to give you a shout out is an ideal place to start. St Mel's Brewing have increased their following by sharing posts from restaurant stockist Fire Steakhouse, and vice-versa.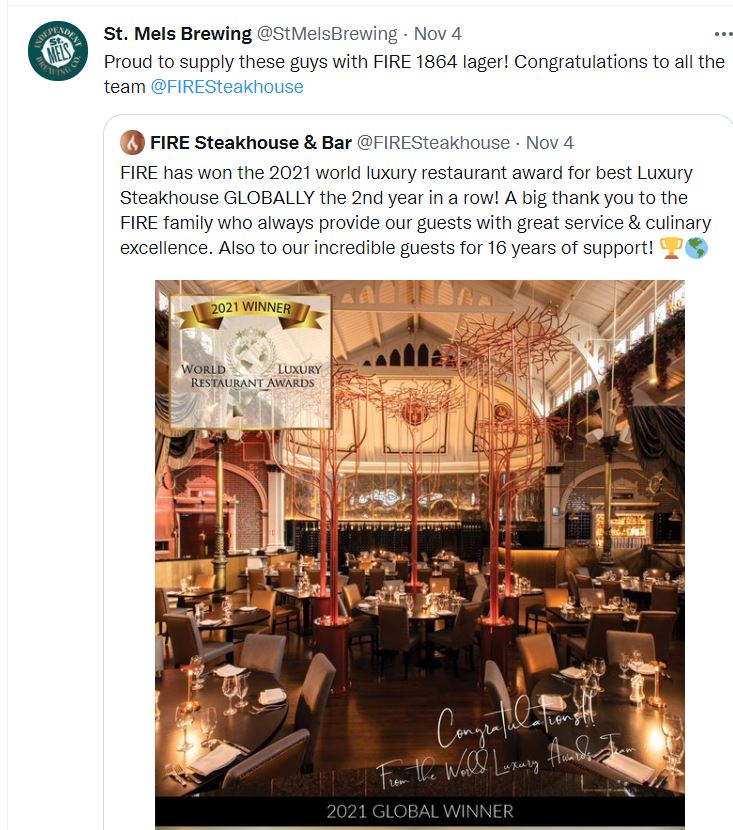 "Try to scan social accounts within the locality and see how best to approach them. My advice would be to ensure that you have something to share with them, instead of cold calling. Partnerships, co-promotions, deals and competitions are the bread and butter of social media marketing," Keegan reveals.
Timing is everything
Beautifully created, engaging social media posts are useless if nobody gets to see them. It's important to get content out there at a time when there's going to be eyes on it; for example, if you are B2B selling, posting at 6pm when everyone has left work is unlikely to yield results, and if you're direct to consumer, an 11am post time will leave your content unseen.
If you can't be online when your customers are, Facebook, Instagram and Twitter all have tools that allow you to schedule a post to go out automatically at a certain time. Social media management tool Hootsuite has an excellent list of the best posting times for different types of businesses, broken down by the social media platform in question.
Post frequency is also important. Keegan advises setting up a 'Conversational Calendar' to organise times and regularity: "Start with a simple month view calendar and ensure that there is one significant post coming out at key times of the week (Monday is a good one to start with). These key times will depend on the customer base."
Learn to listen
We've written before about how consumers are increasingly seeking a personal relationship with brands, and social media is a great opportunity to put on a friendly face. But the relationship goes both ways; consumers want you to engage with their content as well as vice versa.
Keegan is a big proponent of practicing 'social listening', searching social media sites for mentions of your product or keywords associated with it and interacting with the consumers who post about it. "Social listening is a vital tool," he stresses, "and should feed in nicely to your objective, or strategy development for social media marketing activity."
Few brands have honed this practice better than BWG's Spar, which laser focuses on posts that mentions popular deli items like chicken fillet rolls and jambons and shares them along with a joke. Social listening doesn't just gain your brand attention; it's a good way of capturing consumer feeling and feedback.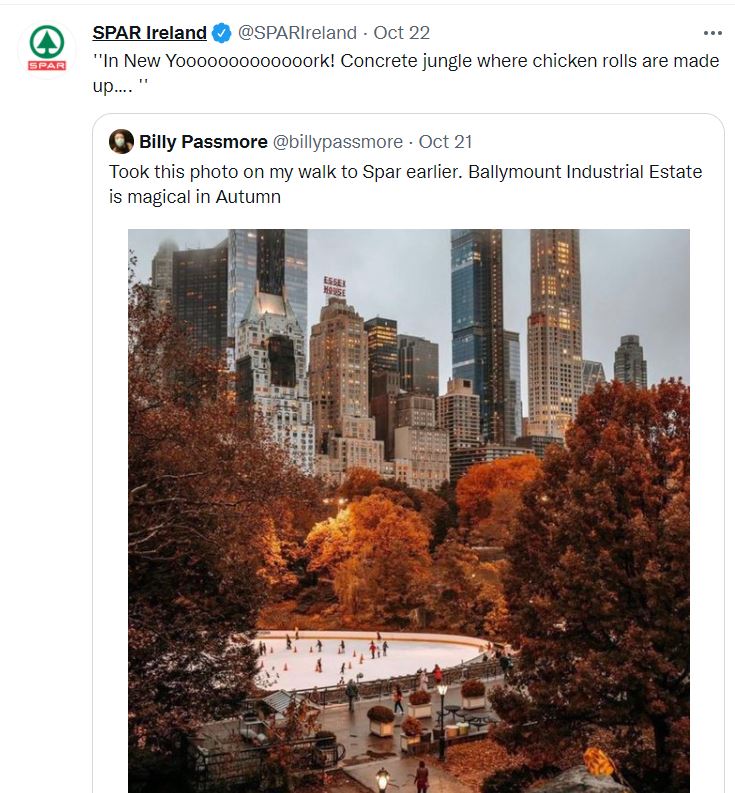 Keegan advises setting up a system or style guide for responding to comments or brand mentions: "Make a plan for how you will respond to all kinds of response. Think of this as a triage system: positive comments should be savoured and shared with a wider audience (and kept for testimonials on the website!). Neutral comments should be responded if they can be moved to a more positive position. Negative comments should be responded to in a neutral tone and to address any significant constructs being presented."
Developing a personality
Consumers like brands to be accessible, responsive, and fun. Paddy Power and Spar might woo customers with jokes and banter, but it does pay to be careful; if you're a franchisee or part of a symbol group, you may want to contact your group's marketing department to see if there are any style guides to follow.
A safer way to seem more human might be to give your customers a peek behind the scenes, posting photos of your daily process. While nobody wants to (literally) see how the sausage is made, watching the work being done can remind your followers that there are people behind the profile. It helps if you can sweeten the deal with something cute, even if that's a family pet helping you work from home. Egg producer Magner's Farm have seen great success with their regular chicken updates.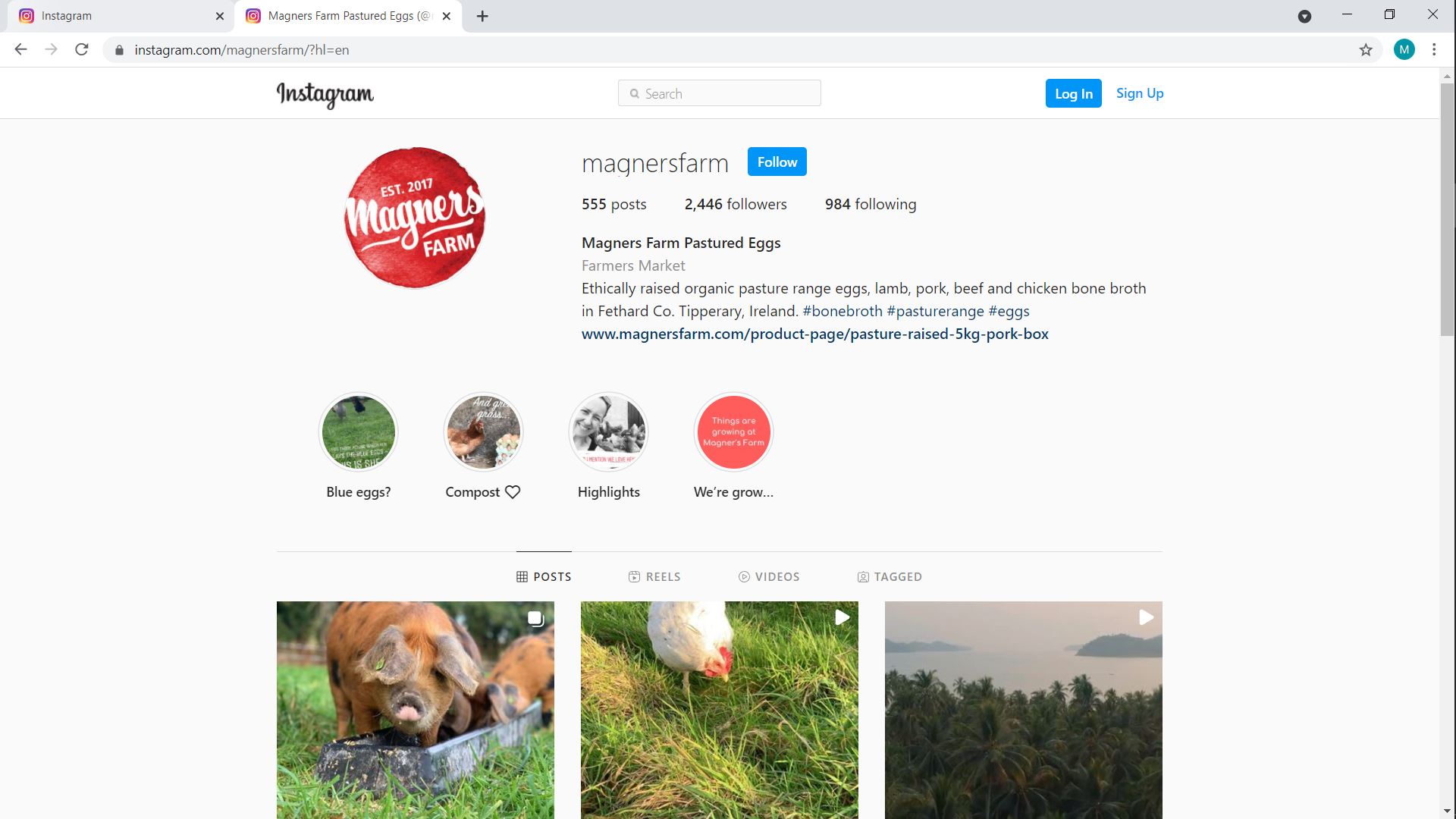 The technical side: statistics and the algorithm
All major platforms come with statistical tools that can help you see which posts are doing well and at what time; if you're just starting off, it can be fun to experiment. You can access Facebook and Instagram stats through Facebook Business Suite (you'll see the option in the toolbar on the left hand side of your business' Facebook page), and you can find information on how your Twitter page is doing by visiting analytics.twitter.com.
Much is made these days of mysterious algorithms, or the programmes that control the order of posts in your consumers' feed. This s updated all the time; generally speaking, Facebook favours short sentences and square images, and SproutSocial claim that posts that contain video fare 92% better than those that don't. However, the criteria can change on a whim.
A better bet is to scroll through your competitors' pages and look at the posts that do well. For those less social media savvy, this can also be a good way to get to know the 'etiquette' of certain platforms. For example, hashtags are essential on Instagram, but are seen as passé by many Twitter users.
Worth the manpower?
According to Keegan, one of the biggest mistakes businesses make starting off on social media is underestimating the amount of time it takes up. "An agency I know quite well have a 24-hour/sevenday rota for their community managers," he says. Social media should not be left solely on the shoulders of an overworked intern.
Fortunately, there are tools that can help you manage more efficiently. Keegan recommends social media management programme, Hootsuite, to help you plan posts and run automatic searches for keywords. There's also an option to outsource to a company that runs a dedicated social media service, such as Irish start-up SocioLocal.io.
Finally, Keegan says that businesses shouldn't rule out paying to boost your post in your customers' social media feed: "Don't rule out paid social advertising. It's so sophisticated today that it can be a very effective platform… and can provide access to groups of potential customers. However, the click through rates for this activity are low. But bear in mind, even having your advert appearing in someone's feed, paid or otherwise, can support other marketing activities and [help your brand] stay fresh in the consumer's mind."