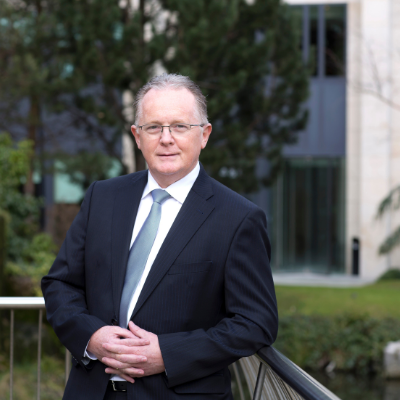 At the end of December, legendary JTI Ireland Sales Director Derek Mooney will retire after over four decades with the company. Here, JTI General Manager Andrew Shannon is joined by a number of familiar faces from the FMCG sector to pay tribute to Derek and reflect on the stellar career of a man who knew the Irish tobacco business inside out.
Over the course of my 20-year career with JTI, I've been fortunate to have had the opportunity to work alongside some incredible professionals. True leaders who have worked tirelessly to build the business, develop their teams and, very importantly, collaborate with and support their customers. Derek Mooney is without doubt up there with the very best.
We have worked together in various capacities since JTI's acquisition of Gallaher in 2006, and from the outset it was absolutely crystal clear to me that his knowledge of the tobacco business in Ireland was unparalleled, as was his understanding of the FMCG category and the challenges facing both manufacturers and retailers. Within JTI, he has been a strong leader in coaching, mentoring and developing his people to prepare them for bigger roles in Ireland, as well as across our international business in our Swiss headquarters and markets.
Immense respect
Since taking over as JTI Ireland General Manager at the beginning of 2021, I have worked with Derek on a daily basis and have seen firsthand the immense respect he has built up over his four decades with the business, both among colleagues and customers. I've also seen that this goes both ways – he has established incredibly strong, longstanding relationships with our customers, based on mutual respect and an understanding of the importance in business of getting to a winwin solution. As I've visited stores and met with customers throughout the country, it's been obvious that there is a genuine warmth and friendliness there that goes beyond the business relationship.
He has successfully navigated JTI through significant changes to the category: the retail display ban, standardised packaging, EU TPD2 and track and trace, to name just a few. But he was also keenly aware of how disruptive these changes could potentially be in stores, and always went the extra mile in supporting and guiding customers through periods of change such as these, the hallmark of someone who takes their leadership responsibilities seriously
Phenomenal legacy
As he embarks on his retirement, Derek leaves a phenomenal legacy: clear market leadership across cigarettes and roll-yourown tobacco, spearheaded by iconic brands Benson & Hedges, Silk Cut, Mayfair and Amber Leaf; Logic Compact leads the E-Vapour pods segment; and our Nordic Spirit nicotine pouches continue to grow. Beyond the strictly commercial success, however, he has also built an exceptional team of people across JTI's Sales organisation, ranging from our Telesales operators to Key Accounts, Business Advisors and Logic Specialists, and he has been a mentor and friend to countless others throughout his career.
So on behalf of everyone in JTI, both in Ireland and further afield, I'd like to express my sincere thanks to Derek for his incredible dedication, commitment and total professionalism over the years, as well as his friendship, team spirit, camaraderie and sense of humour. After over 42 years of service, JTI will be a different place without him, but he can be extremely proud of the legacy he leaves. Wishing him only the best on a very well deserved retirement.
Retail News has received the following tributes from those who knew and worked with Derek over the course of his career:
Great host; average golfer!
"Hard to put into a couple of sentences my thoughts on Derek. He has always been hugely supportive of Stonehouse and its members, from when he was a junior in Gallaher to when he was at the top of JTI. He is a tough negotiator, said 'no' a lot but had a wonderful act of always being nice as he said it! "Derek has always been great at balancing business with the social element of his role. Great host, average golfer, longtime friend. Stonehouse will miss his involvement in our business. Don't know how Babs will put up with him being at home a lot!! Kick him out onto the golfcourse. Bon voyage." Tom Shipsey, CEO, Stonehouse.
One of the most popular figures in the trade
"I have had the pleasure of interacting with Derek for over 25 years and I can safely say he is one of the most popular individuals in the grocery trade. We have enjoyed many jousts in the boardroom and on the golf course, where Derek has always displayed his admirable qualities of passion and conviction in both locations! I wish Derek and Barbara every happiness in the future." Leo Crawford, Group Chief Executive, BWG Group
Hugely supportive of our industry
"DEREK has played such a central role in the FMCG sector for many, many years and is one of the most highly-regarded sales professionals in the business. I've had the pleasure of working with Derek for over 20 years, and one thing that has always remained constant is Derek's support for our industry.
"Gala Retail have enjoyed a close working relationship with JTI and Derek since the Group was founded, and this positive working relationship has been productive in working together to overcome the many changes and major challenges of the past couple of decades.
"Derek will be hard to replace but JTI have a solid management and team structure in place, so we look forward to building relationships with Derek's successor. We wish Derek a happy and healthy retirement, and send our thanks to Derek for all that he's done for Gala Retail and indeed the sector during his time at JTI." Gary Desmond, CEO of Gala Retail
One of the nicest guys in the trade
"It has been my pleasure to have had the opportunity to get to know and deal with Derek over the years. In fact, I am lucky enough to count him as a friend. Derek has always been extremely professional in his dealings and this is something I have always admired. He is honest, diligent and passionate, whilst also being one of the nicest guys in the trade that always greets you with such a warm and welcoming smile. "Derek and Babs, I wish you nothing but happiness and fulfilment in the next chapter of life and look forward to catching up with you both soon. All the best." Jim Barry, Managing Director, Barry Group
A rock of support
"Derek has been a rock of support for Applegreen through our almost 30 years in business. We greatly appreciated his work ethic, his deep industry knowledge, and his innate skills at bringing people together. Derek has no doubt played a major part in the success of JTI in Ireland through the many strong connections he has forged in the industry. I'm sure he will be greatly missed across the board! "We at Applegreen wish both Derek and Barbara every health and happiness in this next chapter of their lives. All the best and a really big thank you!" Joe Barrett, Chief Operating Officer, Applegreen
Understanding retailers' needs and concerns
"The departure of Derek Mooney from JTI marks the end of a very long relationship between him and the retail sector. For many years, our Association relied upon the geniality, professionalism and empathy that Derek possessed to ensure that retailers' needs and concerns were listened to by those slightly further up the chain of command.
"There is little doubt that many of the changes and improvements that were made by Gallaher and JTI in terms of positive outcomes are as a result of the recommendations from Derek having taken heed of CSNAsuggested ideas.
"The President and National Executive, as well as our members wish Derek a long and enjoyable retirement." Vincent Jennings, CEO, Convenience Stores & Newsagents Association
Wonderful company and good humour
Retail News would like to add our best wishes to Derek and Barbara on any new adventures and travels they might embark on. Derek was always a pleasure to meet and wonderful company. His good humour and quick wit kept us all amused over the years. Good luck Derek from Kathleen Belton and all the team.