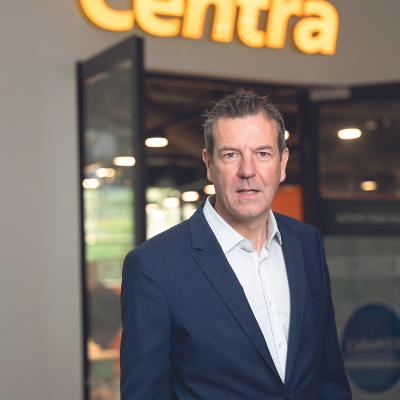 Ian Allen, Managing Director, SuperValu and Centra, discusses the big issues facing the grocery market, from the pandemic trends that have stuck with us to the worrying rate of inflation, the difficulty in attracting and retaining staff and the reasons why the sustainability agenda is taking centre stage.
As Managing Director of both SuperValu and Centra, Ian Allen is at the coalface of Ireland's dynamic grocery and FMCG market, with a wide knowledge of both the supermarket and convenience channels. In a wide-ranging interview, he reflects on the biggest challenges ahead, including the continued effects of the pandemic on the grocery market, the factors putting pressure on the supply chain, and the impact of inflation on the market.
What is the current state of play within the Irish grocery market? How has the market developed over the course of the last 12-18 months?
The pandemic has turned staying healthy from a lifestyle choice into a way of life, with clean eating and living being really important in the future; similarly, plant-based eating and trends such as veganism have fuelled people's appetite for better diets. Our brands have been ahead of the curve when it comes to health, launching new product ranges and in-store solutions for healthy eating before these trends became mainstream. They will continue to adapt and meet every eating occasion, whether that be in-store, at home, or online. In the future, the traditional grocery store or supermarket will be re-imagined as a destination, a place of food inspiration and advice, a social hub – the place where people will go not just to buy products but also for great food and dining experiences.
Technology will enhance the relationship with the consumer and make shopping, either in-store or online, an easier and more personalised experience. Prior to the pandemic, our stores were already developing into these multi-purpose destinations where people go for food demonstrations, nutritional advice and personal service from butchers, bakers and greengrocers. Post-Covid, we have exciting plans to transform and grow SuperValu, both as a brand and as a shopping destination. Our ambition is to transform the food experience for shoppers; meals prepared in-store by chefs; reimagined butcher, fish and deli counters to meet every taste and preference; a destination place to shop that delivers a modern and contemporary experience, redefining what shoppers expect from a supermarket in a unique and differentiated way.
Both SuperValu and Centra recently revealed their results for 2021, with new store openings reported and more planned for 2022. Why have your groups continued to perform so well?
Our financial performance was impacted by the pandemic, which placed exceptional demands on essential retail and online service delivery. This means that, overall, the retail side of the business delivered strong growth, especially in SuperValu and via digital channels. With lockdown, online grocery shopping grew week-on-week, increasing by almost 300% in the course of the year. At the same time, the closure of offices, travel restrictions and a radical reduction of footfall in city centres significantly reduced convenience, food-to-go and special event shopping.
Our results reflect the extent to which we have been able to leverage the strength of our brands to support our partners, customers, and communities during the health crisis, while accelerating investment in digital platforms and operations. Notwithstanding the many challenges presented throughout the pandemic, our strong performance is a credit to our people, especially our retail partners and colleagues, who went above and beyond during the pandemic to keep people safe and keep food on shelves. Our teams worked tirelessly to ensure that we protected the most vulnerable and that our customers had access to their favourite ranges throughout the crisis.
What trends that emerged during the Covid-19 pandemic have stuck with us and continue to shape the market we have today?
As we emerge from this pandemic, we will see a conscious consumer: one interested in sustainable living, less food waste, sustainable packaging, better food choices, and buying local. Covid-19 has also accelerated the rise in omni-channel. Online demand grew significantly at the height of the pandemic, a trend that is expected to continue into the future as consumers see the benefit in the convenience and control it gives them. Aggregators and delivered food have also seen significant growth, a trend expected to continue into the future. Similarly, 'frictionless' retail has also increased – i.e. contactless, paying by phone, shopping through superscan, or click and collect – where shoppers are looking to self-serve and have a seamless experience. At the same time, brands recognise that in isolation, the digitisation of the retail experience limits opportunities for differentiation and offers less than today's consumers expect.
Trends such as cooking from scratch and in-home eating experiences of high-quality, pre-prepared food, have been amplified by the pandemic but are also likely to stay, in addition to an increasingly sophisticated take-away market. Demand for convenience grew significantly at the height of the pandemic, a trend that is expected to continue as consumers see the benefit in the convenience and control it gives them, especially as customers return to the office.
The pandemic, the continued effects of Brexit and the war in Ukraine have all had an impact on the supply chain. What has been the experience of SuperValu and Centra, and the wider Musgrave Group, of this?
We are in constant contact with our suppliers, and we have a robust and resilient domestic and international supply chain. We are working with suppliers to understand and mitigate the impacts of Brexit and the war in Ukraine and our focus remains to ensure our customers continue to have access to their favourite ranges. We are confident that with 75% of our goods being sourced in Ireland, we can continue to deliver the best value and quality Irish products for our customers during this uncertain time.
What are Musgrave doing to mitigate those effects?
Musgrave have a robust supply chain that ensures our shelves are replenished every day. We are confident that given our broad range of Irish and international products, close partnerships with suppliers and strong contingencies in place, that we will be able to offer customers continued access to their favourite ranges.
The word 'inflation' has been in the news a lot recently. What are the effects of rising costs for consumers and businesses (in terms of putting the squeeze on retail margins and consumers possibly trading down, buying on promotion, buying in bulk etc.)?
We are keenly aware of both the scale and impact of price inflation right the way through the supply chain, from producers to customers. We know that these issues are a cause of considerable concern. This inflation is primarily driven by commodity price inflation, reduced availability of certain products and political uncertainty. We are working hard with our suppliers to ensure we continue to deliver the best value and quality Irish products for our customers. We will also continue to build out our own brand offering through ranges including Inspired By Centra, Freshly Prepared ready meals, Frank and Honest, Moo'd and so on. Cost pressures from rising transport costs, higher energy and commodity prices may start to filter through to consumer prices. We are aware of the pressures our customers and communities face at this time and will seek to ensure that we deliver best value, choice and quality.
What other factors are impacting on margins (insurance, rates, labour costs etc) and what can be done to drive down these costs?
The cost of doing business continues to rise for retailers across the country. We are aware of the current plans around initiatives such as the introduction of the living wage, statutory sick pay, and pension auto-enrolment. We are concerned that the cumulative effect of all of these additional costs is not fully appreciated in terms of the costs and employment implications for retailers. We are worried that these increased costs, coupled with inflation, high energy costs and the rise in the cost of fuel, will cause serious financial difficulties both for our own stores and our independent retail partners. Everything needs to be done to ensure retailers are supported to keep their business open and to continue employing members of their community.
We are hearing stories of retailers struggling to recruit new staff: what can be done to alleviate this?
Like many organisations, we are dealing with the labour shortages which have come to light post-pandemic. We are challenged in a number of areas across drivers and store staff. We have been attempting to recruit abroad but are still in need of more staff. As independent retailers, our store owners have strong relationships with their local community and have a history of employing locally, whether that is students at the weekend or flexible working hours for those with families. We have roles that suit people's lifestyles, including full-time and part-time roles. We offer extensive training and developing programmes from deli, food safety, customer service and store management programmes that have a wide appeal.
Sustainability is a key concern for consumers: what are SuperValu and Centra doing to promote the circular economy?
Guided by the UN Sustainable Development Goals, our sustainability strategy tackles these key areas, from carbon reduction to the sourcing of produce, from plastic packaging to supporting local communities. With 11 leading food and beverage brands and a network of more than 1,800 retail partners, we have a significant opportunity to drive our sustainability agenda and inspire others to make changes in a collective effort to benefit people, protect the planet and create prosperity. One of our goals is to reduce our carbon emissions to reach net zero carbon by 2040. As part of our sustainability journey, we've focused our efforts across sourcing, environmental impact and community. We are committed to growing and developing sustainable communities. We have a range of ESG goals and initiatives in place to help us achieve them. For example, 91% of our own brand packaging is now recyclable, reusable or compostable.
We are well on the way to achieving our target that 100% of our own brand packaging will be recyclable, reusable or compostable by 2025. Centra and our retail partners will continue to make sustainable changes whether it's in sourcing, packaging, energy reduction or supply chain solutions. Centra are making changes in stores; in our packaging, where we were the first convenience retailer in Ireland to launch a 100% compostable and reusable bag. We have removed 300,000 units of unrecyclable trays from our in-store wrapped bakery and butchery ranges. We've also committed that by 2025, all SuperValu stores will run on green electricity, we are well on the way to achieving this, with 50% of our stores are now running on green electricity generated from renewable resources.
What are your plans for the year ahead for SuperValu and Centra?
Centra recently announced a €25m investment in an ambitious expansion programme. The expansion will see 18 new Centra stores open in 2022, creating over 430 new jobs in local communities around the country. The expansion programme is in addition to the 11 new Centra stores opened in 2021 and the €17m deployed last year to revamp and refresh 64 existing stores. Centra support over 38,000 jobs and directly employ 11,716 people across the 483 stores operating in Ireland.
Throughout the pandemic, shoppers sought convenient meal solutions and tasty treats, driving demand for Centra's cook at home prepared ranges. Moo'd Ice Cream, Centra's high-quality Irish ice cream concept, recorded sales of €10m last year, up over 52% on 2020. The Inspired By Centra range saw strong growth, with a 40% increase in sales, while the Freshly Prepared range of meals also saw a 40% jump in sales, demonstrating growing consumer demand for convenient, own-brand products and meals.
During 2022, SuperValu will invest more than €35m in approximately 50 stores, in addition to the €23m deployed last year to revamp and refresh 42 outlets across our retail estate. 2022 will also see SuperValu continue to grow our nationwide presence, creating at least 150 jobs and adding to our existing 223 stores. SuperValu's new food experiencebased store allows customers to enjoy easier and simpler grocery shopping, combined with more sustainable choices. From the point of entry, customers experience the taste of local range, to plant-based alternatives, as well as a home eco-range. The state-of-the-art store provides customers with new innovative delicatessen, bakery, and fresh food offerings alongside the Happy Pear and Donnybrook Fair ranges.
What do you expect to happen in the Irish market over the course of the year?
We are now seeing a return to the pre-pandemic levels of grocery shopping. However, many of the trends brought about during the pandemic, such as healthy eating, convenience offerings and the rise of digital, are here to stay and our investment in enhancing our customer offering in these areas positions us well for the future. As I have mentioned, price inflation is having an impact, and as a result, we have seen an increase in value seeking among our customers.
We are responding to this, and doing everything we can to offer the excellent quality and value products that our customers expect at SuperValu and Centra. As we look to the year ahead, together with our valued retail partners, we plan to further cement our leadership position by continuing to support local producers, investing in innovation, enhancing our reputation for quality and inspiring food and delivering the best customer experience in the market. Our strong regional presence is reflected in our ambition to offer a one-stop retail experience for our customers at the heart of communities across Ireland.
As we emerge from this pandemic, we will see a conscious consumer: one interested in packaging, sustainable living, less food waste, better food choices, and buying local. In fact, sustainability is less of a trend and more of a core value for many of our younger shoppers. Covid-19 has also accelerated the rise in omni-channel. Online demand grew significantly at the height of the pandemic, a trend that is expected to continue as consumers see the benefit in the convenience and control it gives them. Operators and delivered food have also seen significant growth, a trend expected to continue. Hybrid living will change how, where and when people access food; for example, we anticipate an increased consumption of lunch and snacking at home, a scaling back of workplace canteens and cities becoming more entertainment and experienced based, than centres of employment.