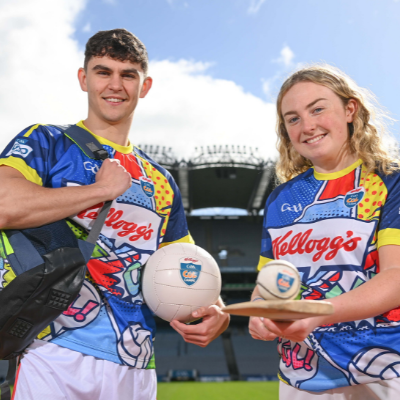 Kellogg's GAA Cúl Camps are back right across the country this summer, with numbers back at full capacity
THE most hotly anticipated summer camps, Kellogg's GAA Cúl Camps, have returned for 2022. The Camps are anticipating an extra level of excitement this year, with numbers back at full capacity across the country following Covid restrictions.
Camps will kick off on Monday, June 27, and will run up to August 26. GAA clubs across the country are set to be a hive of activity this summer, with bookings for participants aged 6-13 now open.
Launching the 2022 Kellogg's GAA Cúl Camps were Kellogg ambassadors and sport superstars, Mayo footballer, Tommy Conroy, and Antrim Camogie player, Roisin McCormick. Both county players are past participants and credit the camps for giving them the most fun summers.
Building on 10-year GAA partnership
Kellogg have recently built on their 10-year partnership with the GAA by sponsoring the newly renamed Kellogg's Skyline Tour at Croke Park. Conroy and McCormick took a visit 44 metres above the ground to see the iconic stadium from a different angle.
Based on incredible feedback and very popular engagement levels, Kellogg have also launched the nationwide on-pack promotion for all GAA clubs across the country to be in with a chance to win prizes worth a total of €40,000. With fundraising activities not fully recovered from Covid-19, this on-pack competition provides GAA members with an incredible opportunity to easily raise vital funds for their club. In order to nominate your GAA club, all that is required is to purchase a promotional box of Kellogg's Corn Flakes, Rice Krispies or Bran Flakes. Using a unique on-pack code, log on to kelloggsculcamps.gaa.ie/competition and nominate your club of choice.
Incredible participation levels
"Kellogg are very proud to be involved in a partnership which involves children taking part in outdoor exercise where fun is at the core," noted Sarah Ferguson, Kellogg Ireland General Manager. "Kellogg's GAA Cúl Camps are in all four corners of the country throughout the summer.
In recent years, we've reached incredible milestones in terms of participation levels and we love hearing the feedback from kids and their parents about the camps. We are really looking forward to welcoming more participants this year and for the camps to continue to play such a key role in their summers."
For more information on the Kellogg's GAA Cúl Camps visit www.gaa.ie/kelloggsculcamps.