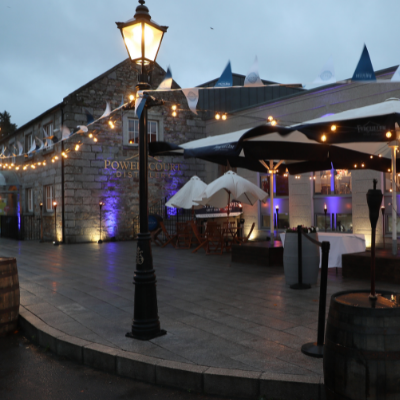 Both emerging and established Irish whiskey producers and patrons were honoured at the 2021 Irish Whiskey Awards.
The 2021 Irish Whiskey Awards took place recently at the Powerscourt Distillery in Co. Wicklow, presented by keynote speaker Jack Teeling, founder and MD of Teeling Whiskey.
Judging of this year's awards took place earlier this summer where organisers, Celtic Whiskey, posted out several hundred blind tasting packs to members of the Celtic Whiskey Club, Irish Whiskey Society — Dublin and Dingle, Cork Whiskey Society, Waterford Whiskey Society, Kilkenny Whiskey Guild, Ennis Whiskey Club, 1875 Whiskey Club and Belfast Whiskey Club. All results were audited and verified by Serghios Florides, owner and Editor-in-Chief of Irish Whiskey Magazine, and William Lavelle from the Irish Whiskey Association.
Celtic Cask 1999 - Tríocha a Cúig - 35 won the coveted Best Irish Whiskey of the Year prize, with extremely close competition from Dunvilles 18 Year Old Single Cask, which picked up a gold medal and the much-coveted second place.
2021 winners
The winners of the 2021 Irish Whiskey Awards are as follows:
Overall Winner - Irish Whiskey of the Year 2021
Best Irish Whiskey of the Year – Celtic Cask 1999 - Tríocha a Cúig - 35
Category winners:
Single Pot Still 11 and Under:
Winner: Method & Madness Single Pot Still French Chestnut
Gold: Busker Single Pot Still
Gold: Teeling Single Pot Still
Single Pot Still 12 Year and Over
Winner: Powers Johns Lane
Gold: Redbreast 12 Year Old
Blended Limited Release
Winner: Writers' Tears Inniskillen Icewine Cask Finish
Gold: Dubliner Old Fashioned Beer Cask
Gold: Eiregold Special Reserve
Blended No Age Statement
Winner: Jameson Black Barrel
Gold: Sailors Home The Journey
Gold: The Irishman Founder's Reserve Rum Finish
Blended With Age Statement
Winner: Jameson Bow Street 18 Year Old
Gold: Pearse 7 Year Old Distillers Choice
Gold: Tullamore Dew 12 Year Old
Single Malt 11 and Under
Winner: The Irishman Single Malt Marsala Cask Finish
Gold: Writers' Tears Red Head
Gold: Jack Ryan Haddington
Single Malt 12-15 Years Old
Winner: Gelston's 15 YO Sherry Cask
Gold: Method & Madness Single Malt
Gold: The Irishman 12-Year-Old Single Malt
Single Malt 16 Years and Over
Winner: The Irishman 17-Year-Old Single Malt
Gold: Tullamore Dew 18 Year Old
Gold: Dublin Liberties Keepers Coin Batch 2
Single Grain
Winner: Teeling Single Grain (Vintage 13YO)
Gold: The Bridge Bethlehem Release
Gold: Method & Madness Single Grain
Single Cask
Winner: Celtic Cask 1999 - Tríocha a Cúig - 35
Gold: Dunville's 18 Year Old Cask 989
Gold: The Irishman Peated Red Ale Cask
Cask Strength
Winner: Dunvilles 12 Year Old PX Cask Strength
Gold: Redbreast 27 Year Old
Gold: Writers' Tears Cask Strength 2021
New Irish Whiskey
Winner: Shortcross Single Malt
Gold: Connacht Whiskey Single Malt
Gold:Teeling Black Pitts