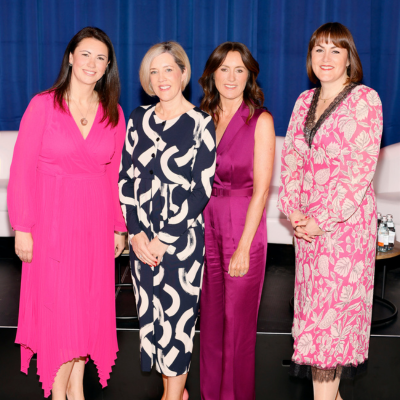 Following its largest ever annual networking lunch, Today's Women in Grocery (TWIG) have announced that vital funds were raised for charitable causes and those in need across Ireland's grocery, food, and retail sector.
The inspiring speaker line-up addressed a gathering of prominent figures in Ireland's grocery sector at TWIG's 2023 event, held in the Dublin's Royal Convention Centre, on Friday 5th May 2023.
Since it first launched, TWIG has consistently been a key part of the fundraising efforts of the Irish Grocers Benevolent Fund (IGBF) charity. In a fitting reflection of the difficult two years faced with the pandemic, the 'Power of Positivity' theme for 2023 set the scene for an afternoon of inspiring contributions from a panel of business leaders from the FMCG sector and beyond. The event was expertly chaired by Sonya Lennon and included female speakers and business leaders from across the industry.
Two panels of speakers on the day, featuring entrepreneurs and industry leaders, discussed the motivations and passions that drive their ambitions and help them to remain positive in the face of business challenges.
Natasha Adams, CEO Tesco Ireland said: "When I first started in Tesco 25 years ago, I was working in one of the shops stocking shelves and working in the customer kitchen. It means I've done the job that all of our colleagues in store do. I want to give all of our staff and colleagues the same opportunities I was given over my 25 years' experience and allow our 13,500 employees to fulfil their best potential."
Sarah Ferguson, General Manager, Kelloggs Ireland said: "There's a real sense of community in the Irish business landscape, there are so many supportive women who want to lift each other up. I'm very grateful to all the women who helped me transition into the business community in Ireland when I first moved here. As I've progressed in my career I've spent more and more time working with people rather than focusing on the technical, and I've learned that when you truly support people the business results will follow."
Betty Quigley, Chief Commercial Officer, L'ORÉAL Consumer Products Division said: "When I first started at L'ORÉAL in Paris I was struck by how diverse and open all of our staff were. Diversity and inclusion is baked into our business, our HR approach and our products, and women are represented at the most senior levels in the company. I'm incredibly proud that I'm the first woman to do this role in L'ORÉAL."
Sharon Walsh, Managing Director, Heineken Ireland said: "Culture has always been very important to me in everywhere I've worked. I think because Heineken is a family company, it has always been inclusive and welcoming. We recently launched a new policy, called Daring and Caring, to make staff feel cared for and included and give them the confidence to dare to achieve great things."
The entrepreneur panel featured contributions from Sharon Keegan, Entrepreneur and Founder at Peachylean, Niamh Briggs, Former Irish Rugby player and member of An Garda Síochàna, Fiona Parfrey, Entrepreneur and Founder at Riley, and Rachel Hennessy, Entrepreneur and Founder at Happy Days Fashion Retail.
Now in its seventh year, the luncheon is the most influential gathering of its kind to put female empowerment and networking in the grocery, food, and drink sector in firm focus.
Speaking at the event, Michelle Darlington, Chair of TWIG, said; "It has been humbling to see our theme, The Power of Positivity, well and truly on show at today's event as we heard incredibly powerful and empowering stories from our wonderful panel of speakers. It's marvelous to see the TWIG annual networking lunch go from strength to strength each year, and become a standout moment in the calendar for the grocery, food and retail sector and for the charity and individuals we aim to support. I would like to thank the TWIG committee for all their support in hosting our largest and most successful event since we began in 2016, and a big thank to all our sponsors for continuing to support the event and the IGBF charity.''
This year's lunch was kindly sponsored by Musgrave, Diageo, CPM, and Suntory Beverage and Food Ireland. All funds raised from the TWIG luncheon enable the IGBF to continue supporting our fellow colleagues across the trade who have fallen on hard times.