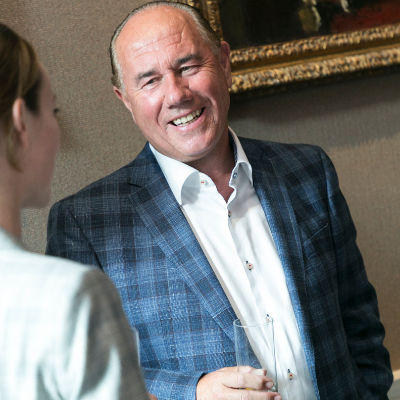 Michael Barry, Managing Director of Barry & Fitzwilliam, reflects on the highs and lows of running an independent drinks distributor as the company approaches its 40th birthday.
ONE of the best-known names in the Irish drinks industry, Michael Barry has led Barry & Fitzwilliam for the last four decades, growing the business to become Ireland's largest independent premium alcoholic drinks distributor, which carries more than 120 wine, spirits and beer brands and employs over 60 people from its extensive warehousing and administration facilities based in Cork and Dublin.
As the company approaches its 40th birthday, the Managing Director reflects on its four decades in business, including some incredible highs and severe lows.
Remaining a successful independent drinks distributor for four decades is quite an achievement. How has the business managed to survive for 40 years?
We have a saying in the company that persistence beats resistance, so in a way it typifies our attitude in running the business. We have managed to survive and prosper over the 40 years by keeping a close eye on international trends and embracing them.
The Irish drinks industry has changed dramatically over that time. What are the biggest differences?
We started out being a wine and spirit distributor but at the time, our business primarily involved the distribution of spirits, with the wine market being very small. The big brands at the time were Blue Nun, Black Tower and Pedrotti. The pub trade was booming at the time, with probably 75% of our business going through the on trade. Today, the on trade accounts for about 40% of our business.
What have been the biggest challenges to overcome in the last 40 years?
Our greatest challenge as a company was back in 2003 when half of our sales team were involved in a tragic accident near Jerez when we were visiting the Gonzalez Byass Bodega. Four people died in the accident and six of us had very serious injuries at the time but I'm glad to report that we all made a full recovery. I have to say that at the time, the trade, including our competitors, were very supportive of the company. Other than that, Covid has been our biggest challenge to date.
How have Barry & Fitzwilliam managed to compete against the multinational drinks giants over the years and how do you still compete successfully against them?
We trade with most of the multinationals because besides being an agency house, we are also one of the leading spirit wholesalers in the country, carrying all of the leading spirit brands, and are very much a one stop shop to the on trade. As a family company, we deal with a lot of other family companies so I think that is a major point of difference for us. Also we are very nimble and can make very quick decisions and activate strategies very quickly.
How important is it to maintain your independence and not get swallowed up by a multinational (I'm sure you've had plenty of offers)?
Our independence is very important. I love what I do and I couldn't see myself being part of a multinational.
You distribute some of the best known brands in the world across wine (McGuigan, Villa Maria, Michel Lynch, Graham Norton), spirits (Remy Martin, Tia Maria, Jagermeister) and beers (Paulaner, Brewdog). How have you managed to build and maintain these relationships?
Firstly, we are obviously good at hitting targets. Our sales and marketing team are very good listeners, as they are invariably given direction by the various brand owners and it's their job to execute the brand plans as outlined. I am a great believer in relationships, so it is very important to nurture the relationships that we have with brand owners but it is also very important for our sales team to listen to our customers. We have an excellent route to market and this is primarily what our brand owners require.
You've also been at the forefront of the latest trends driving the market, including the gin revolution, the continued rise of craft beer and cider, the renaissance of Irish whiskey, the growth of no and low alcohol products etc. How do you stay on top of trends?
Staying on top of trends is part of the challenge. We have had huge success over the years as that mindset has helped us to successfully launch many brands. We were the importers of Corona for 25 years, the first long neck bottled beer in the market, before the brand was sold by Modelo Brewery to Abinbev and I believe that our success with that initially and then subsequently with McGuigan wines and Michel Lynch helped develop our reputation as brand builders.
Then, when we took over Maxxium in 2004, the success we made of their brands enhanced our reputation. We are very focused on what we do; we see ourselves as alcohol specialists and we are currently at the forefront of the hard seltzer category, with White Claw having over 50% market share.
How is the Irish consumer changing with regard to the drinks we consume?
I feel that the consumer has become very discerning and brand focused, especially when it comes to cocktails. Cocktail culture has seen a dramatic increase over the last two years and is here to stay, which is great for us as we are the distributors of Bols Liqueurs, Cointreau, Tia Maria, Passoa and Disaronno, to name just a few of the main ingredients of many good cocktails.
How did the last two years of the Covid pandemic and Brexit impact on the business?
Considering that the hospitality sector accounted for approximately 40% of our business before Covid, we were able to grow the majority of our brands in the off trade to such an extent that we replaced that lost turnover and even increased it over the last two years. Brexit and the ensuing paperwork and red tape that it required was a bit frustrating initially, but we have got used to that.
Have you any plans to celebrate the brand's 40th birthday?
We opened our doors on October 18, 1982, and October normally coincides with our Annual Sales Conference, so I think that we will have one hell of a party after the conference.
What does the future hold for Barry & Fitzwilliam?
I believe that the future is very bright for Barry & Fitzwilliam: we have a great team, we have great brand owners, and great relationships with them. We have a portfolio which is very much on trend with the consumer such as White Claw, BrewDog and our celebrity wine portfolio such as Graham Norton, Kylie and SJP, together with all of the brands mentioned earlier, so we are very much looking forward to the business going from strength to strength.