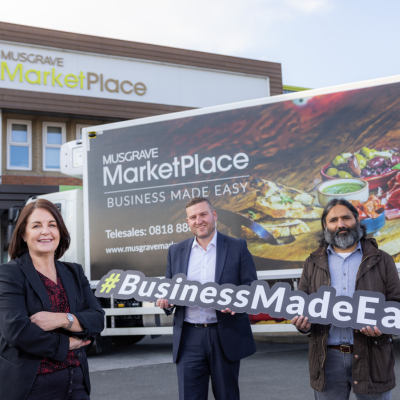 Ireland's leading wholesale and foodservice business Musgrave MarketPlace has unveiled a new positioning for its brand. "Business Made Easy" is a renewed commitment from the Irish business with customer service placed firmly at its heart. ​
Desi Derby, Marketing Director for Musgrave MarketPlace explains : "At Musgrave MarketPlace, we are committed to building trusted relationships with our customers while delivering exceptional service. We have listened to our customers who tell us time and time again that our commitment to customer service is a key strength and that will always be the case". ​
"Now, at a time when businesses are facing many challenges, we are focused on building the strongest service proposition in the market – whilst providing the most extensive range at the best value. Our new brand positioning or strapline as it's commonly called, Business Made Easy, brings all these commitments together."​
Changes were made across the business in 2022 to improve the overall customer experience. Branches are now open seven days a week with extended opening hours and delivery routes. Nationwide delivery and a 24/7 online ordering system are available, allowing customers to shop at a time that suits them. ​
In addition, expansion in both range and produce have included more vegan and healthy ingredients; a scaled alcohol business under the Musgrave MarketPlace brand; Butchers Prime, a premium Irish Hereford meat range; and Brewdoo Coffee, a bean-to-cup and barista coffee proposition for the hospitality sector.​
Desi Derby continues: "The service enhancements and range expansion over the past year are all designed to bring our new promise to life. We appreciate our customers operate in busy and challenging environments and our new promise is all about making their life that little bit easier. Importantly it will also focus colleagues on making business easier for customers - If it doesn't meet that criteria, then we don't do it – it really is as simple as that".​
Currently servicing more than 50,000 customers through nine branches across the island of Ireland, the brand refresh follows significant investment in digitally transforming the business in 2022. A new online digital platform now offers customers a one-stop-shop for all their business needs stocking more than 14,000 products available for delivery - the largest online ordering service for the hospitality and foodservice sector on the island of Ireland. ​
Speaking about the digital investment, Desi Derby added : "Covid has accelerated a move to digital for many of our customers, indeed we're seeing online as the fastest-growing channel for our customer and expect that 60% of our orders will come through online by the end of 2024".​
"With this in mind, it was crucial that we invested in making our online ordering experience as simple and user friendly as possible. The digital space is a core part of our strategy and we are committed to innovating in this space further to deliver a world-class customer experience."​
Musgrave MarketPlace is the only 100% Irish owned national foodservice wholesaler. They are committed to supporting Irish jobs, Irish businesses and the future of the foodservice industry. across the island of Ireland.