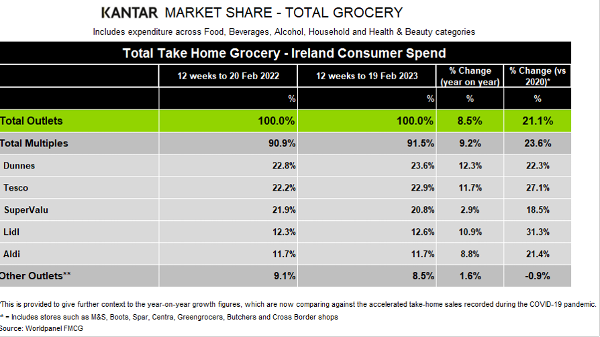 Take-home grocery sales growth more than doubled in the four weeks to February 19, 2023, according to the latest data from Kantar Ireland. Value sales increased by 10.2%, compared to 5% in January, with record-breaking inflation of 16.4% the real driver behind this rather than more consumption.

While the average price per pack soared 13.4% in February, Irish consumers are coping with the increased cost of living by shopping little and often. Volume per trip was down 10.9%, while frequency was up 7%. In the 12 weeks to February 19, 2023, take-home grocery sales increased by 8.5%, with shoppers returning to store more often and contributing an additional €168.7 million to the market's overall performance. As a result, shoppers spent an additional €113.56 per buyer, compared with the same period last year.
"This growth in sales is largely down to grocery price inflation hitting 16.4%, a new record high," revealed Emer Healy, Senior Retail Analyst, Kantar. "This time last year it was 2.4%, so a significant 14% increase within 12 months. In a year of rising costs and skyhigh inflation, Irish consumers are looking for ways to manage their household budgets. This has led to the Irish grocery market becoming more competitive than ever, with shoppers looking for the best deals among the retailers."

Shoppers have also been navigating shortages in the fruit and vegetable aisles over recent weeks, while still looking for ways to celebrate both Valentine's Day and Pancake Day this year. "Consumers spent €2.3 million more on vegetables year-on-year; however, volumes declined by 9.5%," explains Emer Healy. "Volumes of cucumbers and tomatoes fell significantly by 17.2% and 8.9% respectively year-on-year, with these two products most impacted by shortages." With Valentine's Day falling on a Tuesday and many feeling the strain of rising costs, consumers preferred to show their love at home this year. Shoppers spent an additional €1.2 million on wine, €1.5 million on chilled desserts and €3.8 million on chilled ready meals. Chocolate was also a winner, with shoppers spending an additional €326,000 on gifting chocolate.
While Easter has already hit the shops, Irish consumers are yet to stock up on Easter Eggs with sales of seasonal
chocolate down 29% year-on-year. Shrove Tuesday also saw shoppers indulging in pancakes, with sales of flour, eggs, butter and chocolate spread up 11.9%, 29.6%, 19.5% and 55.5% respectively. The market is seeing much stronger own label growth (11.9%) compared to brands (6.1%), as shoppers look for ways to save money. Own label value share has also risen from 42.6% in 2021 to 45% in 2023. Value own label lines, the very cheapest products, saw the strongest growth year-on-year, up 35.8%, with shoppers spending €19 million more on these ranges. Online sales remained strong over the last 12 weeks, up 5.2% year-on-year, with shoppers spending an additional €8 million online.

An influx of new shoppers boosted online sales by €7.1 million, with nearly 18% of Irish households purchasing online. Dunnes hold the highest share amongst all retailers at 23.6%, with growth of 12.3% year-on-year. Tesco sit close behind in second place on 22.9%, with the latest data showing shopper footfall for Tesco at its highest level since January 2020.
79.9% of households visited a Tesco store at least once, with the highest increase seen in Connaught/Ulster, home to the recently acquired chain of former Joyces' stores. SuperValu have 20.8% of the market, with growth of 2.9%, the strongest level for the retailer since April 2021. SuperValu shoppers make the most trips in store compared to all retailers, with 20.8 trips on average, up 10.5% year-on-year. Lidl have 12.6% share and growth of 10.9% year on year. An influx of new shoppers and more frequent trips contributed to an additional €21.2 million to their overall performance. Aldi have 11.7% and growth of 8.8% year-on-year. A strong boost in new shoppers and more frequent trips has contributed an additional €31.2 million to overall performance.