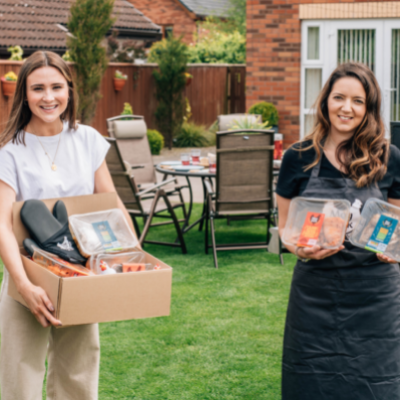 Ellen Wright, Brand Marketing Manager, Moy Park, explains the company's continued focus on NPD and its plans for the coming months.
Ellen Wright, Moy Park's Brand Marketing Manager, explains the reasoning behind the brand's recent product launches, its contract successes and unveils its plans for the coming months.

What NPD has Moy Park launched this summer?
"For summer 2021, we developed a range of new Moy Park branded products across three categories - Ready to Cook, Added Value and BBQ - all of which have been carefully crafted to bring consumers something different when it comes to chicken.
"With more Moy Park products on shelves, we have seen an increase in our brand awareness across the island of Ireland. Moy Park is now present at more family meal times, from Sunday roasts to quick and easy mid-week dinners; there really is something for everyone!"
The business has also enjoyed success with a number of new contracts?
"It's been great year for the brand. Back in April, we secured listings for 12 of our branded products in Asda for the first time. With products listed across three categories - barbecue, ready to cook and added value - and including Mango Lime & Coconut Chicken Mini Fillets, Sweet Chilli Drums and Thighs, and an Extra Tasty Roast in the Bag whole chicken, we're bringing consumers tried and tested family flavours, combined with world cuisine influences.
"We also secured a supply contract for six of our branded products in 33 Tesco stores across Northern Ireland, which is another fantastic endorsement for the brand. We pride ourselves on being market leaders in innovation and staying ahead of consumer trends, and we are thrilled to be bringing these ranges to Tesco shoppers. This further enhances our presence in Northern Ireland and follows listings with Co-Op and Sainsbury's earlier this year, where we launched a number of our breaded, ready to eat and primary lines.

"Hot on the heels of the Tesco news and another first for the company, we secured a contract with Iceland Ireland to supply 12 branded products to 27 of their stores across the Republic of Ireland. The new lines incorporate BBQ and coated chicken products, including our signature Garlic and Herb Kievs, southern fried mini fillets and Cajun chicken sizzlers, as well as ready to eat roast chicken breast fillets. We have also launched in Marks and Spencer Ireland stores, with Fajita Chicken Chunks and Tomato and Basil Steaks just some of our mouthwatering products on offer!"

What other activity has the brand been involved in over the summer?
"Last summer, our community Chicken Run initiative rolled out successfully in Northern Ireland and the East Midlands. We recognise our role in contributing to the wellbeing of those in the local areas in which we operate, and through our Chicken Run initiative, it was our hope that each food box would help a household and remind us all how kind and neighbourly we are in local communities.
"Given the success of the initiative last year, we knew we had to bring it back for summer 2021! We felt it was important to reflect on the past 12 months and appreciate what our consumers have been through and how their lifestyles have changed. Now that we can meet outdoors with family and friends again, we wanted to show how our brand is an integral part of getting people together, be it at a picnic or a barbecue, and we would love to see Moy Park products playing a role in creating new memorable and meaningful moments. After driving north, south, east and west across Ireland, we crossed the water to the East Midlands in August for the 'last leg' of Chicken Run as summer comes to a close."
What are Moy Park's plans for the rest of the year?
"With summer coming to an end, and with back to school, university and the office on the horizon for some, our lives are getting busier. At Moy Park, we want to bring people of all ages together with good food and meals in minutes, and to satisfy all tastes and at times to suit, for every occasion, including Halloween and Christmas!

"Products are at the epicentre of this campaign, seamlessly fitting in with our consumers' busy lives, featuring our signature Garlic and Herb Kievs, our roast in the bag whole chicken, along with many other family favourites. This campaign will represent all the Moy Park audiences, including Gen Z couples working from home, and our extended and blended families. The campaign will be live across social media, YouTube, video on demand and Google display network. We will also be running a number of competitions to treat and delight our customers!"
Enjoyed this story? Subscribe to our newsletter and receive stories of interest straight to your inbox. Just click on the Sign Up button at the top your screen to stay in the loop.