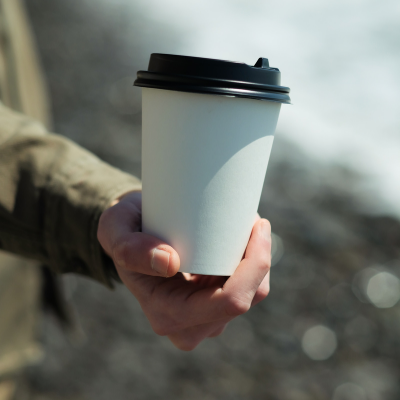 RETAILERS want to know how a new levy on disposable coffee cups will be implemented. Ossian Smyth TD, Minister of State at the Department of Public Expenditure and Reform with responsibility for the Circular Economy, has proposed the introduction of a 20c levy on disposable cups by the end of 2021, following approval from the EU. However, retailers have concerns about the lack of details about the scheme's practicalities and timeline.
"There are a significant number of unanswered questions when it comes to the administration of the initiative in-store, and the technology changes that would need to be applied," Arnold Dillon, Director of Retail Ireland, told Retail News. "The priority for retailers is that, once a decision is made, there is an opportunity for engagement with Government."
One of the central questions is this: who will collect the levy? "The last thing I want to see is a new quango being set up," stated Vincent Jennings, CEO of the CSNA. "I would also be reticent to see local authorities being engaged."
A spokesperson for the Department of the Environment, Climate and Communications confirmed to Retail News the levy will be collected from the Revenue Commissioners "in a similar way to the plastic bag levy". Environmental levies on disposable cups will be paid into the Circular Economy Fund, currently known as the Environment Fund, and "ringfenced to provide funding to a range of environmental policies, programmes and initiatives".
The Minister has stated his wish for consumers to migrate from disposable coffee cups to reusable Keep Cups. However, Keep Cups present liability concerns for retailers. During the pandemic, the use of Keep Cups fell dramatically because of safety protocols. What happens in the event that a customer presents a shopkeeper with a cup that has not been properly washed? Who is responsible for a potential resulting illness? "When it comes to the practicalities of rolling them out, we need to cover all these issues," said Dillon.
The Minister, in an address to the Seanad, declared his intention to legislate so that food and drink served within a premises, such as a café or deli, must use non-disposable containers. Arnold Dillon describes this as "a significant change for many companies", particular those businesses (such as forecourts) that do not have crockery or dishwashers on-site. "A number of businesses have raised this concern," Dillon noted. "We want to engage with the Department on that."
According to statistics, 200m disposable cups are thrown out every year. In 2017, then Environment minister Denis Naughten TD explored the potential for local authorities to become part of a nationwide scheme, dubbed the Latte Levy, whereby customers could return their used reusable cups to participating outlets.
"The scheme did not proceed at a national level, although there are deposit and return schemes for cups throughout the country," the government spokesperson told us.
The 20c levy will apply to compostable cups as well as environmentallyunfriendly paper ones, the spokesperson explained: "It is not intended to exempt recyclable or compostable cups from the levy. There are difficulties in recycling and composting single use cups. Most compostable cups are not suitable for home composting and must be composted commercially. Cups may be labelled as compostable but not certified as compostable; such cups cannot be placed in compost bins and should be disposed of as general waste.
"So, while certain cups may be recyclable or compostable, the problem is that if they are not disposed of correctly, they end up in landfill or turn up as litter on the side of our roads. Even if the cups were correctly disposed of, both options involve the entirely avoidable use of valuable resources to make, transport and dispose of a single use item. The use of a reusable cup is a small, simple action that we can all take that will help to move us away from the unsustainable linear economic model and towards a circular economy."
Many Keep Cups are made of metals, ceramic and plastic. Is this a sufficient trade-off? "Numerous Life Cycle Analyses (LCAs) of re-usable cups have found that these cups have a lower overall environmental impact than disposable cups, provided the re-usable cup is used enough times and washed efficiently," the spokesperson revealed. "The break-even number of uses required will vary, depending on the material a re-usable cup is made from and the type of disposable cup compared to, but according to the LCAs can be as low as between 10 to 25 uses."
Last July, the Government banned 10 single-use plastic products, including plastic forks, knives and straws. The 20c levy on disposable cups is another step in the move to a circular economy. Under Minister Smyth's plans, all non-reusable cups will be banned in Ireland by 2026. The Minster has stated his intention to ban the use of plastic covers on fruit and vegetables. A deposit refund scheme for aluminium and plastic cans and bottles, cartons and glass, is in motion. Retailers cite the success of the plastic bag levy as a way to make this scheme work.
"You would be hard pressed to find a plastic bag in the majority of our member stores," said Vincent Jennings. "That is an enormous change in a 15-year period. The vast majority of our members deregistered from the revenue because they don't supply bags any longer. That was a real success. I don't believe the levy is going to reduce demand to any noticeable extent. I don't think it's going to be detrimental to business."
"We've known for a long time that this is Government policy," added Tara Buckley, RGDATA Director General. "We're supportive of a greener economy. We're trying to do our bit to make sure we're more sustainable and making less impact on the environment. Independent shopkeepers have been doing a lot in terms of managing their waste, doing more recycling, managing their refuse, being energy efficient. This is something the consumer wants to do and we play our part." Arnold Dillon concluded: "Businesses are up for the changes that are being outlined and they're on board with the objectives around improving the circular economy."
In response to concerns about the timeframe of a ban on single use disposable items, the department told Retail News: "The timeframe… will be set out following the enactment of the Bill. Any such proposal would be subject to a comprehensive public consultation process. It is unlikely a ban would be proposed before the proposed levy had been in place for sufficient time, to encourage greater use of re-usable cups among consumers."