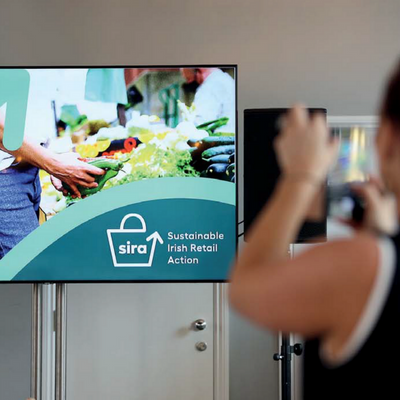 Irish retailers have launched a new sustainability initiative, Sustainable Irish Retail Action (SIRA) to support Irish retail businesses to take practical steps in becoming more sustainable. SIRA, launched in conjunction with Retail Excellence and Champion Green, is sponsored by AIB, SuperValu, Vodafone and Tap Creative. An accompanying survey conducted by SIRA between February 11 and March 3, 2022, among 232 retailers around Ireland has suggested that:
• Three-quarters (74%) of retailers are concerned about the effects of climate change on their business;
• 80% believe it's important for their business to be seen as sustainable;
• 77% believe they will need to offer more sustainable products and services in the future;
• Six out of 10 (59%) believe that trying to be as sustainable as possible will cost their business money;
• Over half (57%) believe it's primarily the Government's responsibility to tackle climate change and promote sustainability
Climate change a "giant risk"
At the launch, Retail Excellence warned that the worsening effects of climate change pose a "giant risk" to businesses. Duncan Graham, Managing Director of Retail Excellence, said that the findings of the survey reflected the views of Retail Excellence members across Ireland: "Climate change is no longer a passing concern – it is a clear and present danger for every single person on the planet. Retailers in Ireland are understandably concerned about worsening climate change and the giant risk it poses to their business."
Having come through the Covid-19 pandemic, Ireland's business owners, and SME's in particular, now "have to contend with rapidly rising inflation, supply chain problems and a nationwide staffing crisis. On top of all that, consumers are increasingly demanding the sustainable option, but that costs money, which retailers simply cannot afford." Duncan argued that investing in sustainability initiatives was an "easy win" for the Government, which could rely on the retail industry to uphold the highest standards. "It goes without saying that climate change is a huge risk, but retailers, suppliers and consumers alike want to do something meaningful about it," he stressed.
"The Government is making strides on sustainability, but we need to see targeted sectoral support if we are to have the kind of impact that is badly needed." Commitment to sustainability Sharon Yourell Lawlor, Managing Director of Think Plan Do Consulting and co-author of the SIRA guide, said: "It is clear from our research that business owners understand how critically important it is for them to operate in a sustainable fashion. The launch of SIRA shows just how committed the industry is to sustainability, and we are looking forward to building on this strong start with meaningful action." Claire Cogan, Founder of BehaviourWise and co-author of the SIRA guide, explained that the SIRA guide contains a number of handy tips for SME owners looking to make a difference.
These include:
- Source locally wherever possible. This automatically reduces your carbon footprint, and supports the local economy;
- Upgrade to more energy efficient equipment and be sure to ask your equipment suppliers to provide tips around ongoing energy efficiency practices;
- Integrate energy efficient technologies such as QR codes into your communication touchpoints and switch out of paper as much as possible;
- Follow the '3 R' Rule to minimise waste: reduce, reuse, recycle.
Pillars of retail sustainability
To help retailers take practical steps on their sustainability journey, the SIRA guide has identified 10 key pillars of retail sustainability. Each pillar represents an important aspect of sustainability for a retail business, and the guide presents a wealth of facts, case studies and practical tips on how to make these aspects of your business more sustainable.
1. Design, Build & Retrofit • Implement energy management within your business. Review, identify and understand how energy is currently being consumed within your business, to establish a baseline. • Set and track management targets and when ready, invest in energy efficient upgrades and switch to a renewable energy provider. • Whether embarking on a new build for your store or planning renovations and retrofits for an existing retail building, plan for the long term, to avoid rebuilds and the risk of materials becoming obsolete in the future.
2. Heating & Cooling • Evaluate your heating and cooling systems and look for ways to make them more energy efficient, regularly monitoring your efforts. • If required, look at upgrading your heating and controls. Consider installing time, temperature, boiler and zonal controls, to reduce your heating costs. • Assign responsibility for the HVAC system controls within your store to a key person and ensure they understand how to use the systems and schedule in checks and repairs regularly.
3. Lighting
• Carry out a lighting audit within your store and, where possible, switch to more energy efficient LED lighting and look at installing smart lighting systems and controls.
• Ensure that staff are trained and equipped to use your lighting system and ensure simple practices such as turning off lights are adhered to.
• Set targets for lighting efficiency and regularly measure and verify performance, to ensure you are getting the anticipated energy savings.
4. Appliances & Systems
• Make a list of appliances and systems within your retail store and create a checklist of their usage/cleaning/ maintenance requirements.
• Look to upgrade to more energy efficient equipment and be sure to ask your equipment suppliers to provide tips around ongoing energy efficiency practices.
• Train staff to turn off equipment when not in use/required and to use optimum temperature settings for appliances.
5. Products & Services
• Review your range of products/services through a sustainability lens and work with suppliers that can help you provide sustainable options for your customers.
• Source from local suppliers, wherever possible. Not only does this reduce carbon footprint, but it also saves on transport costs, mitigates reliance on international supply chains, and benefits the local economy.
• Make the sustainable choice the easy one for your customers. If you're displaying sustainable options as part of a range, either physically or online, highlight them so they are visible and stand out from less sustainable options.
6. Signage & Comms
• Map out ways to communicate your sustainable products/services to customers, e.g. highlighting when products are sourced from local suppliers, displaying relevant certification, and assisting shoppers with tips around how to use 'sustainable' options, such as refills.
• Look for ways to make the communication assets themselves more sustainable by considering your material choice and using more environmentally friendly modular, reusable and flexible materials/assets.
• Integrate energy efficient technologies into your communication touchpoints and switch out for paperless communications, where possible e.g. QR Codes.
7. Supply Chain
• Work with credible suppliers and partners that will support you to make your retail offering more sustainable and ask probing questions of suppliers, to help guide you in listing and ranging decisions.
• Look for ways to reduce/offset your carbon footprint along your supply chain.
• Set targets for your business, be accountable for them, and communicate progress both internally and externally, as appropriate.
8. Waste & Recycling
• Understand better how to manage your business waste. Start by visiting www.mywaste.ie for tips on how to reduce waste and dispose of different categories of waste properly and familiarise yourself with other supports available.
• Make a list of ways to reduce and reuse waste within your store. Target yourself to use less packaging in your business and encourage suppliers to do likewise. Wherever possible, use reusable or returnable packaging and try to avoid single-use containers, particularly plastics.
• Drive good waste and recycling practices within your store, encouraging staff to come up with ideas for reusing and repurposing used products, and making sure that they know how to recycle and dispose of waste correctly.
9. Supporting Irish, Local & Community
• Set a target to increase the number of local producers and suppliers you work with and showcase these producers and suppliers to customers. Invite local suppliers to support your 'retail experience', adding value for your customers through demonstrations/ tastings, pop-ups and information sessions, which can be held within your store or online through 'Instagram Live' sessions.
• Communicate initiatives to your customers at key touch points, such as doorway entry, a community board, your website and social media platforms. • Join with other retailers to amplify initiatives through a community based approach and ensure your 'approach to supporting community' is a diverse and inclusive one.
10. Staff & Practices
• Mobilise your business by setting up a 'team of sustainability champions', appropriate to the size of your business. If large, ensure there is representation from different functions or divisions. Encourage team members to share ideas about how to make the business more sustainable.
• Create a plan by reviewing your current business operation, deciding on key focus areas, setting clear goals and timeframes for each focus area, and deciding how progress will be measured.Review progress on a regular basis and communicate it internally and externally, as appropriate. Involve your community and let people know about how your initiatives will benefit the wider community. Celebrate achievements to keep your team motivated.
The SIRA guide, in conjunction with Retail Excellence, is freely available on retailexcellence.ie