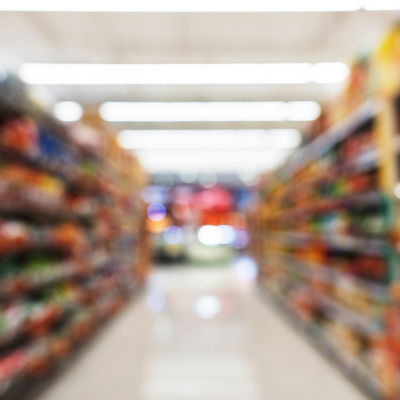 A return to physical stores beckons, following the pandemic, Retail News learned from Love Irish Food's recent webinar, 'Embracing Change – Adapting to Change', which saw a top class line-up of speakers explaining the changing marketplace and predicting future trends.
TRADITIONAL bricks and mortar stores are primed to play a big role in the future of Irish retail. In 2020 and 2021, due to pandemic-related restrictions, retailers explored new delivery methods, online services, and different ways in which they could connect with consumers. David Berry of market research company Kantar Ireland, one of the speakers at Love Irish Food's recent webinar, 'Embracing Change – Adapting to Change', described this as "a fantastic, innovative response from retailers to the pressure coming through from the pandemic". However, over the last few months, retailers and researchers have noticed a renewed focus on traditional, physical stores.
In Berry's presentation, he illustrated how major retailers are undergoing new store openings, expanding floor space, and exploring acquisitions; in the case of Tesco Ireland, acquiring Galway-based grocer Joyce's supermarkets.
James Wilson, Food Director at Dunnes Stores, another speaker at the event, described how Dunnes are planning to roll-out smaller shops in various locations. "Although people did shop online over the pandemic, they wanted to come back to stores as soon as they had the chance when the lockdowns were finished," said Wilson. "We saw a sharp rise in transactions in stores"
Berry envisaged a "balanced" approach for retailers between online and physical stores. "Yes, they will to continue to develop online and look at different delivery methods, but they are also making sure they have the right physical store footprint," he outlined.
Adapting to changing purchasing patterns
Love Irish Food, the organisation that aims to safeguard the future of Irish food and drink products, held the webinar to explore how Irish food and beverage companies are adapting to the rapid changes currently experienced by the sector. The event, chaired by Alison Cowzer, co-founder of East Coast Bakehouse, came on foot of changes in household purchasing and food consumption.
Tara McCarthy, CEO of Bord Bia, praised the "risk takers, visionaries, and innovators" within the food and drink sector who faced the challenge of the past two years. The webinar's theme was about embracing change and adapting to change, McCarthy said: "If the past two years taught us anything, and current circumstances continue to teach us more, it's how innovative and agile the Irish food and drink sector has been in navigating Covid-19, while simultaneously managing the transition to Brexit, global challenges such as climate change and sustainability, and now with the added complexity of a war in Europe."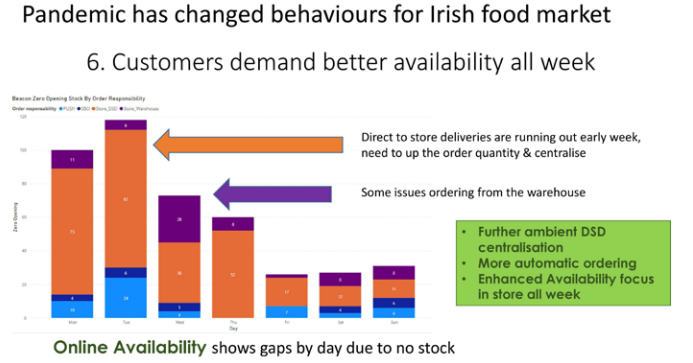 The effects of the pandemic
James Wilson, as part of his presentation, explored how Dunnes Stores coped over the past two years of the pandemic and how they're faring now. He described the pandemic as "a transformation" for the company. After the initial spate of panic buying during the first lockdown, he explained, transactions fell at Dunnes, largely due to restrictions on customer numbers. This experience identified the need for a home delivery service, which they subsequently introduced. Simultaneously, the in-store experience became more important than ever before, as consumers prioritised a single, designated supermarket for all their grocery purchases.
"That meant they did a full shop with us, whereas they may normally shop around," Wilson noted. "So they were able to try a lot of products they may not have tried before."
This provided an opportunity for Dunnes to focus on their fresh Irish food and own label products. Local ingredients, local foods, and value for money, became hallmarks over lockdown. The pandemic changed behaviours within the Irish food market, with a well-documented upsurge in home baking and scratch cooking. These are trends that aren't going away any time soon, suggested the speakers.
Raw ingredients are still high on consumer shopping lists. "We believe that the rise of home cooking - due to an increased workforce now working from home – is something that will continue to grow," Wilson revealed. "Customers have become accustomed to entertaining at home. Some of our special occasion food, like our Simply Better brand, doubled over the pandemic from 2019 to 2022."
James Wilson identified the "massive supply chain challenges" of the last two years, where spikes in demand put a huge strain on inbound supply, and the requirement for social distancing in depots required up to 40% range reduction, principally in fresh foods. There were some international inbound supply issues, while here at home protein factories were hit periodically with Covid forced absence, causing production issues. He also noted how overall inbound service levels dropped, up to 6% lower in lockdowns, and that is aside from some Brexit-specific challenges.
Irish consumers love Irish brands
The pandemic illustrated how Irish brands remain a big draw. As part of his presentation, David Berry explored data from Ireland's 100 most popular brands over the past five years. "We see food and drink as a whole performing well, but when we delve down into Irish brands, we see them performing even better," said Berry. "43 of the Top 100 brands are Irish-produced. If we combine sales for those 43, it's €1.1 billion. Even in the latest year, it's continued to grow. It isn't just about one year of growth - this is about consistent growth. We see that in the numbers. There's really strong performance, ahead of non-Irish produced brands. These brands count for a significant amount of sales."
According to Berry, in 2018, Irishproduced brands captured 47% of consumer spend, a figure which has increased and hit a high point of over 48% in 2021: "That's the highest level that we've seen. It's continuously edged up over recent years. It's a really strong success story and shows there's a real demand there amongst consumers. The importance of supporting local and buying locally produced goods is clear for Irish consumers. The more brands that can tap into that and make it clear in their messaging, the more potential success they will have."
Quality of product and value for money are not the only incentives for consumers to buy locally-produced ingredients and brands. Local produce saves energy and reduces carbon footprint. Sustainability is becoming built into all products and brands and "sourcing local is a big part of that", according to Wilson. Dunnes Stores, he said, planned to put increased focus into "supporting smaller companies and removing unnecessary packaging".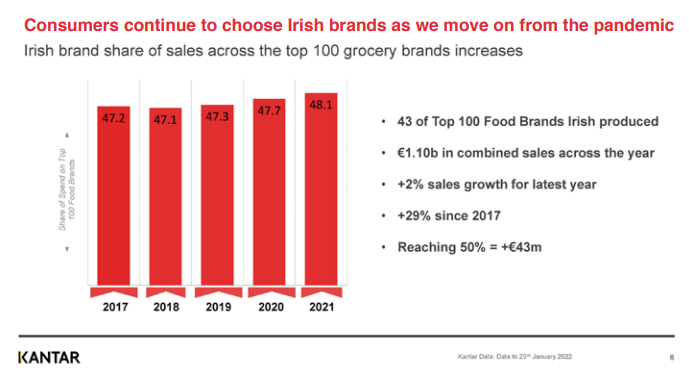 Identifying future trends
Researchers Dr Joe Bogue and Dr Lana Repar, both of Cork University Business School, provided insights into the future of Irish food and drink from their research in Ireland and internationally. There has been a shifting focus amongst shoppers, onto health and wellness priorities, particularly in regard to gut health, probiotics, and personalised nutrition. The researchers predicted a growth in products geared toward the elderly market. According to their statistics, the market for over 60s is likely to encompass €2.1 billion by 2050.
"We're doing a lot of work understanding food choice for the elderly market and how we adapt products for this particular market – maybe changing the sensory profile or the taste-texture of our products," said Bogue. "We have holidays for elderly consumers, banking for elderly consumers, yet in the food area, we tend to lump consumers together. I think there's a huge opportunity to target this particular segment. We've learned from our research, elderly and aging consumers want products targeted at them with specific vitamin profiles – this is a good opportunity for companies to develop specific marketing strategies."
Generation Z is another emerging segment. These future consumers have grown up consumed with technology and their purchasing habits are likely to follow suit. Over lockdown, Dunnes Stores launched an app that gives the company a tool to communicate with their shoppers. "We have an audience of 700,000 on our app," said Wilson. "50% of them use it every week. We see the app as a good way to tell people what's going on in Dunnes Stores, both from the food and textile side. It provides a good way to let people know about our offers. A lot of people use the app to store vouchers in their digital wallet."
The app also provided insights into their business. Online feedback showed gaps in product availability at certain times of the week. "With people working from home, the pattern of shopping has changed and now it's a bit more spread out – it's not as congregated on Thursday, Friday, and Saturday," Wilson continued. "[Dunnes Stores were] running out of some of our products in the early part of the week, so we need to look at how we can get more of it in. The demand that comes through the till generates orders, which help us in terms of trying to pick up availability."
Increased basket sizes
Despite the myriad of challenges of the past few years, basket sizes have settled at a higher level than they were pre-pandemic.
"An additional €1.2 billion was spent on take home food and drink in 2021 compared to 2019," said Berry. "So it isn't just about that big pandemic peak in 2020 – it is more sustained than that. We think that demand is going to remain strong.
James Wilson concurred: "Since we came out of lockdown, we're seeing that while the transaction numbers went back to normal, the basket size has increased since 2019. People are holding onto some of the habits they had through lockdown."