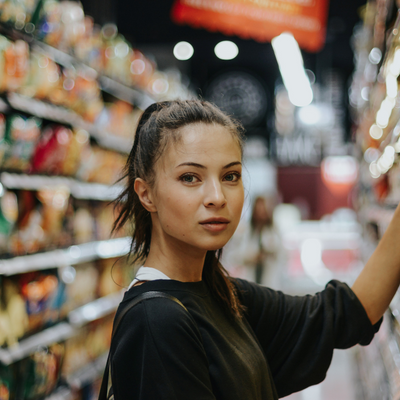 Irish supermarkets are removing best before dates from fresh food products in an effort to reduce food waste. A spokesperson for SuperValu told Retail News the supermarket chain have extended the shelf life of 20% of their fruit and vegetable products and removed dates from certain own brand fruit and vegetable products. "In addition, a further 20% of our fruit and vegetable products are sold as loose and do not have dates applied, allowing consumers to make an informed choice," said the spokesperson.
"At SuperValu, we are committed to reducing food waste while preserving the safety and premium-quality standard we are renowned for. Waste reduction is an important element of our sustainability agenda." In recent weeks, a number of supermarkets in the UK have scrapped best before dates. Waitrose removed this labelling from nearly 500 of their fresh-food products. Marks and Spencer axed best before dates from over 300 products; Asda have done the same for 250 products.
Aldi, this month, pledged to remove labels from 60 of their fruit and vegetable items. Irish retailers insisted they were ahead of the curve. Tesco Ireland removed best before dates on fresh food products such as bananas, apples, melons, garlic, loose courgette, lemons and peppers, as "far back as 2018". Lidl have done the same for "a number of years," according to Aoife Noonan, Head of Quality Assurance, Lidl Ireland.
"All our unprocessed fruit and vegetable range in Lidl stores do not display best before dates, apart from a small selection of items which are required to by law as they have been washed and prepared by the supplier," she told Retail News. Under EU legislation, a best before date is not required to be labelled on "fresh fruit and vegetables, including potatoes, which have not been peeled, cut or similarly treated". However, it is "illegal for food to be sold past its use-by date because that date is a safety deadline", Jane Ryder of the Food Safety Authority of Ireland (FSAI) told us. "It is not illegal to sell past its best before date because that date is a guideline of when the food quality - for example the flavour, smell or texture - deteriorates."
Dr Linda Gordon, chief specialist in food science at safefood, which promotes food safety in Ireland, said that removing best before dates from products will not cause a food safety risk. However, confusion amongst consumers about the difference between "best before" and "use-by" labelling "is an issue that comes up time and time again. People do not understand the difference between the two. Some people suggest we should remove best before dates altogether, because of this confusion. We are in favour of consumers being given appropriate information in order for them to make the proper choices when shopping."
Aoife Noonan at Lidl Ireland called for "increased consumer education" to allow shoppers to understand the difference between "best before" and "use-by": "The best before date is about the quality of the food, while the use-by date is about the food safety." Supermarkets in Ireland said they are removing best before labels to reduce their environmental impact. According to a report from the Environmental Protection Agency, published earlier in 2022, Irish households generate around 250,000 tonnes in food waste per annum, which equated to €700 per household. According to the report, 55% of people throw out food due to expired best before dates. Irish supermarkets are now exploring other avenues of food waste reduction.
Lidl stores, for example, have a Waste Not area where chilled products, at best before dates, are available to purchase at a reduced price. Tesco Ireland told Retail News it achieved "zero waste to landfill since 2009" by working with waste providers, segregating waste in their stores, distribution centres and head office, "to ensure we can reuse, recycle recover and finally dispose of our waste in the right ways". In 2020, the supermarket teamed up with Green Generation, an Irish company that converts food and food production waste into renewable biogas, electricity and high quality organic fertiliser. Lidl Ireland also use Anaerobic Digestion to convert their food waste into energy.
This process means fewer "trucks on the road collecting bins from stores, and an annual reduction of 250 tonnes of CO2 ," said a Tesco Ireland spokesperson, adding that the partnership allowed Tesco to "purchase renewable gas made from our own surplus food to power stores". Researchers are now exploring the feasibility of standardised environmental labelling on food products.
A new study, by the University of Oxford, analysed over 57,000 food and drink products in the UK and Ireland. The research categorised food types according to the environmental impact of their production: low (sugary beverages, fruits, breads), intermediate (desserts, pastries), to high (meat, fish, cheese). However, assessing the carbon nuances for every single product, when ingredients are sourced from different manufacturers and nations, may be unfeasible. The effort to remove best before labels is taking place against a backdrop of the cost-of-living crisis.
According to a report last month from Kantar, grocery inflation in Ireland has hit its highest level in 14 years with the average household's shopping basket potentially rising by €662 per annum. Aoife Noonan told Retail News that Lidl Ireland is "working with suppliers to reduce the impact of rising inflation and increased cost of production". The supermarket's "long-term investment in solar energy has helped offset some of the costs associated with increasing energy prices", as have "reductions in packaging and increasing automation and digitalisation of processes".
Both Lidl Ireland and Tesco Ireland are partners with FoodCloud, an Irish social enterprise that redistributes surplus food to charity. How will supermarkets maintain the freshness of produce, in-store, without best before labels? Lidl Ireland said they have 'Green Leaders' who conduct freshness checks before products are transported from warehouses to stores. SuperValu's spokesperson told us their stores will retain best before dates on some perishable fruit and vegetable products, such as fresh berries but "will continue to actively review this issue over the coming months and make further changes as appropriate."