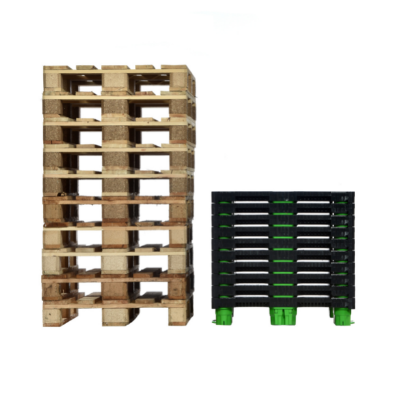 Can a revolutionary new plastic pallet replace its wooden counterparts? The team at Tosca believe that their new NeRa pallet can and will do just that, while their Asset IQ technology will introduce efficiencies across the supply chain.
Imagine a plastic pallet that has been engineered to outperform wood? Just a few years ago, such a claim would seem impossible but the new NeRa pallet from Tosca is the result of years of research and development. NeRa is "Europe's strongest heavy-duty nestable rackable pallet", according to Tosca, and one which they believe will significantly change the sector going forward, with a host of advantages over its wooden counterparts.
What better company to engineer the future of pallets? Tosca are global leaders in reusable plastic packaging solutions and pooling. The company offers crates, pallets, dollies, bulk containers, displays, layers and trays for the entire supply chain. They enjoy a 60-year history of innovation that has driven growth in reusable packaging and supply chain solutions in North America, innovation which has come to Europe and to Ireland in a big way, not least with the opening of a new Irish wash plant.
"Tosca are Europe's largest supplier of plastic pallets pooling, with a very strong presence in the UK," explains Adrian Dale, Managing Director, Tosca UK & Ireland. "Tosca are currently significantly expanding our presence in Ireland with the delivery of our new wash plant, demonstrating a long term commitment to serving our Irish customers."
"We have the broadest range of any pooler, offering a huge variety of plastic solutions for the supply chain," adds Jesse Sels, President - Europe, Middle East & Africa. "We are looking to build our presence in Ireland as we are very ambitious about expanding in this market and we are looking to scale our solutions in Ireland."
Tosca's mission, according to Adrian, is to help their customers to eliminate waste at every turn: "We have an extremely robust and flexible range of products that allow us to work with a large variety of different industries. We are a pooling company, offering a supply service and delivering supply chain solutions for our clients. Our focus on sustainability means our new Irish wash plant will use renewable energy sources; our focus on efficiency means we can help customers reduce transport costs by use of better stacking lightweight pallets."
Engineered to out-perform wood
In this arena, the new Tosca NeRa Pallet, which the company describes as Europe's strongest heavy-duty nestable rackable pallet, has been engineered to out-perform wood. The most critical part of that sentence is the mention of wood pallets. The wooden pallet is ubiquitous in the supply chain; it is cheap, repairable, reusable and can come from renewable sources. In order for the Tosca NeRa pallet to replace wooden pallets, it will need to significantly disrupt the sector and that is what it is designed to do.
The Tosca NeRa Pallet has been engineered to outperform wood by being lighter weight but heavy duty, ideal for automation and conveyors, by saving 2.5x stack heights over wood, and by being rackable on any racking system. According to Tosca, their pallets have a number of major advantages over wood that directly impact their customers' total cost of business.
The pallets have been engineered for strength; the patented PowerDeck minimises damage, making the product strong like a rackable, but light like a nestable pallet. It features a reinforced solid top deck, a 3,000kg static load capacity and an 18kg low weight.
The Tosca NeRa pallet saves 2.5 times on stack height when compared to wood. The nestable design cuts stack heights in half, meaning fewer trips are required in the supply chain, offering savings in cost and reducing the environmental impact of a customer's supply chain.
The pallets are all uniform in size; each NeRa pallet is the same weight and size, with the patented SureFoot legs efficiently and safely distributing loads. The pallets are compatible with 100mm and 150mm conveyor roll pitches and fit standard and drive-in racking, making them extremely easy to fit into any existing supply chain set-up.
These pallets are cleaner and safer than wood, according to Tosca, as they are damage and germ-resistant for cleaner operations that save on labour. They offer damage-free transfer over conveyors; the contoured leg of the SureFoot design deflects forks, making the pallets easier to lift and the high-vis colouring of the footing improves high rack safety
The Tosca NeRa pallet has been designed with sustainability in mind; it is 100% reusable and repairable, and the use of recyclable plastic helps reduce any disposal waste. The highly efficient nesting capability of the pallets helps to directly reduce CO2 emissions from the supply chain by reducing the volume of trips necessary.
Significant endeavour
The team at Tosca are extremely proud of the new NeRa pallet, which is the result of a significant investment in terms of time and energy over a number of years. "We face a huge challenge in looking to replace wood as the pallet of choice in the supply chain," Adrian admits.
"In order to do that, we have invested heavily in creating a product that we feel is better in every way than its wooden counterpart. With the opening of our Irish wash plant, we will expand our ability to service our Irish customers and we are actively looking to Irish customers who we can help introduce efficiency and cost reductions into their supply chain systems."
Jesse explains how the process "has taken us years of research and development to get to this point. We have created a superior product and it just remains for us to demonstrate to our customers by delivering tailor-made solutions for their supply chains that are sustainable, efficient and that reduce costs."
Asset IQ: helping you identify inefficiencies
Along with the launch of the Tosca NeRa pallet, the company have also developed the Tosca Asset IQ service, which leverages the increasingly connected world of the Internet of Things (IoT) to demystify the supply chain and locate inefficiencies along that chain. Asset IQ operates as a full-service provision, outfitting customers' pooled reusables with a cost-effective track and trace solution that delivers data points as per the customer's requirements.
Asset IQ harnesses a variety of technologies, including Bluetooth, WiFi and cellular GPS, to outfit pallets, bulk containers, crates or other assets. This allows users to uncover new insights from the supply chain with a dashboard, alerts and reports. According to the company, the system offers customers more visibility by getting real-time intel from assets across the supply chain; more savings by lowering costs associated with losses, delays and scanning labour; and more control by improving accountability and compliance with helpful IoT tools
Asset IQ also offers advanced functionality with features to monitor the status and health of cargo in addition to reusable packaging assets, with solutions for monitoring temperature, humidity, vibration/jitter, inventory levels, POS promotion compliance, weather conditions and more, depending on customer requirements.
customer requirements. "Asset IQ is not just a system that lets you know where something is," explains Jesse. "It is a system that is deigned to let you make real world decisions with that knowledge that can help you improve some aspect of your business. That is the real value of a system such as Asset IQ."
Tosca have ambitious plans to disrupt the use of wooden pallets in the supply chain. They have plans to grow their presence in the Irish market and have invested in their ability to do so with their new wash plant. In short, the company have given themselves a platform on which to build and are actively looking for partners to help reduce supply chain costs and improve sustainability.