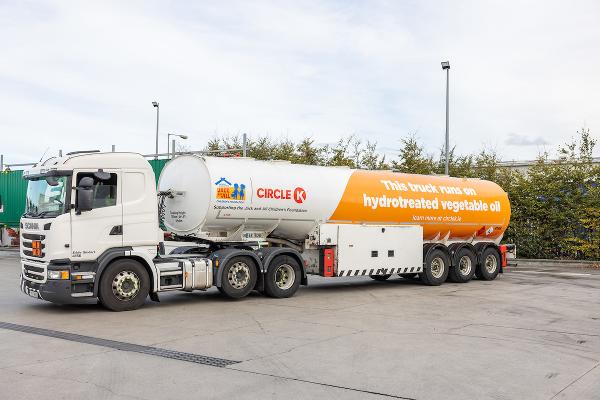 Circle K, Ireland's leading forecourt and convenience retailer, has today announced the opening of three new milesBIO HVO100 pumps across its network, following the launch of its first Hydrotreated Vegetable Oil (HVO) renewable diesel pump in Dublin Port at the end of last year.
The three new milesBIO HVO100 pumps are located Circle K Junction 8, M8, Cashel, Co. Tipperary, Circle K Junction 5, M9, Rathcrogue, Co. Carlow, and Circle K Junction 14, M8, Gortore, Fermoy, Co. Cork. Circle K will continue to expand its HVO offering in the coming months, with a commitment to have HVO renewable diesel available on all national road routes before the end of 2023.
Circle K has identified other locations within its network which are regularly frequented by heavy goods vehicles and where milesBIO HVO100 could have an impact and be of benefit to customers. These sites are being prioritised for the installation of milesBIO HVO100 pumps and are expected to be fully operational later this year.
milesBIO HVO100 is a completely fossil-free biofuel made from waste, by-products and derived products not intended for human consumption from the food industry and can be used to power diesel vehicles. HVO alternative diesel offers an up to 90% reduction in carbon emissions over regular diesel.
HVO renewable diesel is being used across Circle K's fleet of fuel delivery vehicles, with partners including Musgrave and Stobart Logistics now using milesBIO HVO100 to greatly reduce emissions across their fleets.
While milesBIO HVO100 is new to Circle K Ireland, this renewable diesel has been available across Scandinavia at Circle K locations in Norway, Sweden and Denmark in recent years, which is helping to guide the introduction of the renewable diesel here.
Today's announcement is just one of the ways Circle K is leading innovation within the fuel retail sector and supporting the Irish Government in its ambition to reduce transport carbon emissions by 50% by 2030.
Alongside the use of milesBIO HVO100 to power its fuel delivery fleet, Circle K supported the move from E5 to E10 in petrol products in the Irish market at the start of July, which has increased the level of ethanol in petrol from 5% to 10%, thus significantly reducing carbon emissions.
Circle K is already supporting the commercial freight and haulage sectors, being the only forecourt to offer Compressed Natural Gas (CNG), which is 100% renewable and carbon free, refuelling stations at Dublin Port, Cashel, Clonshaugh and Ballysimon in Limerick.
With more Irish motorists opting for EVs, Circle K is continuing to expand its EV charger network. Circle K opened its first two own brand EV charge points at Circle K Junction 5, M9, Rathcrogue, Co. Carlow, and Circle K Junction 14, M8, Gortore, Fermoy, Co. Cork in May of this year. With its own EV chargers and through its strategic partnerships with ESB, IONITY and Tesla, the business already has the most advanced EV charging network within the forecourt sector in Ireland, with EV charging facilities located at 48 service stations nationwide and continues to add to this network.
Jonathan Diver, Fuels Director with Circle K Ireland commented: "At Circle K, we are committed to implementing environmentally sustainable practices across our product range and operations as well as supporting our customers to reduce their level of carbon emissions.
"The addition of these new HVO renewable diesel pumps to our network, along with our commitment to have HVO available on all national road routes in 2023, will help our customers to reduce their carbon footprint, with a 90% reduction in carbon emissions compared to traditional diesel. We are already seeing this benefit, with our existing milesBIO HVO100 fuel pump in Dublin Port helping to reduce emissions across Circle K's fuel delivery fleet.
"Since we launched milesBIO HVO100 in the Irish market last November, we have worked closely with many of our commercial customers, including Musgrave and Stobart Logistics, to ensure as many diesel vehicles as possible can make the switch to HVO and make a positive contribution towards achieving Ireland's carbon reduction targets."
Michael McCormack, Managing Director, Wholesale & Foodservice Musgrave said: "As one of Ireland's largest business truck fleet operators, we recently announced a roll out of Hydrotreated Vegetable Oil (HVO) fuel across our network of almost 500 vehicles. By 2030, half of the Musgrave fleet will operate on alternative fuel, with an overall ambition for the entire fleet to be net zero by 2040.We are delighted to partner with Circle K to fuel our fleet with renewable HVO, in support of our net zero target."
Stephanie Dey, General Manager of Stobart Logistics said: "As one of Ireland's leading logistics companies, we at Stobart have placed running our business in a sustainable way at the heart of how we operate. Our partnership with Circle K to supply HVO is helping to reduce carbon emissions across our fleet, allowing us to continue delivering for our customers while meeting our own environmental targets."