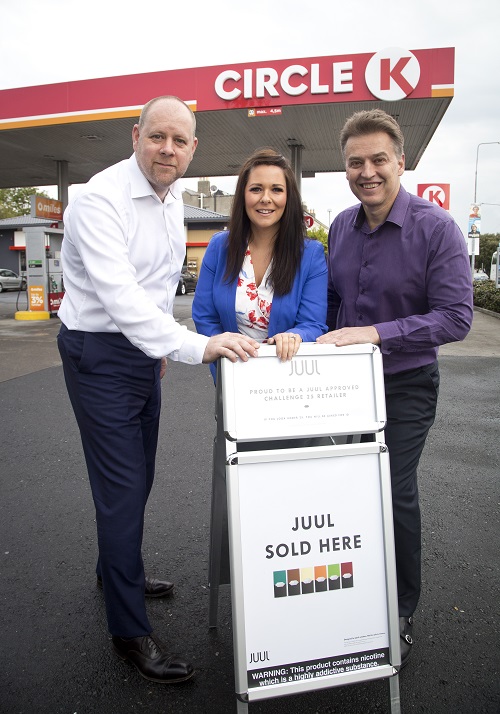 JUUL Labs, the leading start-up in vaping technology in the United States, has come to Ireland to offer a switching option for the country's 830,000 adult smokers. JUUL is on sale in 160 Circle K forecourt outlets and 50 Hale Vaping stores across the country, as the company takes another step in its mission to improve the lives of the one billion adult smokers worldwide.
All outlets will have JUUL products behind the counter, including a starter kit, device kit and six JUUL Pod flavours: Alpine Berry, Apple Orchard, Golden Tobacco, Glacier Mint, Mango Nectar and Royal Crème.
Gareth Smyth, General Manager of JUUL Labs Ireland, says: "We are delighted to be working with Circle K and Hale Vaping as we introduce the JUUL range to Ireland. Tobacco causes millions of deaths worldwide and kills over 5,800 in Ireland alone every year. Our mission is to improve smokers' lives by offering an effective switch alternative and our ultimate goal is to eliminate cigarettes. The launch of JUUL in Ireland, a country with some 830,000 adult smokers, is an important step towards this goal and towards helping Ireland reach its tobacco-free targets."
JUUL is a simple, functional and portable device with unique technology. Through a closed vaping system with capsules (pods) and a patented temperature control design, it provides users with a consistent and satisfying experience. JUUL does not combust or contain tobacco and therefore does not produce the associated carbon monoxide and 7,000+ harmful components present in traditional cigarettes. JUUL contains nicotine, which is an addictive substance, but is not associated with the multiple health issues of tobacco smoking.
Stuart Fagan, MD and co-founder of Hale Vaping, says: "We had a strong vision for our company, based around clean, well designed, responsibly sourced products that could encourage mainstream adoption of vaping as a smoking cessation aid. We feel we have achieved that with our stores and products and are delighted to see JUUL sit alongside them as a partner."
The launch will be underpinned by JUUL Labs' industry-leading code of practice, to ensure responsible and restrictive advertising, marketing and age-gated product access. All retail partners must comply with JUUL Labs' "Challenge 25" policy, whereby any customer who looks under the age of 25 must produce ID to prove they are over the age of 18, and retailers will be regularly monitored through a 'secret shopper' programme to ensure adherence, or they will be excluded as JUUL stockists. Advertising and marketing are testimonial-led, featuring the stories of adult smokers who have successfully made the switch from combustible cigarettes.
JUUL will be initially sold exclusively in Circle K outlets and Hale Vaping shops – with further stores to follow.