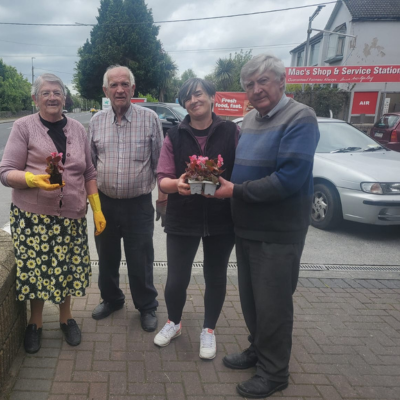 Anne Macs, a franchise location of Circle K, Ireland's leading forecourt and convenience retailer, is celebrating its 30th anniversary with a family fun day on Saturday 3rd June. To thank their loyal customers for their continued support, a range of special offers will be available to customers on the day, including 50% off food items, a free pastry when buying a coffee, and discounts on fuel. There will also be music and a range of surprise prizes and other activities.
Anne Macs has a longstanding history in the Castleisland area. The service station was first opened by Declan McGaley and his wife Anne on the June Bank holiday weekend of 1993. Today, it employs 16 people and serves the local community of Castleisland as well as the many visitors to Kerry.
Anne Macs has been part of the Circle K family since 2019. The forecourt location includes the Circle K convenience store and Macs Auto Parts, all expansions of the business by founder Declan McGaley, with support of his brother and main contractor, Ger McGaley. Today, Declan's daughter Deirdre is the assistant manager of the convenience store.
Tracy Long, Site Manager at Anne Macs Circle K, said: "30 years is a significant milestone, and it has been our great privilege to serve the people of Castleisland in that time. We are extremely grateful for their continued support and look forward to the next 30 years and beyond.
This Family Fun Day is a small token from us to thank our customers, and we are inviting the whole community to celebrate with us on June 3.
Derek Nolan, Senior Director of Retail Operations for Dealer and Franchise, Circle K Ireland, said:
"At Circle K, we are fortunate to work with outstanding independent retail partners across the country who are respected and relied upon within their communities for essential products and services. It is fantastic to see Anne Macs Circle K celebrating 30 years in business. It is an amazing achievement, testament to the service they provide and on behalf of everyone at Circle K, we congratulate them on reaching this milestone.
"Supporting communities across Ireland is a key priority for Circle K and we will continue to work with our retail partners such as Anne Macs and others, as well as through our company owned locations to deliver the very best service to our customers and make their lives easier every day."
If you want to be a part of the celebrations on Saturday June 3, you can find Anne Macs Circle K at Tralee Rd, Moanmore, Castleisland, Co. Kerry.
For more information on Circle K, visit www.circlek.ie, Circle K Ireland on Facebook or @circlekireland on Twitter and Instagram.