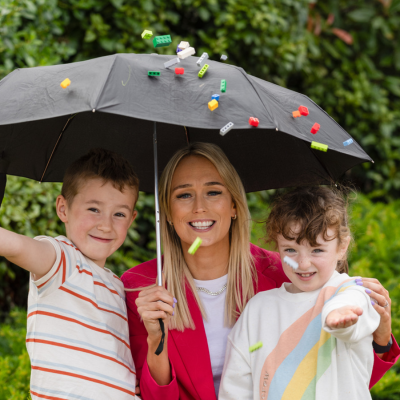 Circle K, Ireland's largest forecourt and convenience retailer, has announced that a new 'Bricks for Care' creative fundraising initiative will run at 22 participating sites nationwide, excluding Circle K Express sites.
From 2nd August – 31st October inclusive, customers can donate and recycle pre-loved LEGO®* at participating Circle K stores nationwide, which campaign partners, DPD, will bring to Jack and Jill boutiques so that they can be re-sold, generating much-needed funds for the charity.
The Jack and Jill Children's Foundation is an Irish children's charity that funds and delivers vital in-home nursing, respite support, and end-of-life care for children from birth to six years of age who have highly complex and life-limiting medical conditions. There are currently over 400 children under the care of the Jack and Jill Children's Foundation in communities right across the country and the charity's mission is to empower parents to care for their child at home by funding and delivering nursing, respite and advocacy support, because there is no care like home care for a Jack and Jill child. 
Commenting on the initiative, Gillian McGowran, Director of Market Development at Circle K Ireland said: "Following our last fundraising initiative for the Jack and Jill Children's Foundation, 'When you fill, support Jack and Jill', which raised €105,000 for the charity in June, I'm delighted to announce our latest fundraising campaign 'Bricks for Care' today. By donating and recycling any pre-loved LEGO® at a Circle K, not only will the LEGO® go a worthy new home, but all funds raised will support local Jack and Jill families in the community. We look forward to seeing customers arriving to stores with bags full of old LEGO® to support Jack and Jill!"
Carmel Doyle, CEO of the Jack and Jill Children's Foundation added: "We have a mammoth fundraising hill to climb every year, with only 25% of our €6.8M annual budget coming from the HSE. We are overwhelmed by the incredible €105,000 boost to our summer fundraising calendar through the brilliant Circle K 'When you fill, support Jack and Jill' campaign. All of Team Jack and Jill hugely appreciate and value the energy and innovation the team in Circle K have put into our partnership to date, and this Bricks for Care LEGO® recycling initiative will no doubt be a winner with parents, grandparents, aunties, uncles and creche owners who are only too happy to dig under sofas and route out toy boxes to donate as many LEGO® bricks as possible!
Huge thanks too, to our friends in DPD who will safely transfer the LEGO® kindly donated by the public from each of the 22 participating Circle K stores, eventually making it to one of our 14 Jack and Jill charity boutiques where it will be sold for €10 per kilo. We invite families, preschools, schools and businesses across the country to donate their pre-loved LEGO® to Jack and Jill, because every €18 raised through this LEGO® recycling drive will fund one hour of home nursing care for a local family under our care. A win:win for all involved!"
Circle K ambassador, soccer star and broadcaster Stephanie Roche was at Circle K Stillorgan Road to officially launch the Bricks for Care campaign. Stephanie concluded: "The Jack and Jill Children's Foundation is very close to my heart, and I am delighted to support this brilliant initiative that makes it so easy for the public to support the charity's important work. From now until the end of October, by simply donating pre-loved LEGO at any of the 22 participating Circle K sites nationwide, you will be supporting the Jack and Jill Children's Foundation's work in providing care for families all across Ireland when they need it the most."
For terms and conditions, and a full list of participating sites in the 'Bricks for Care' recycling initiative, please visit www.circlek.ie.  
For more information on Circle K's partnership with the Jack and Jill Children's Foundation, please visit www.circlek.ie, or @circlekireland on Facebook, Twitter, Tik Tok and Instagram.