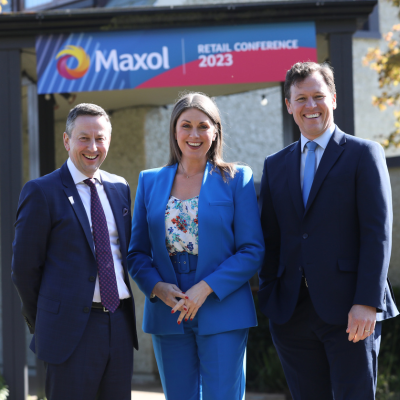 Maxol has announced plans to continue to grow the company in Ireland through the acquisition of established convenience forecourt stores and the purchase of land adjoining existing sites to improve facilities and services for customers.
CEO, Brian Donaldson made the announcement at the 2023 Maxol Retail Conference held at The K Club in Kildare last Thursday. Speaking to 265 Maxol retailers, he also revealed that the company was at an advanced stage of negotiations to acquire a number of sites and parcels of land across the country.
The growth plans are part of the Irish, family-owned forecourt and convenience retailer's recently announced 2023-2027 strategy, which will see an investment of €100M in its network over the next five years.
"We are particularly interested in businesses that already have a strong convenience and food offering, as this is the direction in which our business model has been moving for a number of years," said Brian Donaldson. "Our five-year plan is to continue to evolve our business mix, further reducing our reliance on fossil fuels and increasing our non-fuel revenues by focusing on key categories from coffee, food to go and grocery, whilst also being recognised as a leader in quality advanced fuels and new energies for mobility."
New EV hubs
Brian Donaldson updated Maxol's retailers on plans to develop a series of EV Ultra Rapid Hubs around the country, the first of which was launched in Maxol Kinnegar, Co Down in December. This marked the first dedicated Ultra Rapid EV hub in Northern Ireland, complete with four high-speed chargers servicing up to six vehicles simultaneously, adding to the three other EV charging points Maxol has in place in Antrim and Belfast under the Maxol Recharge brand.
"Maxol Kinnegar has provided us with a blueprint for how we will continue to transition the business in line with the rise in low and zero emission vehicles. And now, I'm excited to be able to announce today that proposals for EV charging at Braid River in Ballymena, Maxol Newbridge and Maxol Ballycoolin, Co. Dublin are planned this year," he said.
While challenges in relation to grid access and energy capacity prevail, Brian Donaldson said that he believed the transition to EVs would continue and be a success, in time, but that Maxol's EV strategy is to roll out services gradually, prioritising sites where demand is greatest.
The Future is Now
At the conference, Brian Donaldson reflected on landmark moments from the past ten years, which included a €225M investment in the business, the acquisition of 25 new sites, completion of 70 developments and the company's centenary anniversary in 2020.
However, while recognising that the successes of the past are important, the CEO's address was firmly focused on the conference theme – The Future is Now – and the role that further investment will continue to play in Maxol's success.
Brian Donaldson said that using the latest technology on and off the forecourt was central to its strategy and shortly the company will be introducing contactless payments for car washes, installing more self-check outs, and developing further its loyalty programmes, bringing more convenience and simplicity to its growing base of customers. Insights into Maxol's customer base and customer service also played a key role in the address, with Brian highlighting the continuous improvements to the company's retail, coffee and off-licence offering.
Investment
The company will continue to develop its best-selling 'hero' categories, including its proprietary ROSA Coffee with a new range of iced coffee drinks and oat milk drinks, and freshly prepared foods, as customer buying behaviours evolve. Brian Donaldson referenced hybrid working as a driver of business for its stores, the majority of which are located in residential neighbourhoods. "Where people are now working from home two or three days each week, we are servicing their needs from breakfast through to evening with different meal solutions," said Brian.
Maxol has seen a direct correlation between the move to a hybrid working model and increased footfall in its stores with some exceptions – those sites that are closest to Dublin city centre that would have traditionally benefited from commuter traffic, five days a week.
In addition to investments in acquiring new sites, food service, EV Ultra Rapid Hubs and technology, Maxol has planned to continue to upgrade to low CO2 refrigeration, install energy management systems and use renewable sources such as solar and heat pumps to reduce its carbon footprint.
Maxol operates 241 service stations north and south, 112 of which are directly owned by the company and operated under licence by independent retailers.
www.maxol.ie for more.