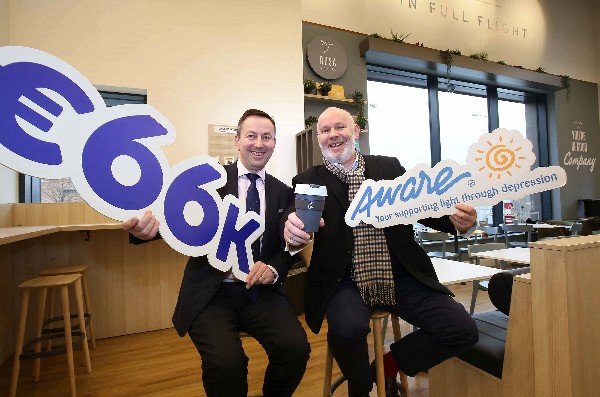 Maxol customers have outdone themselves again by raising an incredible €66,000 in the company's Christmas fundraising campaign, for its charity partner, Aware. It brings the total funds raised by Maxol to over €100,000 for 2019 and the total since the partnership began in 2016 to an incredible €420,000.
Maxol's Christmas Coffee Cup campaign saw a 10-cent donation go to Aware for every purchase of their exclusive ROSA coffee, as well as other hot drinks, during November and December 2019.
Aware provides support, education and information services for those impacted by depression, bipolar disorder and mood-related conditions. The goal of the partnership is to encourage positive mental health in communities across Ireland.
Brian Donaldson, CEO of The Maxol Group, spoke about the campaign:
"We are delighted with the support shown by our customers for our charity partner Aware; it is amazing the difference we can make with a collective effort across the country. We are very proud to partner with Aware and we look forward to rolling out more fundraising initiatives in 2020, as we celebrate our centenary year at Maxol. I'd like to thank all of our valued customers, retailers and staff who have supported this good cause."
Drew Flood, Business Development Executive at Aware said:
"This really is a remarkable amount to have raised in just two months and we are so grateful for the support shown by Maxol's customers and retailers and to the company for continuing to partner with us.
"Corporate donations and public fundraising account for 75% of our annual funding so we really depend on the generosity of organisations like Maxol. Without such support, we simply wouldn't be able to provide the vital services that we deliver free of charge throughout the communities of Ireland. Our services focus on supporting those affected by depression and bipolar disorder but also on delivering information and education programmes to empower people to look after their mental health and work towards preventing mental illness."
For further information or to request an interview, please contact:
Fiona Thornton – Fiona.thornton@grayling.com or
Megan Virgo – megan.virgo@grayling.com
About The Maxol Group –
The family owned Maxol Group was established in 1920 by William McMullan and is celebrating its 100-year centenary in 2020.
With an annual turnover of €660M in 2018, the company employs directly and indirectly more than 1,000 people across the island of Ireland.
The innovative business offers a wide range of products and services to the Irish and Northern Irish markets through its convenience retailing, petroleum offerings, fuel cards and lubricant divisions and has a network of 234 service stations, of which 112 are company owned.
Maxol is the winner of many awards including most reputable oil company in Ireland for four consecutive years by Corporate Reputations independent survey; Retailer of the Year by UTV Business Eye Awards; Best Forecourt in Ireland for M3 Mulhuddart; Forecourt of the Year for A26 Tannaghmore and Forecourt Retailer of the Year 2017 for Ballycoolin Services Dublin. In 2019, Maxol Dublin Road, Dundalk was named Ireland's Freshest Food-to-go Forecourt Store at Checkout's Best in Fresh Awards and Maxol Westport won Forecourt/Convenience Store of the Year at Ireland's Forecourt & Convenience Retailer Awards.
For further information on Maxol, visit www.maxol.ie