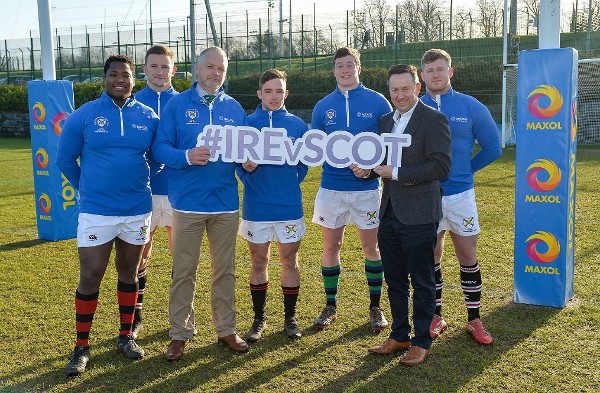 Brian Donaldson, CEO of Maxol is pictured with members of the Ireland Student Squad ahead of its clash with its Scottish student counterparts at Queen's University Belfast at the weekend.
Maxol, Ireland's leading family-owned forecourt and convenience retailer marked one of rugby's longest sponsorships, celebrating a 27 year partnership with the Irish Universities Rugby Union (IURU) this year. The IURU is dedicated to the growth of 3rd level rugby by maximising opportunity, participation and accessibility to the game for all players, male and female, regardless of standard.
The Ireland Students team recorded an impressive 31-3 win over Scottish Students with a five-try performance at Dub Lane, the home ground of Queen's University RFC. Queen's University hosted the students international fixture as part of the Belfast club's 150th year celebrations.
Brian Donaldson said, "This was a resilient performance from an incredibly strong Ireland Student pack and it was thrilling to watch 3rd level students from all over the country work together for the win.
"The IURU works tirelessly, and on a voluntary basis to support young people in pursuit of a game they love. The grassroots and inclusive nature of its work really appeals to Maxol's brand ethos, which is firmly rooted in the community."
Former Irish international and British and Irish Lion and president of the IURU, Trevor Ringland, said, "Organisations like the IURU need sponsors like Maxol. We all have a role to play in the development of our young people and the promotion of sport and physical activity, and Maxol's support over the past 27 years has been invaluable."