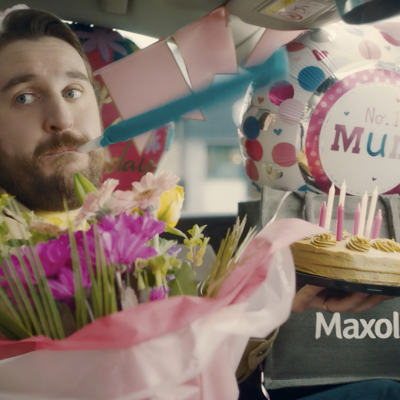 Maxol, Ireland's leading family-owned forecourt and convenience retailer, is returning to our TV screens with the launch of Bags More, an integrated marketing campaign that will highlight the convenience, value and wide range of grocery products Maxol offers customers every day.
Created by Havas Dublin, with media by Zenith Media, the all-Ireland campaign will run across TV, Radio, Outdoor, Digital and instore. Brian Donaldson, Maxol CEO, said: "This campaign is an important strategic milestone for Maxol, which follows a significant investment in our retail network of over €200 million in the last 10 years and sets out our ambition to be a leading convenience retailer across Ireland".
Directed by Jim Owen and produced by H2 Films, the TV and VOD (video on demand) commercial highlights Maxol's great range, with a story of a young couple who drive to their local Maxol. In the film, the guy pops into the Maxol store to grab coffees, only to return to the car, much to his partner's surprise, with 'bags more' than she expected, including cereals, bread, bin bags, wine, ice cream and fire logs. Chris Upton, CEO Havas Dublin, said: "This campaign is the result of a brilliant partnership between everyone involved. From the evolution of the strategy to the fantastic creative, we look forward to seeing the Maxol retail brand grow from strength to strength."
In addition to the two protagonists played by Brendan Quinn and Cate Russell, the Bags More TV ad stars dog actor Jeffy, cast for his particular skill of barking on command.
With the exception of the final frame, the ad was shot entirely in the car, a very intimate setting for two actors who had never met, and who had to embrace the role of husband and wife. "Casting was critical to the authenticity and humour of the ad and production company, H2 did a great job in filling these two central roles," Jim Owen said.
Nikki Maguire, Head of Marketing at The Maxol Group said: "We worked closely with Havas to develop the new Bags More campaign and the team responded to our brief brilliantly. The new TV and radio ads are humorous and fun while also helping to reposition Maxol to be known as a convenience retailer, with Bags More to offer beyond fuel. We're delighted to be back on TV after an absence of seven years with something that's fresh and fun, and we're confident that Bags More will resonate strongly with today's busy, value-driven consumers."
Maxol Rathnew is a particularly busy site and required some clever thinking from the production team at H2 films to ensure that it was business-as-usual throughout the shoot, while ensuring background continuity across the day.
Bags More will run across TV from 28 August and feature on radio, out of home (OOH), digital, PR and instore. To view the advert click HERE.
With more than 240 company and dealer owned stores across Ireland, the family-owned Maxol business has been at the heart of Irish communities for more than 102 years.