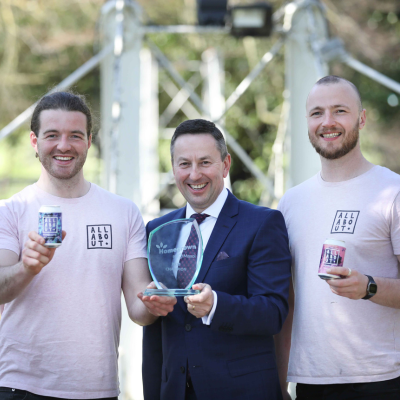 A spotlight was shined on six of Ireland's leading, indigenous food and drinks producers today, as Maxol announced the winners of its inaugural Homegrown at Maxol Programme. The announcement followed a month-long search for Ireland's finest small to medium sized food and drinks businesses, with the aim of providing winners with a free listing at up to 72 Maxol stores in the Republic of Ireland, as well as invaluable mentorship along with PR and marketing support.
While the initial programme sought to reward four indigenous producers, such was the calibre and scale of entries that six winners were chosen from more than 100 hotly contested entries. The winners are: White Hag Brewery (Sligo) a contemporary independent brewery, creating modern beer; All About Kombucha (Galway), a freshly fermented sparkling tea made from organic ingredients; Good 4 U (Sligo), a range of functional, healthy snacks; SAGE Meal Solutions, (Cork) an extensive range of condiments, meal pots, sides, bakes and pies; The Luxury Confectionery Company (Cork), makers of premium chocolate tablet bars and truffles; and Absolute Nutrition (Dublin) whose range includes convenient, 'functional' protein and energy snacks.
2023 Champion
An expert panel of judges reviewed the entries before the six winners were finalised. However, it was one outstanding producer, All About Kombucha that was crowned inaugural Homegrown at Maxol Champion for 2023. More than 200 retailers cast their vote at Maxol's recent Retailer Conference at The K Club, with All About Kombucha, a freshly fermented sparkling tea brewed from organic ingredients securing the overall title.
Keith Loftus and Emmett Kerrigan, creators of All About Kombucha spoke about being crowned the inaugural Homegrown at Maxol champions, "We're delighted; 'Buzzing' as Emmett would say! We joked that the only thing better than getting a Hole in One in The K Club was being crowned Homegrown with Maxol champions in the first year of the competition. The importance of awards such as Homegrown cannot be overstated here. We're always impressed to see the best of what Ireland's producers bring to these types of events. Securing the listing, not to mention all of the additional support that comes with this programme is invaluable to us and we are looking forward to seeing our products in Maxol fridges over the coming weeks."
Opening doors
Brian Donaldson, CEO, The Maxol Group said: "The decision to award six local producers in our inaugural Homegrown programme is a clear indication of just how good Ireland's artisan food and drinks sector is right now. The win will not only help drive much-deserved awareness for these amazing producers, but it will hopefully enable them to scale up and open doors to new opportunities. Maxol strives to be at the heart of communities right across Ireland and we're proud to play our part in spotlighting these wonderful local producers and products and look forward to running this programme again to support even more local producers."
Homegrown at Maxol was launched in partnership with Champion Green, an initiative that supports local businesses across Ireland. Speaking about the programme, Evelyn Moynihan, Kilkenny Design CEO and Champion Green co-founder said: "This programme is about larger, successful businesses giving a hand-up to the many exciting SMEs and start-ups we have in Ireland by championing our local producers. Maxol is offering tremendous market exposure for new brands and businesses within the forecourt and convenience store sector. On behalf of Champion Green, I'd like to extend a hearty congratulations to this year's winners."
This is the first programme of its kind in the forecourt and convenience retail sector to offer immediate and tangible support to local businesses across Ireland. It's a central part of Maxol's focus on expanding its range of homegrown products across its network, reflecting its transition in the food and drinks arena.
ABOUT THE WINNERS
All About Kombucha, Galway
Established in 2017 by two young entrepreneurs from Galway, All About Kombucha brews freshly fermented sparkling tea from organic ingredients. After graduating from university, Emmett Kerrigan and Keith Loftus emigrated to Vancouver, which is where they tried kombucha for the first time. When they returned to Ireland, they struggled to find a worthy successor to their newfound favourite brew and so All About Kombucha was born. The success of All About Kombucha lies in the ethos and commitment of the founders. Their Kombucha is live and unpasteurized meaning all its health benefits remain intact. Emmett and Keith have a deep commitment to the value of their product, their community and the environment. Their sustainable brewing and transparent practices are rooted in five core company values: be sound, cause minimal harm, work hard, uncap creativity, and practice self-actualisation.
White Hag, Sligo
The White Hag Irish Brewing Company is an award-winning craft brewery from Sligo, which specialises in contemporary beer with the influence of ancient styles. Built by a young Irish team and with a brew team bringing experience from across Europe, it is regarded as one of the most innovative and modern Irish breweries today.
The White Hag is a mythical character and entity, who is essentially Mother Nature. The brewery has undertaken a mission to make great Irish beers, and in some cases recreate beers that have not been made here for hundreds of years. Their outstanding range of IPAs, sour beers and stouts saw them crowned Irish Brewery of the year in 2022, for the second time. The White Hag export their famous beers across Europe and even into Asia. They are world famous for their International Brewery festival Hagstravaganza, held each August at their modern brewery in Ballymote, Sligo.
SAGE Meal Solutions, Cork
Sage Meal Solutions was created by multi award-winning TV chef, Kevin Aherne in 2020, and includes a vast range of condiments, meal pots, funky sides, bakes and pies. These tried and tested recipes include high quality Irish ingredients with no preservatives or additives and the condiments and dips are a great addition to any larder for everyday use. SAGE's meal pots and pies are a delicious easy option for a meal at any time of the day and the company's Ranch dressing has won several IQF awards.
The Luxury Confectionery Company, Cork
The Luxury Confectionery Company make a premium 42% Milk Chocolate Couverture, which then goes into their range of chocolate tablet bars and truffles. This chocolate couverture is made at their own facility using their universal conche machines, patiently grinding batches for 17- 24 hours to create the perfect product for customers to enjoy. The best part about their chocolate is that it has less sugar and more cocoa. Their chocolate occasion and location lines are an excellent gifting option for busy customers on the go.
Good 4 U, Sligo
A multi-award winning, wholesome family business, Good 4U produces an on-trend innovative range of functional, healthy foods including snacks for kids and adults, salad toppers, and breakfast boosts. Being an Origin Green member for the last six years, this close-knit family business offers a range of products that are 100% natural and contain only whole food, plant-based ingredients.
Absolute Nutrition, Dublin
Founded in 2014 by Jo Davey who is a trained holistic nutritionist, Absolute Nutrition is an Irish snack food brand and manufacturer with an award-winning range including convenient, 'functional' protein and energy snacks that hit that 'sweet tooth' craving. Not only is Absolute Nutrition's philosophy one of minimal processing but it is also about taking care of our planet and reducing, reusing, and recycling. All their packaging is fully recyclable or reusable and they boast a zero-food waste policy in their bakery.
Maxol is Ireland's leading family-owned forecourt and convenience retailer operating in Irish communities for over 102 years. For more information head to https://homegrown.maxol.ie/.