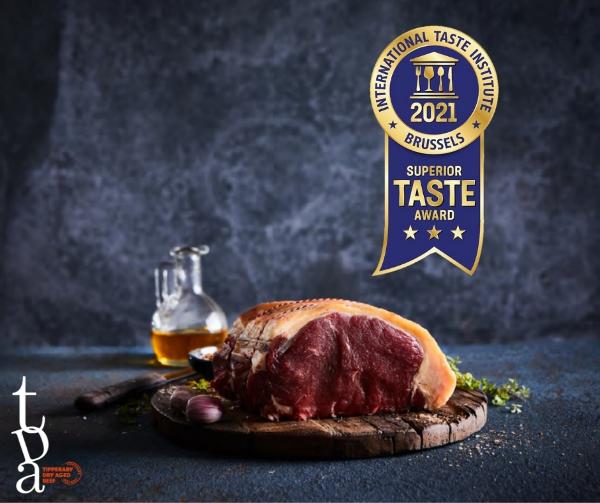 ABP has been awarded seven stars across three of its Tipperary Dry Aged Beef products at the international Superior Taste Awards, which are run by the prestigious International Taste Institute, a leading global authority on testing and promoting superior food and drink products. ABP's TDA Beef is a premium dry aged beef range, launched in November 2020.
ABP's TDA Striploin Steak was awarded three stars, recognising its exceptional taste qualities and receiving 90% of the available marks from the judging panel. The TDA Cote du Boeuf and the TDA Rib Eye Steak were awarded two stars each, receiving a score of between 80% and 90% from the judges. TDA Beef is sought after by some of Europe's most iconic chefs.
ABP's TDA beef products are produced at its the state of the art facility in Cahir, Co. Tipperary, utilising the company's patented UltraTender™ process, and are dry aged using handcrafted Irish Atlantic Sea Salt.
Dave O'Connell, ABP's Director of Sales for Ireland and Europe said: "It is extremely rewarding for ABP's TDA beef products to be recognised at the Superior Taste Awards, as the International Taste Institute sets the benchmark for excellence in the food industry. The recognition these products have received in the short space of time since the TDA brand was launched speaks to their quality, and the care taken by our staff and our farmer suppliers. We will continue to work to sustain this level of commitment, ensuring we provide our customers with best in class beef products."
The International Taste Institute is the world leader in the evaluation and certification of consumer food and beverages by professionals. The 200 person judging panel is selected from across 20 countries, from the most prestigious European culinary and sommeliers associations.
ABP's TDA Beef Range was also recently recognised at the prestigious Monde Selection Awards run by the International Quality Institute. The TDA Rib Eye Steak was awarded the Grand Gold Quality Award, the highest level of recognition granted by Monde Selection. ABP's TDA Cote De Boeuf, its TDA Striploin Steak, and its TDA Fillet Steak were also all recognised with Gold Quality Awards.
For more information on the TDA Beef range, please visit: www.tdabeef.com