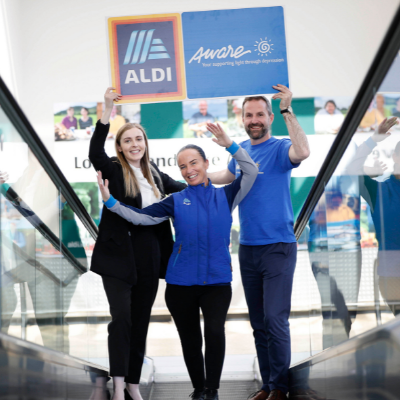 Aldi to offer staff essential mental wellbeing supports and services
Aldi Ireland has joined forces with mental health charity Aware to launch a new partnership to support the mental health and wellbeing of all its 4,650 employees across Ireland. As part of the two-year partnership, Aldi will look to further improve and inform its employee wellbeing strategy as well as the mental health resources available to its staff.
Aldi noted an increase in the use of its existing staff wellness programme during the pandemic, highlighting the need for mental health and wellbeing supports for all employees. Aldi's partnership with Aware will add to the existing programme, which provides staff with access to counselling, wellness coaching, financial wellbeing support and more.
To kickstart the partnership, Aldi is conducting a survey of colleagues to identify areas they feel would benefit from further supports. The results of this survey will enable Aldi, in conjunction with Aware, to tailor its mental wellness offering to the needs of its colleagues. Following the survey, Aware will carry out a number of informative talks for Aldi senior management as well as provide additional resources through Aldi's staff wellness platform.
Aldi currently provides a broad range of benefits to all staff including personal and professional development courses, a bike to work scheme, 24/7 confidential wellbeing services, access to free specialist information services and more.
Aware is a national charity which aims to create a society where those affected by stress, depression, bipolar disorder and mood related conditions are understood, supported, free from stigma and are encouraged to access appropriate therapies.
Welcoming the new partnership, Niall O'Connor, Group Managing Director, Aldi Ireland said: "The past two years have been incredibly challenging for us all and have shown the importance of protecting our mental health and supporting others. Promoting employee wellbeing is a leading priority for Aldi and, with the help of Aware, we look forward to helping employees understand the importance of looking after their mental health."
Stephen Butterly, Head of Fundraising and Business Development, Aware added: "We continue to live in a time of great uncertainty, and the need to protect our mental health and to build resilience is of the utmost importance. We welcome this partnership with Aldi, and we look forward to the opportunity to help improve mental health and wellbeing in the workplace."
The partnership follows the recent launch of the 'Leading in Wellbeing Index - Top 100 Companies 2022', which recognises companies leading the way in workplace wellbeing. The new index, launched by Business & Finance media group in partnership with Ibec, names Aldi as the leading retailer for instilling a best practice approach to workplace wellbeing.
If you are impacted by depression, bipolar disorder, or other mood related conditions, you can contact Aware's free support line seven days a week from 10am to 10pm on 1800 80 48 48. For more information, visit www.aware.ie #WeAreAware.