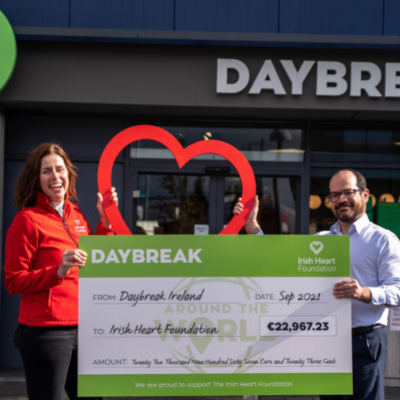 Daybreak is delighted to announce that their recent "Around the World" challenge in aid of the Irish Heart Foundation has raised €22967.23. Daybreak employees embarked on a summer virtual active challenge and walked, ran, and cycled around the world to raise much needed funds for the Irish Heart foundation.
Vasco Vilas, Assistant Brand Manager with Daybreak said: "We care about people in our communities across Ireland and understand and respond to their everyday needs.
"We are proud to support the Irish Heart Foundation in its mission to save lives by eliminating premature death and avoidable disability from cardiovascular disease and ask customers to support our challenge."
Daybreak is a long-term corporate partner of the Irish Heart Foundation and is committed to supporting the thousands of individuals living with heart disease and stroke across communities in Ireland.
Every euro raised with this challenge will go directly to the Irish Heart Foundation. The funds raised will help the charity to continue to be there, educate, support and advocate for patients and their families as they are diagnosed with a new heart condition, are recovering from a stroke or heart event, or learning to live well with a condition.
Judith Gilsenan, Commercial Director with the Irish Heart Foundation added: "We are so thankful for Daybreak, and its employees for taking on this exciting challenge to help heart and stroke patients all across Ireland. Through their generosity, we will support people in local communities and put a comforting arm around the shoulder when they need it most."
In 2020, the Irish Heart Foundation supported over 5,000 patients and this year they anticipate a 25% increase in demand for their services across local communities.
Enjoyed this story? Subscribe to our newsletter and receive stories of interest straight to your inbox. Just click on the Sign Up button at the top your screen to stay in the loop.