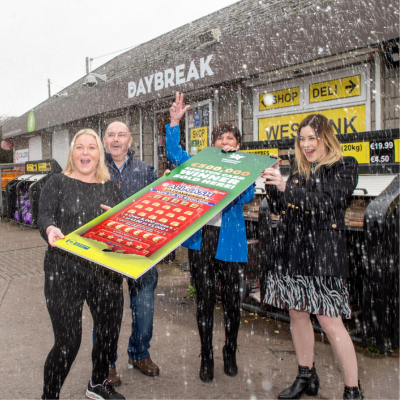 A Cork syndicate were delighted to visit Lotto HQ to collect their incredible top prize of €500,000 which they won on a €20 All Cash Exravaganza scratch card. The winning scratch card was purchased at the Westlink Service Station on the Lower Pouladuff Road in Cork City.
"I don't think I have ever been in such a state of shock as I was when we scratched off this ticket. We were double and triple checking the zeroes to make sure we didn't make a mistake. We have been playing together for a while now and we have bought these scratch cards before but we never expected to see the top prize. We were jumping up and down with the excitement at first and then we were shaking – a real rollercoaster of overwhelming emotions," they said.
The €500,000 winners admitted that keeping the ticket safe took priority over the days leading up to their trip to Dublin.
"I must have hidden the scratch card all around the house over the past few days. I even slept with the ticket in bed with me – that's how worried I was that something might happen. I'd have it hidden in one place and then move it and then even when I was leaving the house, I had it with me. I was terrified to let it out of my sight! It's only been a few days but I'm thrilled to hand it over now and see our cheque."
The Rebel County winners are looking forward to putting their windfall to good use.
"It really couldn't have come at a better time. Clearing the mortgage and doing a few home renovations are top of the list as well as treating family. We'll need to celebrate soon too of course!"
Meanwhile, tonight's 9pm Daily Million draw promises to see players enjoy even bigger prizes than usual across all prize categories in the main draw. A guaranteed to be won amount of €10,000 will be added to the prize fund for tonight's draw which will be divided amongst all winners and increase the value of each of the prizes won.
Nearly 30 cent in every €1 spent on all National Lottery games goes back to Good Causes in the areas of sport, youth, health, welfare, education, arts, heritage, and the Irish Language. In total more than €6 Billion has been raised for Good Causes since the National Lottery was established 36 years ago. In 2022 alone, €259 million was raised for local Good Causes in communities across Ireland.            
Play National Lottery games responsibly, play for fun.