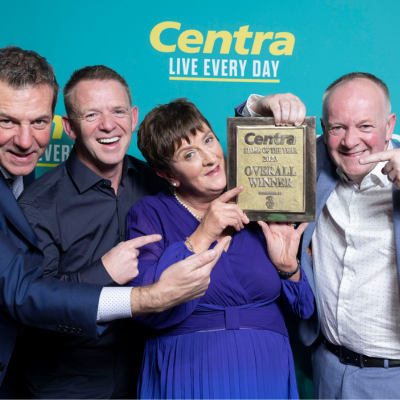 Lee's Centra Pallas Green Limerick has been named as the best Centra in Ireland, after receiving the much-coveted title of 'Store of the Year 2023' at Centra's recent national award ceremony. Taking place in the Mansion House in Dublin on Wednesday 8th November, Centra's national award ceremony recognises and celebrates the best of Centra stores, its people and exemplary retail excellence. Other award winners on the night included the 'Rising Star' award going to Colin Harding, Elys Centra in Cashel and Centra's 'Best Deli' counter awarded to Dalys Centra in Drogheda. The Overall Off-Licence of the Year award, kindly sponsored by Diageo, was scooped by Power's Centra Miller's Glen in Swords.
The prestigious 'Store of the Year' award, kindly sponsored by 3, sees Centra stores nationwide assessed in areas such as quality, range, customer service, sustainability, and local community contribution. Retail Consultant Dr Alan Collins undertook a competitive independent auditing process, in which Lee's Centra Pallas Green Limerick exceled. Within the category, winners on the night also included Fraynes Centra Westland Row Dublin for Hi Convenience and Garvey's Centra Adare Limerick for Neighbourhood.
Commenting on the award ceremony, Ian Allen, Managing Director of Centra said: As the leading convenience retailer with approximately 12,000 employees and 496 stores across Ireland, we are delighted to recognise and reward the very best of convenience excellence from our people and stores. Congratulations to Ray and Brendan Lee and the team Lee's Centra Pallas Green Limerick for winning Centra Store of the Year; this win is a testament to the exceptional standards, commitment and service they offer the local community of Pallas Green on a daily basis. This award is independently audited and with a highly competitive process in place, receiving this recognition truly is a tremendous achievement within the convenience retail industry".
The award ceremony consisted of 18 awards on the night and welcomed 93 finalists. The awards fell into three categories - 'People', 'Excellence' and 'Store of the Year'. The 'People' category acknowledged staff who demonstrated exceptional passion and enthusiasm for the – such as Length of Service award and Employee of the Year. The 'Excellence' awards shone a light on stores delivering the best of Centra across the in-store categories Deli, Moo'd, Bakery, Off Licence and Local Activations. The 'Store of the Year' awards celebrate excellence in convenience retailing and exceptional consumer experience.
Cormac Dawson, Sales Director, Centra, commended finalists in the 'People' and 'Excellence' category: "We are proud to recognise and celebrate our people who deliver exceptional service to their local community. These finalists offer the very best in retail excellence and are a testament to their teams hard work and determination in offering a consistently great service to their community on a daily basis."
Centra is Ireland's leading convenience retailer serving over 3.5 million customers per week, providing convenient shopping with value and quality front of mind. With 496 bright and accessible stores, Centra supports over 38,000 jobs and directly employs approximately 12,000 people across the country. At the heart of the communities in which it operates, Centra are proud sponsors of the All-Ireland Senior Hurling Championship since 2010. Centra is part of Musgrave Retail Partners Ireland, the retail franchise division of Musgrave Group, one of Ireland's largest grocery and food distributors.