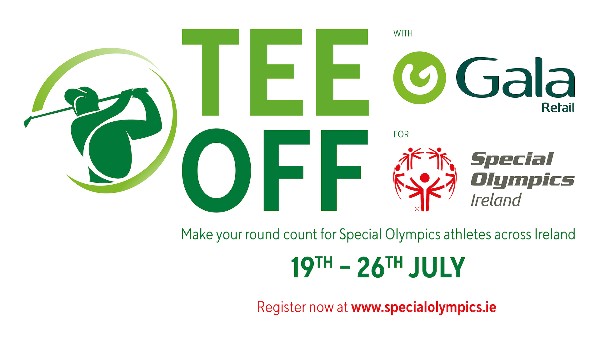 Gala Retail has launched the first-ever virtual golf tournament with charity partner, Special Olympics Ireland.
The Gala group is inviting you to 'Tee off with Gala Retail' and raise funds for Special Olympics Ireland. The virtual golf tournament is open to golfers from the North and South of Ireland and is asking teams of four players to sign up for the event and 'make your round count' during Global Week of Inclusion this July 19th – 26th.
Top scorers in the event will have the chance to win from a range of big prizes including a golf getaway for four people; the chance to play a four-ball with former international rugby player, Keith Wood at Portmarnock golf club; and four-balls at some of Ireland's top golf courses. The prizes will be awarded at a virtual prize-giving event, taking place LIVE on the Gala Facebook page on Monday 27thJuly at 7pm.
This is not the first time that Gala Retail has joined Special Olympics Team Ireland on the golf course. The Gala Group first partnered with Special Olympics Ireland back in 2015, supporting Team Ireland on their journey to the Special Olympics World Summer Games in Los Angeles.
To mark the launch of that partnership, Gala Retail was joined by member of the Special Olympics Team Ireland golf team and the late, great, Christy O'Connor to play a few rounds and pick up some tips out on the golf course.
This year marks the sixth year of partnership between Gala Retail and Special Olympics Ireland. Charity fundraising activities have been greatly restricted since the Covid-19 pandemic began and charities and their partners have had to look for new, innovative ways in which they can engage with the public.
In creating the 'Tee off with Gala Retail' for Special Olympics Ireland virtual golf tournament, Gala Retail aim to raise much needed funds for Special Olympics Ireland that will enable the organisation to continue supporting nearly 8,000 Special Olympics athletes across Ireland who are vulnerable to loneliness and isolation now more than ever. By entering the competition, you will be making your round count!

The registration fee for a team of four is €300/£280, with all proceeds going to Special Olympics Ireland. To register for the event visit https://www.specialolympics.ie/tee-off-with-gala-retail-for-special-olympics-ireland, further information on the tournament can also be found at www.gala.ie