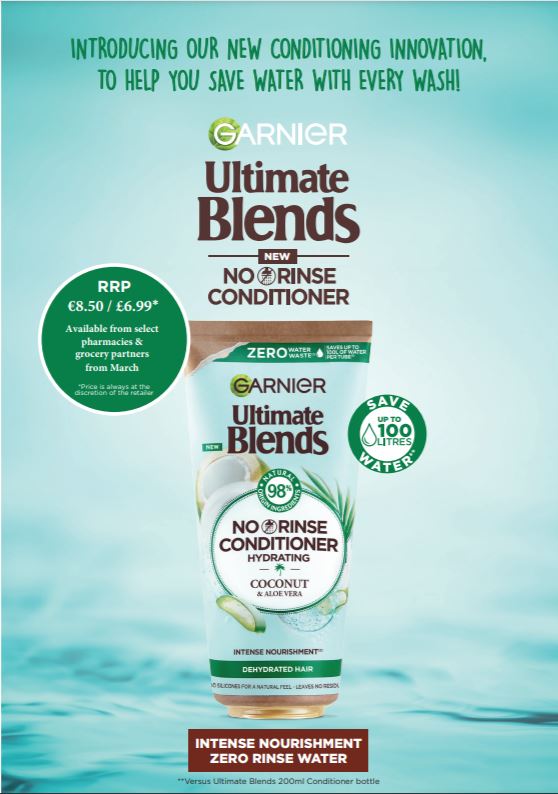 But are we willing to change the way we wash our hair for the good of the planet?
A large, growing majority of adults questioned want to live more sustainable lives in 2022 (83% compared to 81% the previous year). This is according to the second annual One Green Step Report which canvassed over 29,000 people aged 6 to 60+ in 9 countries.

The report, conducted by Garnier, charts the scale of the continuing shift towards sustainable intentions in 2022 and benchmarks the findings against consumer insight gathered during the same period last year. Major drivers for this intent include greater awareness of imminent risks of climate change (40%), as well as a desire in 2021 to self-educate on the situation (37%).

Family is another motivator. Almost one in three of adult respondents worldwide (30%) state they want to be more sustainable to protect their children's future. In a comparative question 12 months ago, just 16% of respondents overall said having children meant they knew they had to act.
During 2021, some adults did take steps towards adopting a more sustainable lifestyle. These varied from recycling more (61%), and taking shorter showers (42%). The drive to get people to reduce plastic consumption also appears front of mind for a majority of respondents – with the same true in 2021, when 67% pledged to cut down on their use of plastic. However, only 5% of respondents consider themselves as already acting sustainably, more than 1 in 8 say they struggled to make sustainable choices in 2021 and only 30% say they are ready to take action for the planet now.
In response, and to help people take a Green Step this year, Garnier will today expand its industry leading Green Beauty initiative with a new digital campaign, encouraging people all over the world to voice their commitment to take One Green Step in 2022, and the world's fourth largest beauty brand is pledging to recycle 2 million plastic bottles, up to 10 for each step shared across personal social platforms.
The online campaign will launch with a video incentivising the public to reveal their own green changes in behaviour and driving increased funding to the brand's long-term partner, NGO Plastics for Change. 80% of the funds will go to the Plastics for Change waste collectors in India to help support whole families out of poverty. More information on the campaign can be found at: https://www.garnier.co.uk/onegreenstep.
New sustainable innovations and initiatives
The campaign coincides with the announcement of significant further green science led, product innovation in the form of a No Rinse Conditioner, a first for a mass market brand, estimated to save 100 liters of water per tube. The conditioner is produced in one of Garnier's carbon neutral and state of the art waterloop factories, which make up 18% of Garnier's production footprint; with the aim of 100% Carbon Neutral industrial sites by 2025 and 100% Waterloop by 2030.

Garnier's bestselling, award-winning Micellar water, vegan and Leaping Bunny approved, will also be 100% recyclable and made from 100% recycled plastic from this year; made with more eco designed formulas and encouraging further water saving behaviours amongst consumers as the product does not require rinsing after use.

Garnier's best-selling Ultimate Blends Honey Treasures Strengthening Shampoo is available now as part of Tesco's ground-breaking way for its customers to shop that allows them to buy a wide range of food, drink, household and beaty products in reusable and durable packaging. In partnership with global reusable packaging platform, Loop, customers in ten large Tesco stores in the east of England will be able to buy products in reusable packaging that can be returned to store when finished so it can be cleaned, refilled and used again.