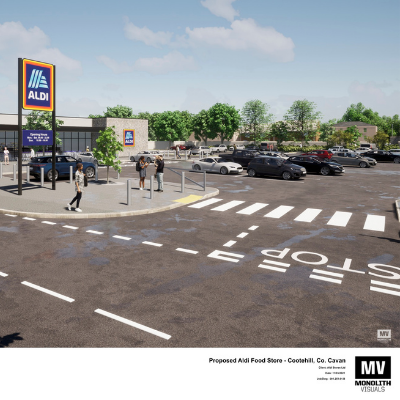 25 new jobs to be created upon opening in mid-2023
Aldi Ireland today confirmed it is on track to open its new €6.5M store in Cootehill, Co. Cavan in mid-2023. The development will bring up to 25 permanent jobs to Cootehill, as well as create 60 jobs during the construction phase.
The exciting news for Cootehill shoppers comes as Aldi was granted planning permission for a brand new store in the town's centre. The 1,315sqm store will be centrally located on Station Road close to Market Street, meaning customers will be able to easily access the best value groceries in Ireland.
Powered by 100% renewable electricity and offering four free-to-use electric vehicle charging points, the new environmentally friendly store will further boost Aldi's strong sustainability credentials. Ample parking facilities will be provided for those driving or cycling to the store, with 93 car parking spaces available along with 10 bike parking spaces. The new store will be constructed in Aldi's award-winning Project Fresh design.
Commenting, Donald Mackay, Aldi Regional Managing Director said: "We have been planning to open in Cootehill for some time now so we are delighted to get the green light from Cavan County Council. We look forward to bringing our amazing prices to even more customers through this store.
The new store will also provide further opportunity for local food and drink producers to work with Aldi. We sourced over €700,000 of locally produced food and drink from Cavan based suppliers last year."
The new store will be Aldi's second in County Cavan, with an existing store on the Dublin Road. The Cavan store has donated over 28,000 meals to charity to date. Aldi's Cavan store is also part of Aldi's Community Grants network, with Cavan SPCA one of the many local charities that have availed of the €500 bursary grant in recent years.