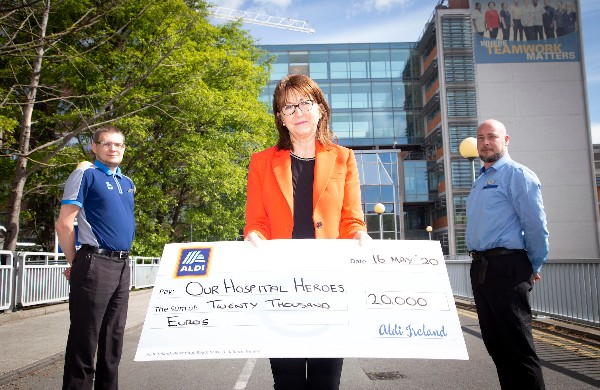 Aldi donates 100,000 facemasks in total to Our Hospital Heroes & Age Action Charities
Aldi Ireland has today donated €20,000 to Our Hospital Heroes charity from funds raised within a week of its fundraising "Irish Nurses Thank You" bouquets going on sale across all 142 Aldi stores in Ireland. Such was the response from members of the public to the initiative marking International Nurses' Day on May 12th, that all bouquets sold out with 100% of the proceeds presented to the charity today.
Aldi has also announced a combined donation of 100,000 medical grade facemasks to Our Hospital Heroes and Age Action, the national charity working to protect older people in Ireland. These will be distributed by Our Hospital Heroes to nurses and other frontline workers in eleven hospitals across Ireland, as part of the charity's efforts to provide PPE and other essentials to protect health and wellbeing at this time. Age Action Ireland will be distributing the donation to those who need them most across the country.
Micheál Sheridan, campaign spokesperson for Our Hospital Heroes, said; "I want to thank Aldi for their support and the funds raised by each and every customer on International Nurses' Day. We are bowled over by the speed at which the €20,000 donation has come through, and the generous delivery of facemasks. Now more than ever, those working on the frontline and in healthcare settings need a steady supply of essential PPE including facemasks, and with Aldi's support, we are able to help thousands more on the frontline as a result."
Paddy Connolly, CEO of Age Action, said; "Age Action is delighted to receive Aldi's donation of masks for those who need it most in our community, and care homes. We know that older people are most at-risk, and essential supplies such as this really make a difference to their comfort and confidence at this time."
John Curtin, Group Buying Director, Aldi Stores Ireland, said; "At Aldi, we wanted to give back to the community and those who need our support most. It's thanks to our customers that we can donate over €20,000 to Our Hospital Heroes from the sale of a special fundraising bouquet, and it's thanks to the work of Our Hospital Heroes that the funds raised and masks donated today will benefit nurses and other frontline workers. We know that older members of our society may be feeling very vulnerable at this time, and Age Action has been working tirelessly to offer comfort, advice and practical supports, and the masks donated will help them continue in the weeks and months ahead."