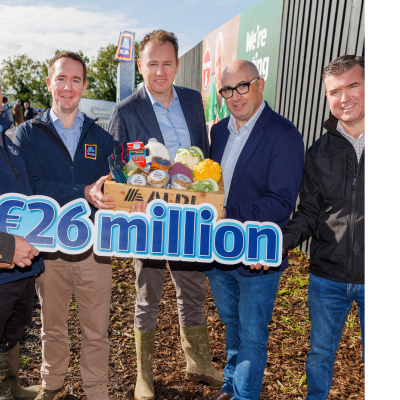 ALDI Ireland has agreed four major new deals with Irish-based suppliers worth more than €26 million.
The new and extended contracts continue ALDI's long-standing commitment to its Irish supplier network, which is now more than 330 strong, with whom ALDI will spend in excess of €1.1 billion this year, bringing the finest quality Irish produce to its 160-store network across Ireland.
The four suppliers, some of whom have been supplying ALDI for more than twenty years, produce fruit and vegetables, dairy products and coffee, and some of the contracts will see ALDI open up new international markets for their producers.
The new contracts were announced at the National Ploughing Championships today, at which ALDI is showcasing the produce supplied to its 160-stores by its nationwide network of suppliers.
Lakeland Dairies
The County Cavan-headquartered supplier has signed a new deal worth €15.3 million per year with ALDI. The new contract will see Lakeland Dairies' footprint grow as it continues to supply milk and dairy products, including Clonbawn fresh and light milk, to ALDI stores nationwide.
Clandeboye Estate Yogurts
Clandeboye has been working with ALDI for more than ten years. This new two-year deal worth €9.9m (£8.6m) will see the Bangor-based supplier continue to supply ALDI Ireland with granola and Greek style craft yoghurts, as well as supplying ALDI UK stores for the first time. The international expansion should allow the supplier to grow its sales volumes by more than 450% and expand its 20-strong workforce.
Donnelly fresh produce
Having supplied ALDI for more than two decades, the latest deal will see the family-run producers continue to supply cauliflowers to ALDI for the next two years and is worth more than €1m to donnelly fresh produce. The North County Dublin company also supplies ALDI with various vegetables, citrus, salads, berries and fruit.
Velo Coffee Roasters
A former Grow with ALDI winner, Velo Coffee Roasters have signed a new contract with ALDI, which will see them introduce a new El Salvador blend product to Irish shelves. The new EL Salvador blend is a winner of the Blas Taste Awards.
Announcing the new contracts, Colin Breslin, Managing Director of Buying and Services, ALDI Ireland, said: "At ALDI, we are committed to supporting our Irish producers, meaning our customers can enjoy the very best products Ireland has to offer, and our suppliers can reach new markets with their produce. We have long-standing relationships with many of our suppliers, and these new deals we are announcing today with four of our valued suppliers, is testament to the partnerships we look to build. The scale of this investment, worth more than €26 million, shows how much we value our supplier partners – how we want to help them sustain and grow their businesses, how we've stood shoulder to shoulder with them throughout what have been a few challenging years, and how we want to help them create new jobs across the country, and unlock new markets for their produce.
"We look forward to working with each of these suppliers, and these rest of our 330-strong supplier network, for many years to come."
Welcoming the announcement, Minister for Agriculture, Food and the Marine, Charlie McConalogue TD, stated:
"I am pleased to be here at ALDI today and to hear of their support for Irish producers. Providing producers with a route to market such as this is of key importance to help them grow their businesses, create employment, and support economic activity across Ireland.
"I welcome ALDI's continued commitment to Irish suppliers and their support to producers around the country. This €26m announcement is an indication of the scale of ALDI's commitment, to support their suppliers, to develop their businesses and bring top quality Irish produce to households in Ireland and internationally."
Commenting on the current economic environment and the impact of inflation on consumers, Mr. Breslin said:
"We remain steadfast and committed to our value offering; we won't be beaten on price, and that is something that our customers can always rely on. ALDI's commitment to further embedding and expanding our value offering has never been more relevant and remains our key business priority.
"Part of that is working with our expanding Irish supplier network to ensure we continue to supply the quality Irish products that consumers want at the best prices. We're proud to have reduced prices on over 200 products since June, including across family staples and household essentials. As input costs improve for us and our suppliers, we will continue to work hard on reducing the price of a basket of goods even further."