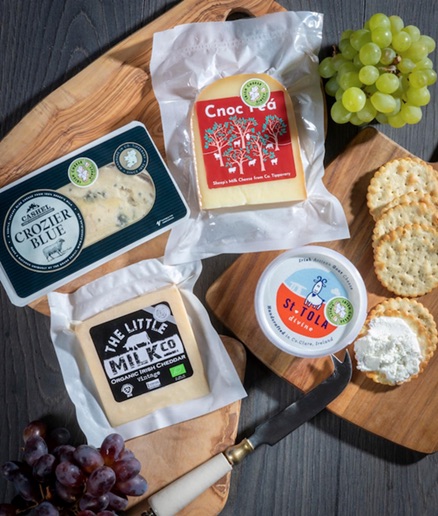 Over the last numbers of weeks Aldi has offered a helping hand to small Irish suppliers and businesses who have been affected by Covid-19 restrictions. From protein balls and craft beers, to baked good and flowers, Aldi has supported all industries within the retail sector.
This week, Aldi has announced that from the 13th of June, it will be stocking a range of Irish cheeses from suppliers in collaboration with Irish Cheese Direct (ICD), a group of 7 top Irish Farmhouse Cheesemakers who work together to directly supply the Irish retail sector with artisanal, local products. This new partnership with Aldi involves 3 of the 7 Irish Farmhouse Cheesemakers - Cashel Irish Farmhouse Cheesemakers (Co. Tipperary), St. Tola (Co. Clare) & The Little Milk Company (Co. Waterford)
The past twelve weeks have been very challenging for all producers across the country, however Aldi has endeavoured to support Irish suppliers as much as possible in keeping them operational.
So the next time you're in Aldi doing your essential shop, stock up on the nation's favourite dairy product from the following suppliers:
Inagh Farmhouse Cheeses - Clare
St. Tola Divine Irish Artisan Goat Cheese €2.99 per 120g
St Tola Divine Irish Artisan Goat Cheese is young fresh, goat's cheese, only 3 days in the making from milk to cheese. It has a light whipped texture and a cool and fresh flavour that is lemony with light floral undertones. It is a very versatile cheese, great for blending and using in lots of recipes both savoury and sweet. Suitable for vegetarians.
Handmade in Co. Clare, just south of the Burren by Siobhán Ní Gháirbhith and her expert team, St. Tola Cheese is internationally recognised and known for their award-winning range of goat's cheeses. The St Tola herd of 220 Saanen, Toggenburg and British Alpine goats are reared on 65 acres of unspoilt pastureland.
Siobhán Ní Gháirbhith from Inagh Farmhouse Cheese commented:
"We are very happy during these challenging times to be participating in this Irish Farmhouse Cheese promotion with Aldi, and are happy that more consumers will get to enjoy Irish Farmhouse cheeses made from speciality milk from cows, goat and sheep."
Cashel Farmhouse Cheesemakers - Tipperary
Cnoc Feá Sheeps Milk Cheese €2.99 per 100g
This is a 100% sheep's milk aged hard cheese, made in a small batch production of just 30 wheels at a time, aged for a minimum of 8 months. It is hand cut in the traditional manner and is said to be an Irish alternative to Spanish Manchego or Italian Pecorino. It is a hard cheese with a creamy texture which leaves you coming back again and again. It is produced seasonally, suitable for vegetarians, and can be enjoyed on its own, grated on pasta or even in home-made Carbonara sauce.
Cnoc Feá was born in 2018. The recipe draws heavily on the experience of the Cashel Farmhouse Cheesemaking team, whose cheesemaking experience over the year includes strong influences from both France and The Netherlands. Cnoc Feá is a distinctly Irish Cheese rooted in the tradition of European specialty hard cheesemaking. Aged 8 months, this cheese reflects its handmade, crafted background from field through to the cheeseboard.
Crozier Blue Cheese €2.99 per 100g
Crozier Blue is a mature blue cheese suited to lovers of a stronger style of blue cheese. It is a 3-time winner of World Cheese Awards Super Golds within the past 5 years and the current holder of Best Blue Cheese at the Irish Cheese Awards. The curds are cut and stirred by hand. It is made from the milk of 100% grass fed Friesland/Lacuane cross bred sheep. Enjoy Crozier Blue with a drizzle of Irish Honey. It is excellent in a salad with fresh peaches and roasted almonds.
Created in the early 1990's as an Irish alternative to the famous French sheep's milk cheese Roquefort. Crozier Blue is the sister cheese to Cashel Blue which is made from cow's milk cheese.
Sarah Furno from Cashel Farmhouse Cheesemakers commented:
"Aldi Ireland are contributing towards the future sustainability of the diversity of Irish agriculture through this special release, limited period, speciality Irish cheese offering, which includes two of our sheep's milk cheeses. On hearing the news, we immediately rang our farmers, good news is a rare thing in The Specialty Dairy sector in these times, and helps us plan for the future and the upcoming breeding season."
The Little Milk Company – Waterford
Organic Raw Milk Vintage Cheddar €2.99 per 120g
This vintage organic cheddar is made with raw unpasteurised organic milk, and matured for over 18 months. Raw milk has not been exposed to the heat treatment required for full pasteurisation, as a result the cheese retains more of the natural flavours and nutrients present in the milk used to make it, rich in anti-oxidants and Omega-3. This is a firm cheese with a strong cheddar flavour, a natural creamy yellow appearance and an earthy nutty aroma. It is best left out of the fridge unwrapped for an hour to get to ambient temperature – the taste difference is worth the wait! Cut it into thin slices and let it melt in your mouth! It is organic and suitable for vegetarians.
The Little Milk Company is a group of 10 organic Irish dairy farmers who work with the best cheese makers in Ireland. The ethos of this business is local family run farms, producing artisan and block organic cheese, by award winning cheese makers. Local and small brings the best value to the farmers and jobs in local communities, while ensuring quality and tractability to the customer.
Conor Mulhall from The Big Cheese @ The Little Milk Company commented:
"We are delighted that Aldi are supporting Irish Farmhouse Cheeses and look forward to more Irish Consumers experiencing the best of Irish Dairy."