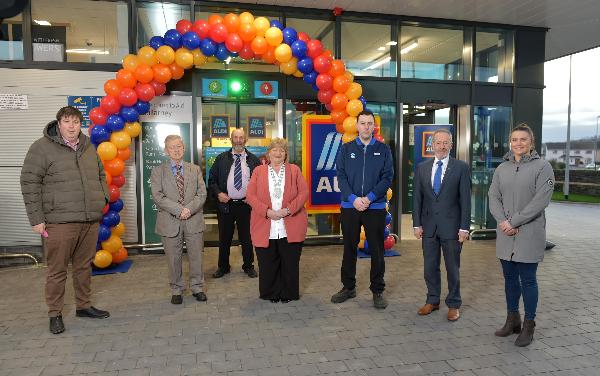 New store marks investment of €8M in the local area
Aldi's nationwide expansion continues today with the opening of its new store in Killarney, Co. Kerry, creating 7 permanent jobs in the local area. Located on Park Road, the store was officially opened today by Store Manager Patrick Lawlor. The new €8M store will replace its existing store at Ardshanavooly, a short distance away, which closed on January 10th after 14 years, ahead of the new store opening today.
The new single-storey supermarket includes an off-licence as well as two smaller retail outlets, and comes after a study of shoppers living or working in Killarney by leading independent market research agency Behaviour & Attitudes revealed that 90% of shoppers agree that a bigger Aldi store would be good for Killarney.
Aldi will be offering a wide range of special opening offers at the new Killarney store including an Electric Lawnmower for just €49.99 (reduced from €119.99) and a Spiral Kitchen Mixer for just €19.99 (reduced from €49.99). There are lots more Specialbuys too – all at amazing prices!
New Store Design
Featuring Aldi's exciting award-winning Project Fresh layout and design, the new store boasts a large shop floor spanning 1,260sqm, making it 50% larger than the old Killarney store. There are also 113 car park spaces available to customers in Killarney, along with 15 bicycle rack stands. Aldi's Killarney store will also provide access to free-to-use electric vehicle-charging points for customers. Aldi has invested in ventilation heat recovery, which will be used to power underfloor heating, in addition to solar panel energy.
Speaking at the store opening, Patrick Lawlor, Aldi Killarney Store Manager said: "Our brand new Killarney store is fantastic news for local shoppers! The spacious design means customers have a new store with over 50% additional floor space, and our aim is always to ensure that our customers have the very best shopping experience in store. As well as this, it's great to see new jobs being created in the town!"
Welcoming the new Killarney store, Seán Kelly, MEP for Ireland South, said: "It's fantastic to see Aldi continue to confidently invest in Kerry and open new stores despite what has been a very challenging time for the retail industry. Aldi's revamped, larger Killarney store is a very welcome addition to the town."
Aldi's Investment in County Kerry
Aldi operates 7 stores in Co. Kerry and has made a capital investment of €38 million in the county since it first opened a store in Tralee in 2004. Aldi is the market-leading supermarket for pay and currently employs up to 140 full-time staff across the county.
Community Support
Aldi's existing stores across Kerry are deeply involved in their local communities. Retired Ireland Rugby Captain Ciara Griffin, a native of Kerry, joined the Store Manager in opening the store today. As part of the store opening, Aldi has donated three Aldi Play Rugby kits to Scoil Bhríde Loreto National School, Muckross, Killarney. To date, the Kerry stores have donated almost 127,000 meals to local charities through FoodCloud, saving the charities more than €160,000. Each store is also part of Aldi's Community Grants network, with St Francis Special School and Youth Suicide Prevention Ireland just some of several charities that have availed of the €500 bursary grant this year.
In addition to supporting local charities, Aldi's national tree planting initiative will also involve the Killarney team. More than 24,000 trees were planted across Cloonafinneela and Cappawee, Co. Kerry last month. Aldi is the first retailer in Ireland to commit to planting 1 million native Irish woodland trees by 2025, working together with its partner Green Belt.
Supplier Support
Aldi supports a variety of food and drink producers across Kerry and spent €15.5 million with its Kerry producers in 2021. Aldi is committed to growing its Irish supply base and increasing the number of locally produced Irish products available at its stores. Aldi currently partners with 7 food and drink producers in Kerry including Prestige Foods, Listowel and Kerry Group, Tralee.
Aldi has invested more than €3,000,000 in its Grow with Aldi supplier development programme since 2018, which offers up-and-coming artisan Irish food and drink producers the chance to have their products listed in Aldi's 149 stores.
The new Aldi Killarney store opening hours are:
Monday - Friday 9.00am to 10.00pm
Saturday 9.00am to 9.00pm
Sunday 9.00am to 9.00pm