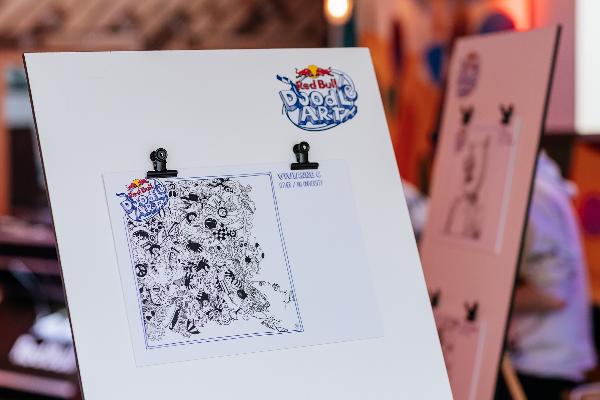 Ireland will be represented by Vivianne Carcereri at the innovative global competition where art and technology meet.
The Red Bull Doodle Art World Finals take place in Amsterdam this weekend, with Dublin-based artist Vivianne Carcereri set to represent Ireland at the global competition, featuring over sixty of the fastest-rising talents from across the world.
The Italian-born artist, who has made Ireland her home since moving here six years ago, will compete against the world's best, following her victory at the Irish National Finals which took place in Tara Street Buildings last month. A panel of experts selected Carcereri's work based on the criteria of creativity, artistic skill and the way the doodle expresses a love for life.
Red Bull Doodle Art encourages creatives to put pencil to paper, let their minds wander and get doodling. The World Finals take place from Thursday May 25th to Sunday May 28th, with all national finalists globally brought together for a three-day immersive experience in Amsterdam. Their completed artwork will be displayed in NFT format in a public gallery, where a judging panel including Canadian artist Burnt Toast (Scott Martin) and British artist Mr Doodle (Sam Cox) will select the global winner.
Speaking ahead of the World Final, Carcereri said: "I'm delighted to represent a beautiful country which has welcomed me with open arms. My art is inspired by what I like most in life, or whatever makes me feel good or smile. I'm looking forward to testing myself and learning from some of the most exciting talent in the art industry this weekend."
Carcereri's work will feature in a one-of-a-kind NFT collaboration between Burnt Toast and the other national final winners. The 'Burnt Toast x Red Bull Doodle Art' collection, which combines the artistic vision of the world-renowned creator of 'Doodles' and the 61 national winners, will be made available for an open-edition mint at the Nifty Gateway Marketplace on Friday May 26th at 2PM CET.
To keep up to date with Ireland's progress at the Red Bull Doodle Art World Finals this weekend, follow @redbullire, use #RedBullDoodleArt or visit www.redbulldoodleart.com.
@RedBullIre // #RedBullDoodleArt // RedBullDoodleArt.com