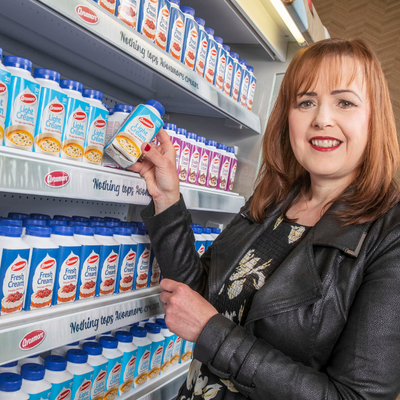 Avonmore, Ireland's leading dairy brand and the number 2 brand in Ireland, continues to innovate and lead change across its product portfolio.
Nothing tops Avonmore Cream, and that's why Avonmore has switched to Tetra Top® cartons for its Fresh Cream range, saving up to 40 tonnes of plastic every year, or the equivalent weight of two fully loaded tour buses.
Avonmore Fresh Cream, Double Cream and Light Cream will now be available in Tetra Top® packaging, which contains 62% less plastic than the previous bottles and uses paperboard from responsibly managed forests and other controlled sources where new forest growth replaces harvested trees.
Miriam Walker, Director of Domestic Consumer at Avonmore, said it is the same fantastic, high quality Fresh Cream but now it comes in packaging that is kinder to the planet.
"The Avonmore Cream inside our new Tetra Top® packaging is the freshest and highest quality cream. Nothing has changed taste-wise.As part of Avonmore's sustainability strategy our aim is that 100% of our product packaging is recyclable, reusable or compostable by 2025. We are recommending that consumers also play their part in this sustainability journey and that they wash, squash and recycle Avonmore Cream Tetra Top® cartons."
The Tetra Top® cartons are Forest Stewardship Council® (FSC®) certified, indicating that the paperboard is from well-managed, responsible and controlled sources where new forest growth replaces harvested trees.
Avonmore Cream is a fantastic addition to any meal, from summer meringues with fresh berries, to a one-pot pasta dish. For fabulous lunch, dinner and dessert recipes including Avonmore Cream, visit www.avonmore.ie.
Avonmore is a Glanbia Ireland brand, which is 100% owned by Glanbia Co-op. It has over 11,000 farmer Members and has signed up to the Science-Based Targets initiative (SBTi) as part of its comprehensive sustainability strategy, Living Proof, to show its clear and unambiguous commitment to reducing greenhouse gas (GHG) emissions by implementing the best science and technology.