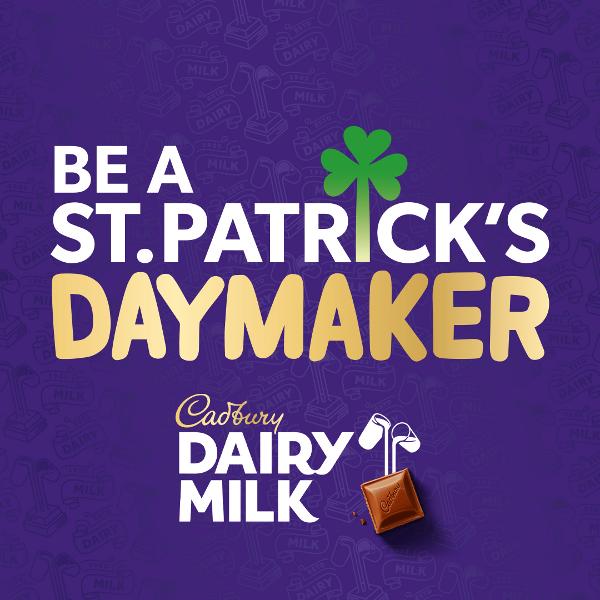 Cadbury is calling on people across the nation to join them in becoming a 'St. Patrick's Daymaker' on March 17 2023. Ireland is known around the globe for its instinctive generosity and this year, people can #BeADaymaker by showing true Irish spirit by committing small and meaningful acts of generosity.
Being a St. Patrick's Daymaker is not about grand gestures; it can be as simple as giving up your seat on a bus, sharing your umbrella with a stranger caught in the rain, leaving your coin in the shopping trolley for the next shopper or surprising a loved one with their favourite treat.
To help facilitate these #BeADaymaker acts and help people celebrate what it truly means to be Irish, Cadbury is offering a free Cadbury Dairy Milk that can be gifted to someone special. Pop into your local participating supermarket and scan the QR code to send someone a Cadbury Dairy Milk. For more chances to win prizes, tell us on social media @CadburyIreland how you will #BeADaymaker.
Research carried out by Cadbury Ireland uncovered what St. Patrick's Day means to Irish consumers in 2023. The study found there is a real tension between Irish people's desire to feel proud about St Patrick's Day and the reality of the celebrations being overly commercialised and focused on drinking or partying. Less than half (45%) of respondents agreed that the day accurately reflects Irish culture and people; additionally, more than half (53%) of Irish people feel that St. Patrick's Day is more for tourists than for Irish people.
When asked about what people wanted celebrated more, 56% of Irish people responded that they want to celebrate 'Our Friendliness' and 54% want to celebrate 'Our Welcome'. Other top traits people want to celebrate during St. Patrick's Day include 'Our kindness' (41%) and 'Our Generous Nature' (45%).
Encouraging people to #BeADaymaker, Cadbury Ireland Seasonal Brand Manager, Maighréad Lynch said: "At Cadbury we want to encourage people across Ireland to show the spirit of what it truly means to be Irish this St. Patrick's Day. Through our #BeADaymaker initiative we hope to see the people of Ireland undertake acts of generosity, no matter how small. While we understand that some people don't feel that St. Patrick's Day reflects Irish culture, we believe it's an opportunity to show the world just how generous and friendly we really are through small but meaningful generous acts - this is why we are encouraging as many people as possible to Be a St. Patrick's Daymaker."
Whether it's offering to do the shopping for an elderly neighbour, pointing a tourist in the right direction or showing your dad how to 'TikTok', Cadbury want to encourage and celebrate your generous nature this St. Patrick's Day.
The Cadbury Be A Daymaker in-store activation will run until March 27th 2023, while stocks last, in participating stores. #BeADaymaker by simply scanning the QR code to send someone special a free Cadbury Dairy Milk.
For more information visit www.cadbury.ie or join the conversation on social on Instagram and Facebook @CadburyIreland or with #BeADaymaker.