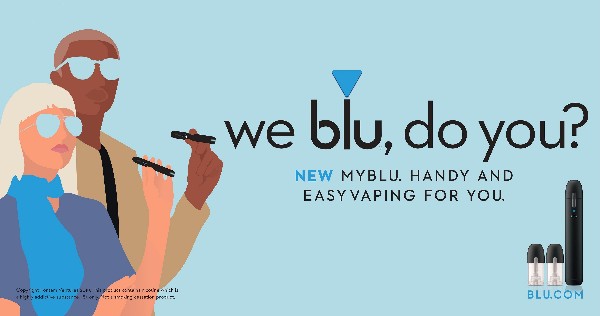 Vaping brand blu has launched an extensive and fully integrated marketing campaign this week which will aim to highlight vaping as an alternative for smokers.
Blu is a major international brand which has just brought its pod-based vaping system to Ireland, which is now available in thousands of stores nationwide.
The out of home marketing campaign will run until September and consists of adverts being placed at 320 key locations throughout Dublin city. In addition, the brand will also be opening a pop-up shop on Dawson Street from Friday August 2nd to Thursday August 15th.
Anyone interested in making the switch from smoking to vaping can come along and try out the wide range of flavours blu has to offer. Commenting on the launch of the pop up shop on Dawson Street, blu's Irish Head of Marketing Carmel Balala said; ''we wanted to create an environment in our pop-up shop where people could feel free to come and try out a great alternative to smoking. We are running a superb series of events in the first two weeks in August and we will announce the details shortly. The shop will be open from 10am to 8pm and everyone is free to stop by, have a coffee and try out our great range of flavours.''
The pop up shop is just one part of an extensive marketing strategy launched by blu in Dublin this month. Commenting on this, Carmel said; ''our marketing campaign is running until the end of September and we are aiming to get the blu brand in front of every adult smoker in Dublin to encourage them to try blu as an alternative to smoking. We have advertising running at 320 locations in Dublin, including on buses, at Luas stops and large billboard sites.''
The myblu system is a closed vaping system using refill 'pods' which are available in a wide range of flavours including Cherry Crush, Strawberry Mint, Green Apple, Menthol and Tobacco Creme. The extensive range of flavours sets myblu apart in this highly competitive vaping market.
blu has experienced a rapid rise following its foundation in 2009 in the US by Australian entrepreneur Jason Healy, who was dissatisfied by smoking alternatives on offer at the time.
Vaping products such as blu do not contain tobacco and offer a less harmful nicotine delivery system compared to smoking tobacco. Last year, the Healthy Ireland Report stated that 37% of people who quit smoking in Ireland used vaping products to help them.