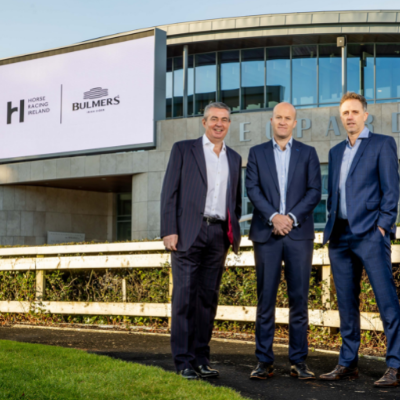 Mundy Announced as Headline Act at The Dublin Racing Festival
Horse Racing Ireland (HRI) Racecourses has today announced Bulmers as its Official Entertainment Partner. The announcement sees Bulmers, part of the C&C group, become the first Primary Partner to HRI Racecourses as part of a three-year agreement.
The two organisations will work closely together to grow interest and appeal in the sport of Horse Racing and enhance the racegoer experience with new entertainment including music and comedy across a number of high-profile racing festivals nationwide. Racing fans and music lovers alike will be familiar with the enormously successful Bulmers Live at Leopardstown series, which has been running since 2009. This partnership announcement extends that agreement to include the three other HRI Racecourse venues (Fairyhouse, Navan, Tipperary) and provides a strong platform for Bulmers to bring the partnership to life nationally.
HRI and Bulmers have also revealed that one of Ireland's best loved homegrown acts, Mundy, will headline the Dublin Racing Festival taking place in Leopardstown on February 5th and 6th. The multi-platinum artist, alongside Dublin singer song writer, George Murphy, will entertain the big crowds expected across the weekend.
As part of the partnership, Bulmers and its strong portfolio of beer, cider & wine brands including Budweiser, Five Lamps, Corona and San Miguel, will have exclusive pouring rights in all Horse Racing Ireland owned racecourses (Leopardstown, Fairyhouse, Tipperary and Navan) as well as the opportunity to add to the experience of racegoers with brand activities alongside quality entertainment. In addition, Bulmers and its range of brands will have a visible presence in bars at each HRI Racecourse, with Hurricanes Bar at Leopardstown embodying this as a flagship Bulmers bar, following significant investment by Bulmers into transforming this popular area.
The partnership is the first announcement since HRI remodelled the sponsorship structure to introduce Primary Partners across six core themes. With Bulmers assuming the Entertainment pillar for the next three years, it is an example of how sponsorship rights and assets will be packaged across the HRI Racecourse venues to allow year-round activation and promotion of racing to new and existing audiences.
Karl Donnelly, Marketing Director with Bulmers commented on the new partnership saying, 'We are delighted to be expanding and re-energising our long-standing relationship with Horse Racing Ireland and are looking forward to the next three years working to grow the spectator experience at horse racing through fun, unexpected and innovative ways as part of our Entertainment Partnership.
The timing of the announcement is particularly exciting, as we know, the past two years has not only severely affected the hospitality sector but also the racing, arts and entertainment industries have been negatively impacted, so being able to showcase the best of racing and entertainment together and give fans the opportunity to experience the live action again is brilliant for both our businesses. We look forward to working closely with the team at HRI over the next few years.'
Paul Dermody, CEO of Horse Racing Ireland Racecourses said, 'Bulmers is a brand synonymous with entertainment and enjoyment and while we have enjoyed an incredibly strong relationship over the years, today's announcement is a major milestone for Horse Racing Ireland as we reimagine how we partner with brands. With the support of Bulmers we look forward to superb entertainment that will deepen existing race fans experiences and broaden the appeal of Horse Racing to a new audience. We are so thrilled to be in a position to showcase this partnership to our racegoers from next week at Dublin Racing Festival 2022.'